Our new GeForce RTX 40 Series graphics cards are beyond fast, giving gamers our highest ever gen-to-gen frame rate boost. This quantum leap in performance comes courtesy of the NVIDIA Ada Lovelace architecture and its many innovations, and NVIDIA DLSS 3, which accelerates performance by up to 4X. With a GeForce RTX 4090 or GeForce RTX 4080 in your system, your games will run far faster, and you'll have the power to experience richer, more immersive ray-traced experiences, such as NVIDIA Racer RTX, Cyberpunk 2077's new Ray Tracing: Overdrive Mode, and Portal with RTX.
Portal with RTX will launch in November and will be free for Portal owners. It's a ray-traced reimagining of Valve's classic game, built using a revolutionary modding tool called NVIDIA RTX Remix, which allows gamers to remaster classic games with ray tracing, NVIDIA DLSS 3, and NVIDIA Reflex.
Portal with RTX and the upcoming NVIDIA Racer RTX demonstrate the unprecedented performance of GeForce RTX 40 Series graphics cards, delivering ultra-quality ray-traced gameplay at the highest resolutions, leveraging our new NVIDIA DLSS 3 technology to multiply frame rates.
Over 35 games and applications are adding DLSS 3, with the first coming in October. And CD PROJEKT RED are also upgrading Cyberpunk 2077 with a new Ray Tracing: Overdrive Mode that uses the power of GeForce RTX 40 Series graphics cards to take the game's incredible visuals to new heights.
Keep reading to learn about all of these announcements, and to see new, exclusive #RTXON videos and screenshots.
Over 35 Games And Apps Adding NVIDIA DLSS 3 & Many More To Come
NVIDIA DLSS 3 has just been announced, and already we have over 35 games and apps coming with support, the first of which launch in October: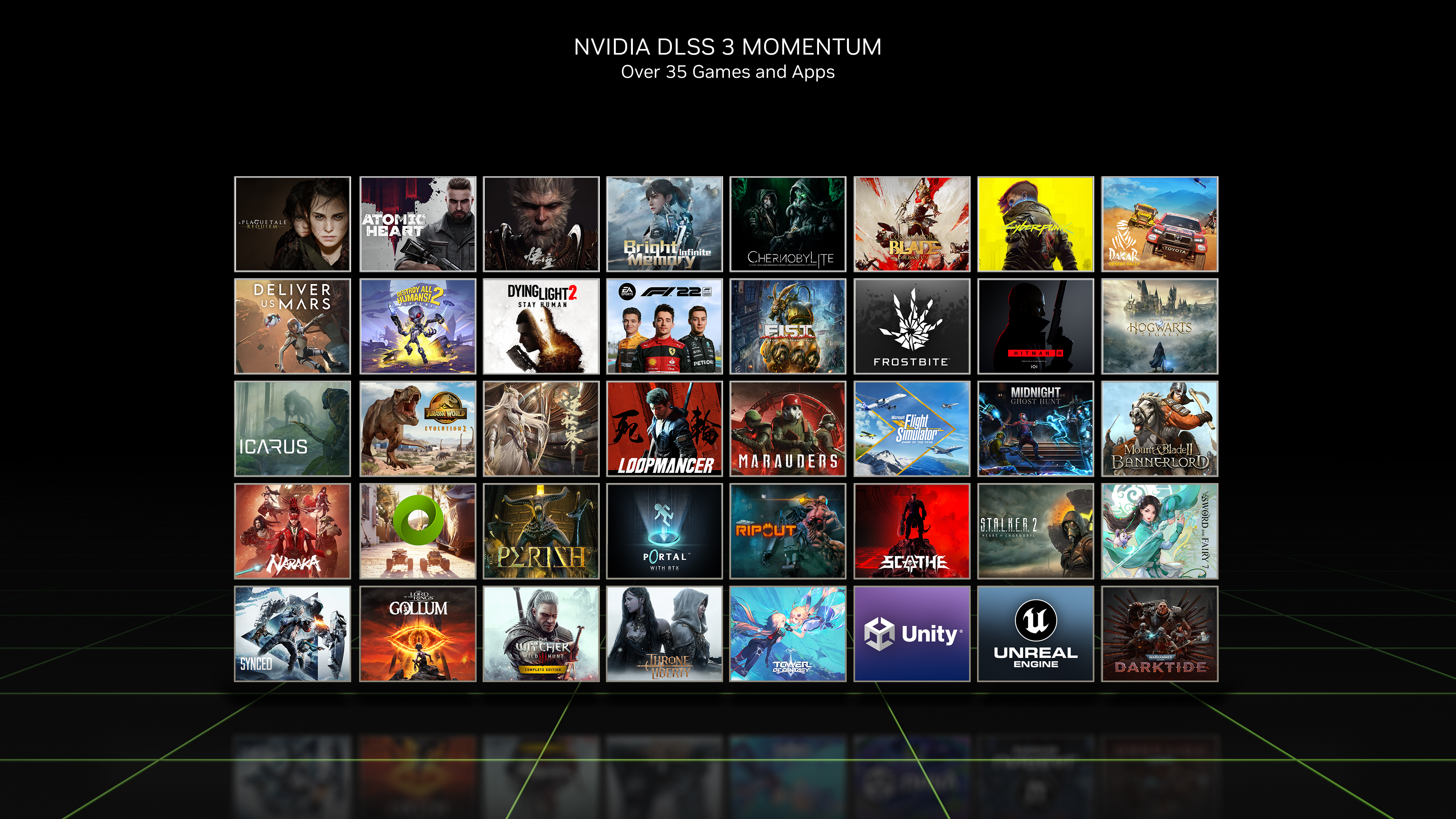 NVIDIA DLSS 3 with Optical Multi Frame Generation multiplies performance on GeForce RTX 40 Series graphics cards by using AI to generate more frames. DLSS 3 analyzes sequential frames and motion data from the new Optical Flow Accelerator in GeForce RTX 40 Series GPUs to create additional high quality frames. NVIDIA DLSS 3 also includes NVIDIA Reflex, so each of these titles will be even more responsive for all GeForce RTX gamers. For a complete breakdown of how DLSS 3 works, head here.
A Plague Tale: Requiem
Atomic Heart
Black Myth: Wukong
Bright Memory: Infinite
Chernobylite
Conqueror's Blade
Cyberpunk 2077
Dakar Desert Rally
Deliver Us Mars
Destroy All Humans! 2 - Reprobed
Dying Light 2 Stay Human
F1Ⓡ 22
F.I.S.T.: Forged In Shadow Torch
Frostbite Engine
HITMAN 3
Hogwarts Legacy
ICARUS
Jurassic World Evolution 2
Justice
Loopmancer
Marauders
Marvel's Spider-Man Remastered
Microsoft Flight Simulator
Midnight Ghost Hunt
Mount & Blade II: Bannerlord
Naraka: Bladepoint
NVIDIA Omniverse
NVIDIA Racer RTX
PERISH
Portal with RTX
Ripout
S.T.A.L.K.E.R. 2: Heart of Chornobyl
Scathe
Sword and Fairy 7
SYNCED
The Lord of the Rings: Gollum
The Witcher 3: Wild Hunt
THRONE AND LIBERTY
Tower of Fantasy
Unity
Unreal Engine 4 & 5
Warhammer 40,000: Darktide
Meanwhile, gamers on all GeForce RTX graphics cards can continue to enjoy NVIDIA DLSS Super Resolution, which massively boosts performance in 216 games and apps by using AI to output higher resolution frames from a lower resolution input. DLSS samples multiple lower resolution images and uses motion data and feedback from prior frames to reconstruct native quality images.
For the latest on all #RTXON DLSS and ray-traced games and their launch dates, stay tuned to GeForce.com, where we post frequent updates.
Portal with RTX DLC: Wishlist Now!
This November we're releasing Portal with RTX, a free DLC that reimagines the classic game's graphics with full ray tracing. Wishlist on Steam now!
In Portal with RTX, full ray tracing transforms each scene, enabling light to bounce and be affected by each area's new hi-res physically based textures and enhanced high-poly models. Every light is ray-traced and casts shadows, global illumination indirect lighting naturally illuminates and darkens rooms, volumetric ray-traced lighting scatters through fog and smoke, and shadows are pixel perfect.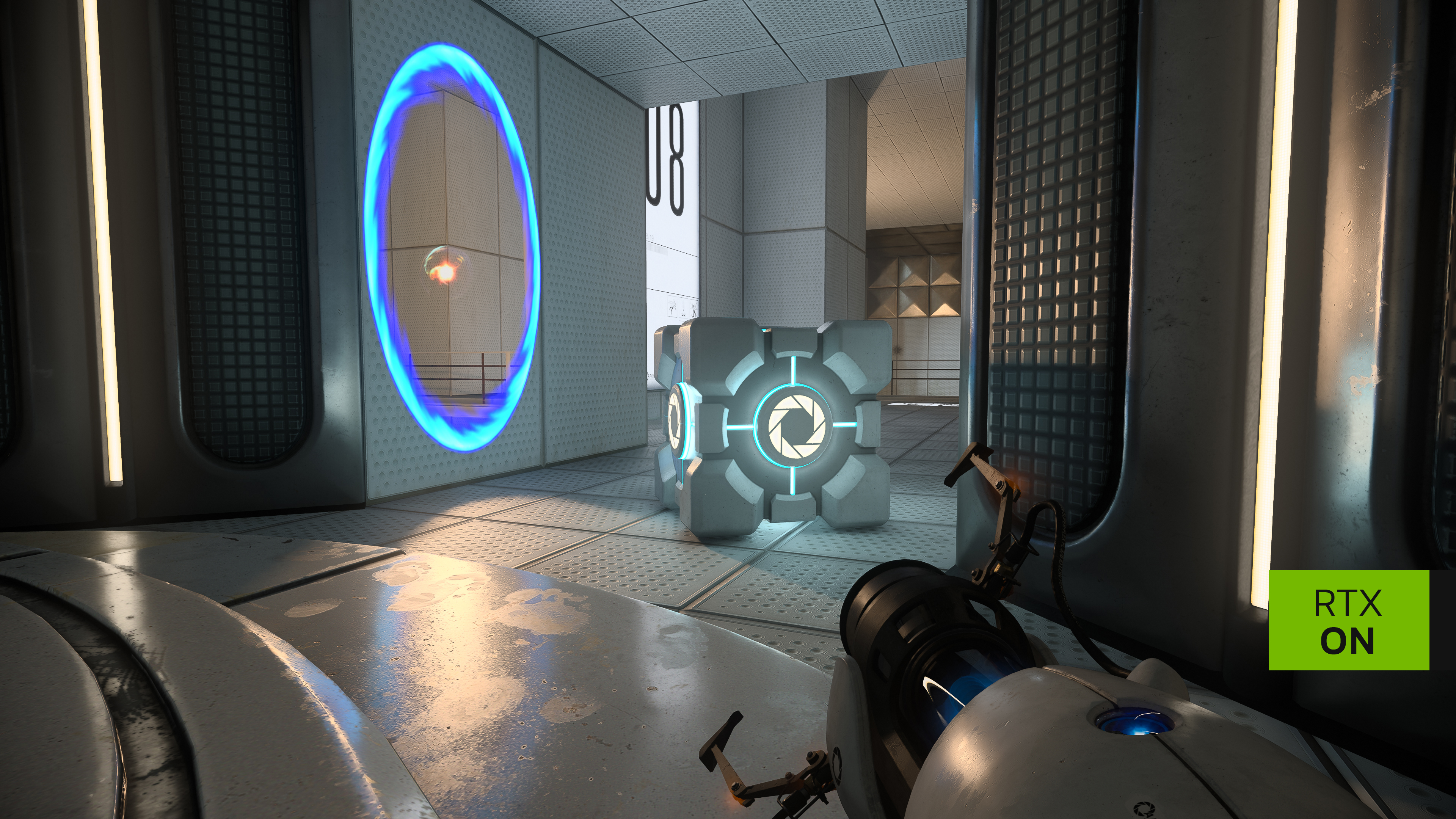 Click here to view the comparison in 4K
This third RTX Remaster builds upon our work on Quake II and Minecraft, but is extra special, as the tool used to make Portal with RTX will be released for free, allowing you to give the RTX Mod treatment to other classic games. Called NVIDIA RTX Remix, this development toolkit automatically makes compatible titles #RTXON - simply press the hotkey, select how you want assets enhanced, and NVIDIA RTX Remix does the rest, giving the game a ray-traced upgrade.
Get further details in our Portal with RTX and NVIDIA RTX Remix articles; wishlist the Portal with RTX DLC on Steam now, ensuring you're notified the second it's released, and if you're a modder, sign up to be notified of the NVIDIA RTX Remix Beta so that you can create the next classic reimagined with RTX.
NVIDIA Racer RTX Showcases The Power Of GeForce RTX 40 Series Graphics Cards
Our new, beyond fast GeForce RTX 40 Series graphics cards have the power to render entirely ray-traced, physically accurate virtual worlds at high resolutions and frame rates, a feat that was previously impossible. To demonstrate the possibilities of gaming on GeForce RTX 40 Series graphics cards, this November you can download and play NVIDIA Racer RTX, a free tech demonstration rendered with the most detailed graphics seen to date.
Taking control of realistically rendered and physics-accurate RC cars, you'll navigate around four unique sand-box style environments, letting you freely interact with all the physically modeled objects scattered about. Each environment is filled with photo-real objects, simulated in real time in NVIDIA Omniverse, a platform for 3D content creation and collaboration. The Universal Scene Description (USD)-based levels composed of 1,811 hand-modeled, textured and simulated assets objects, were built in 3 months by NVIDIA artists across 12 time zones using Omniverse. Artists collaboratively contributed to the shared Omniverse world using their preferred design and content creation tools, such as Autodesk 3ds Max, Maya, Blender, Modo, Maxon ZBrush, Adobe Substance 3D Painter, Substance 3D Designer, Photoshop, Illustrator, Rizom UV, and SideFX Houdini, achieving interoperability via the USD file format.
Each environment is rendered exclusively with full ray tracing, running at 60 FPS at 4K thanks to the power of GeForce RTX 40 Series graphics cards and NVIDIA DLSS 3's game-changing Optical Multi Frame Generation technology. NVIDIA RTX Direct Illumination (RTXDI), NVIDIA Reservoir Spatio Temporal Importance Resampling Global Illumination (ReSTIR GI), multiple light bounces, and high ray counts create worlds with the most accurate shadows and realistic lighting ever seen in a real-time game. And in an instant, the time of day can be changed, updating world lighting accordingly, and switching-on lamps and other artificial light sources at night, transforming the scene.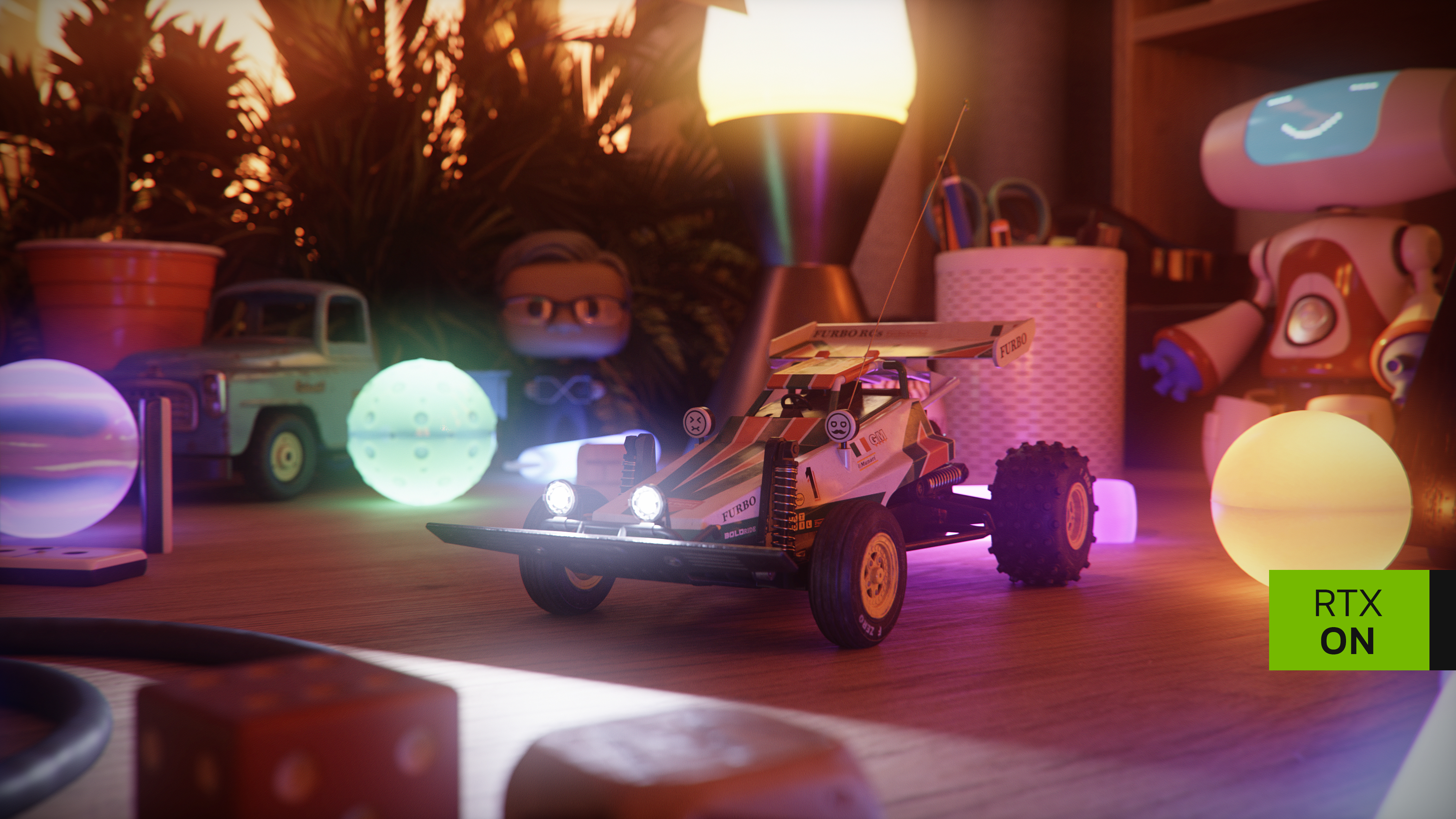 The end result is the most accurate representation of reality ever simulated in real time on a PC. Things in the environment are not static props, but rigid body, cloth, and fluid simulations. Baseballs roll and toys are knocked over as real world physics are calculated on the fly. Materials are accurately portrayed, and everything in the environment is fully interactive and presented to you fully ray traced at high frame rates.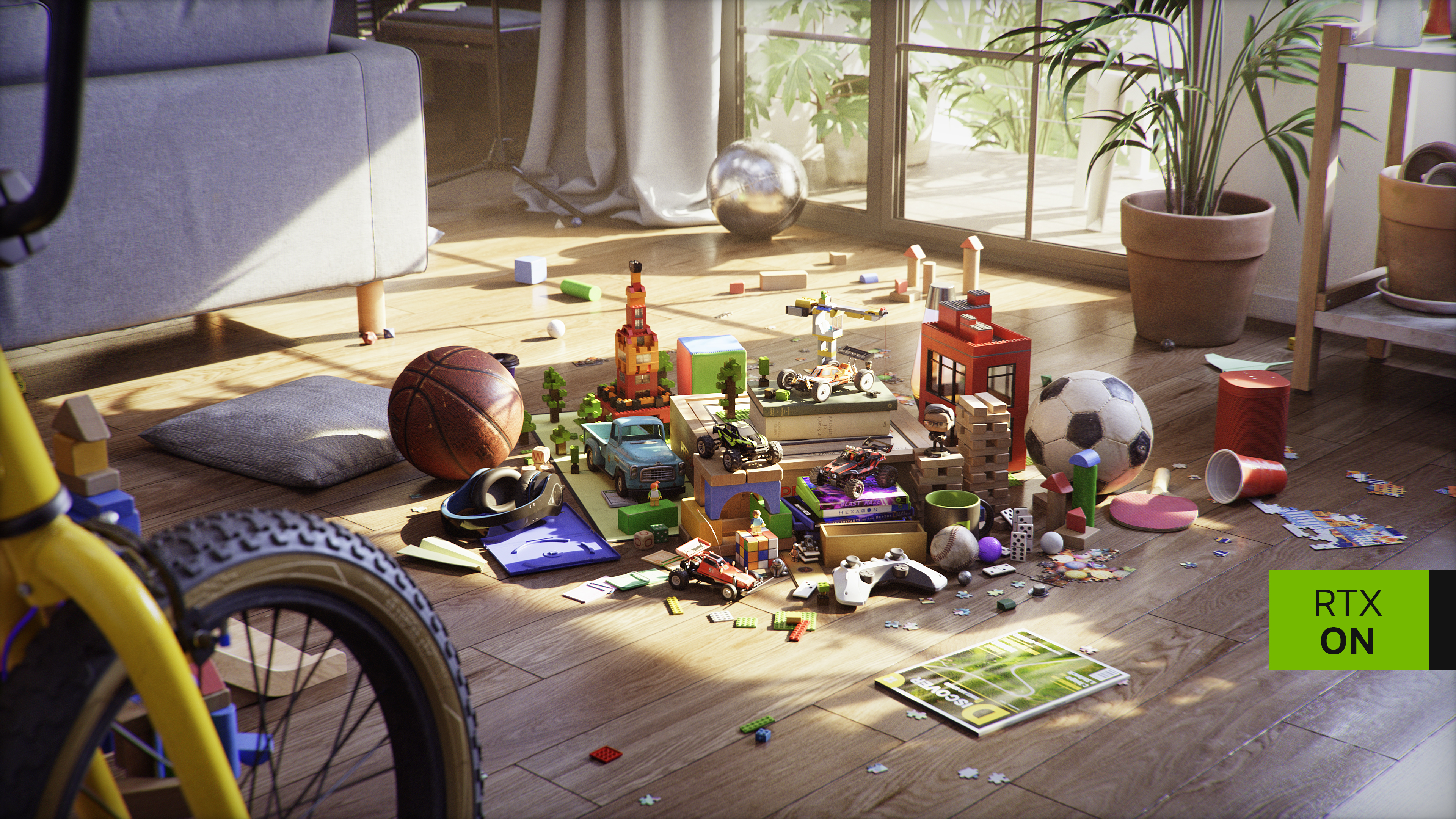 NVIDIA Racer RTX will be available for download and play in November; developers and creators can tweak and explore the NVIDIA Omniverse project the same day. Head here to get familiar with Omniverse so you're ready to rock 'n' roll race the second Racer RTX is released.
For further detail on the making of Racer RTX, head over to our NVIDIA Studio article, where you'll also discover several other GeForce RTX 40 Series announcements for creators.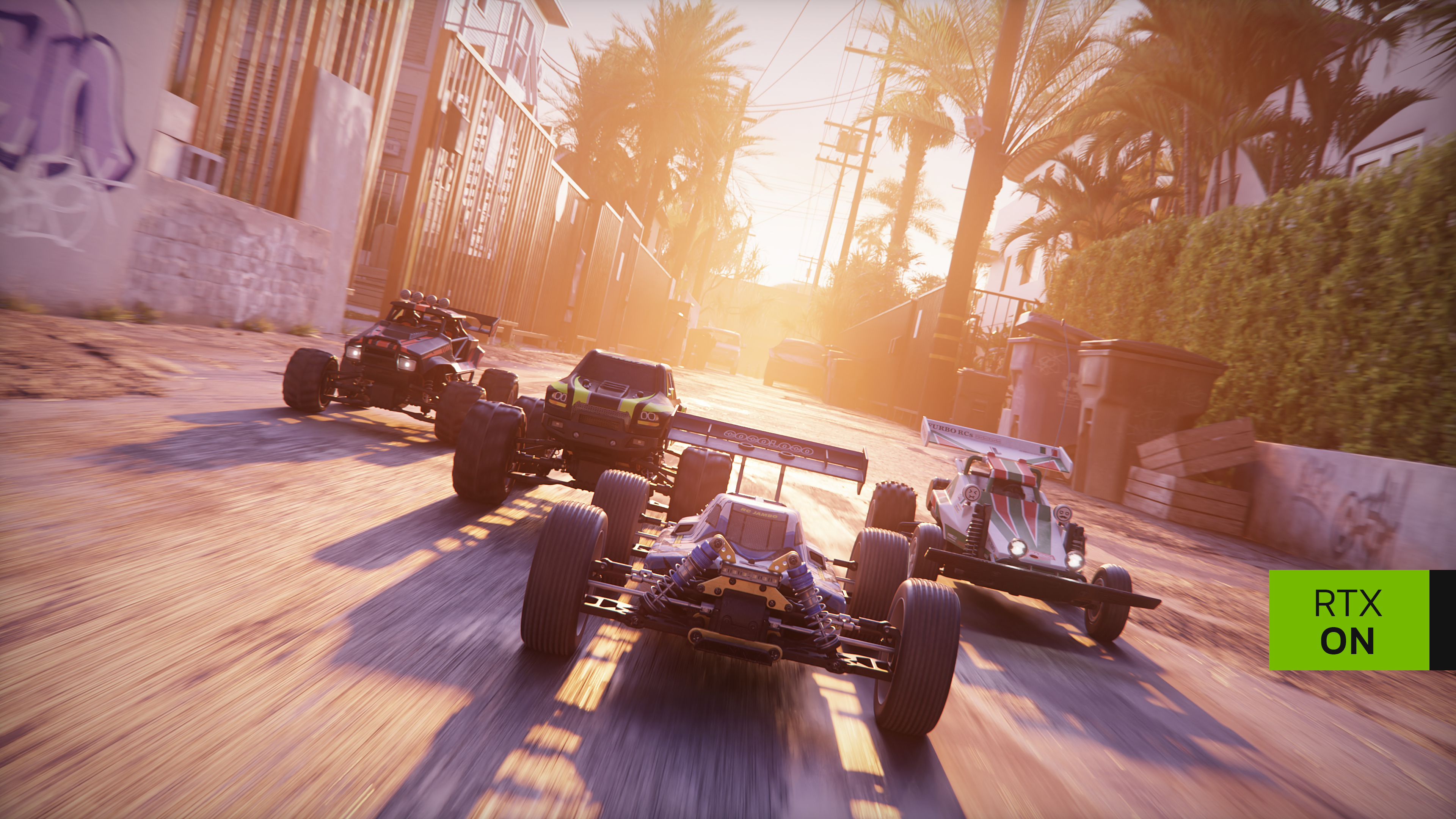 Cyberpunk 2077 Adding New Ray Tracing: Overdrive Mode & DLSS 3
CD PROJEKT RED's Cyberpunk 2077 is already one of the most advanced games available, using several ray tracing techniques to render a massive future city at incredible levels of detail. Soon, a new Cyberpunk 2077 update will hit the streets, bringing with it the new Ray Tracing: Overdrive Mode that greatly enhances the game's already-incredible visuals.
NVIDIA DLSS 3 is also included with the update, multiplying frame rates on GeForce RTX 40 Series graphics cards, giving gamers the performance to render Cyberpunk 2077's new Ray Tracing: Overdrive Mode at the highest detail levels and resolutions. Learn more in our NVIDIA DLSS 3 article.
"Here at CD PROJEKT RED we are very proud to be technology innovators, and DLSS 3 gives us meaningful performance gains to tackle the addition of even higher levels of ray tracing to deliver a visually rich experience for our gamers." - Jakub Knapik, Art Director, CD PROJEKT RED
Cyberpunk 2077's neon-illuminated environments are key to its aesthetic, and with the new Ray Tracing: Overdrive Mode their level of detail is taken to the next level:
NVIDIA RTX Direct Illumination (RTXDI) gives each neon sign, street lamp, car headlight, LED billboard and TV accurate ray-traced lighting and shadows, bathing objects, walls, passing cars and pedestrians in accurate colored lighting
Ray-traced indirect lighting and reflections now bounce multiple times, compared to the previous solution's single bounce. The result is even more accurate, realistic and immersive global illumination, reflections, and self-reflections
Ray-traced reflections are now rendered at full resolution, further improving their quality
Improved, more physically-based lighting removes the need for any other occlusion techniques
Supporting the new Ray Tracing: Overdrive Mode are several new NVIDIA technologies that greatly accelerate and improve the quality of advanced ray tracing workloads, for even faster performance when playing on GeForce RTX 40 Series graphics cards:
Shader Execution Reordering (SER) reorders and parallelizes the execution of threads that trace rays, without compromising image quality.
Opacity Micromaps accelerate ray tracing workloads by encoding the surface opacity directly onto the geometry, drastically reducing expensive opacity evaluation during ray traversal, and enabling higher quality acceleration structures to be constructed. This technique is especially beneficial when applied to irregularly-shaped or translucent objects, like foliage and fences. On GeForce RTX 40 Series graphics cards, the Opacity Micromap format is directly decodable by ray tracing hardware, improving performance even further.
NVIDIA Real Time Denoisers (NRD) is a spatio-temporal ray tracing denoising library that assists in denoising low ray-per-pixel signals with real-time performance. Compared to previous-gen denoisers, NRD improves quality and ensures the computationally intensive ray-traced output is noise-free, without performance tradeoffs.
Stay tuned to GeForce.com to learn when the new DLSS 3 and Ray Tracing: Overdrive Mode updates will be released.
Microsoft Flight Simulator's Performance Takes Off With The Addition Of NVIDIA DLSS 3
Microsoft Flight Simulator is a stunning, critically-acclaimed flight simulator that marries realistic recreations of popular planes with an accurate map of our planet, and regular free updates add immersive hand-crafted detail to the world's most visited cities, airports and regions.
The 1:1 real-world recreation of our planet in Microsoft Flight Simulator challenges even the most powerful PCs. To help, Asobo Studio and Microsoft are bringing NVIDIA DLSS 3 to the game.
DLSS Super Resolution is effective in boosting performance in GPU bound cases by rendering fewer pixels. However, Microsoft Flight Simulator can be CPU bound even on the highest-end CPUs. In this case, DLSS 3's Optical Multi Frame Generation is able to alleviate CPU bottlenecks and boost FPS by up to 2X by creating entirely new frames that never touch the CPU.
Get an exclusive first look at NVIDIA DLSS 3 in Microsoft Flight Simulator in this freshly forged video:
"Creating a lifelike digital twin of our entire planet is incredibly CPU intensive. DLSS 3 is a GPU technology that tackles the performance limitations of the CPU, making it the perfect way to experience Microsoft Flight Simulator." - Jorg Neumann, Head of Microsoft Flight Simulator, Xbox Game Studios
Marvel's Spider-Man Remastered On PC: DLSS 3 Update Out Soon
In Marvel's Spider-Man Remastered on PC, the worlds of Peter Parker and Spider-Man collide in an original action-packed story. Play as an experienced Peter Parker, fighting big crime and iconic villains in Marvel's New York. Since its initial release, Marvel's Spider-Man Remastered has been positively received by press and fans on PC, and soon it will get even better with the launch of a NVIDIA DLSS 3 update. Get an exclusive first-look in our new video:
A Plague Tale: Requiem Launches October 18 With DLSS 3 & Ray Tracing, First #RTXON Gameplay Trailer Released
After escaping their devastated homeland in the critically-acclaimed A Plague Tale: Innocence, Amicia and brother Hugo venture south of 14th century France, to new regions and vibrant cities. There, they attempt to start a new life and control Hugo's curse. But, when his powers reawaken, death and destruction return in a flood of devouring rats. Forced to flee once more, the siblings place their hopes in a prophesized island that may hold the key to saving Hugo.
See how their tale continues when A Plague Tale: Requiem launches October 18th, enhanced with ray-traced effects and NVIDIA DLSS 3. Max out your graphics, minimize your latency, and experience A Plague Tale's rat swarms at the highest frame rates.
For a first-look at A Plague Tale: Requiem with #RTXON, watch our new, exclusive gameplay trailer:
Justice 'Fuyun Court' New Graphics Showcase
Justice, NetEase's martial arts MMO, leads the way in its native China, with engrossing gameplay set in ancient China during the time of the Northern Song Dynasty, a 36 million-strong player base, and a continually-upgraded, internally-developed engine called Night Blaze that's at the forefront of tech.
In 2018, Justice's Night Blaze engine was one of the first to add ray-traced reflections, shadows and caustics, and NVIDIA DLSS. And now, NetEase is showcasing a path-traced upgrade with the launch of Fuyun Court, a new location that all players can access from October 12th when the next Justice game update is released.
"The two technologies that have made the most visual difference in Justice are ray tracing and DLSS, and now we are pushing graphics fidelity to new levels with path tracing. DLSS 3 is giving us performance increases we've never seen before. It can even alleviate CPU bottlenecks for GeForce RTX 40 Series gamers - that's insane." - Dinggen Zhan, Justice Lead Programmer & Senior Expert, NetEase
Path tracing delivers incredible, photo-real detail in Justice, with natural global illumination lighting at day and night, courtesy of NVIDIA Reservoir Spatio Temporal Importance Resampling Global Illumination (ReSTIR GI), accurate lantern light, via NVIDIA RTX Direct Illumination (RTXDI), pixel-perfect shadows, stunning reflections, and previously-unseen water refraction. And as you can see in our 4K comparison screenshots below, surfaces and textures boast incredible physically-based detail, ensuring these effects naturally and realistically interact, for the highest level of image quality and immersion. And to denoise the ray-traced result, Justice leverages NVIDIA Real Time Denoisers (NRD).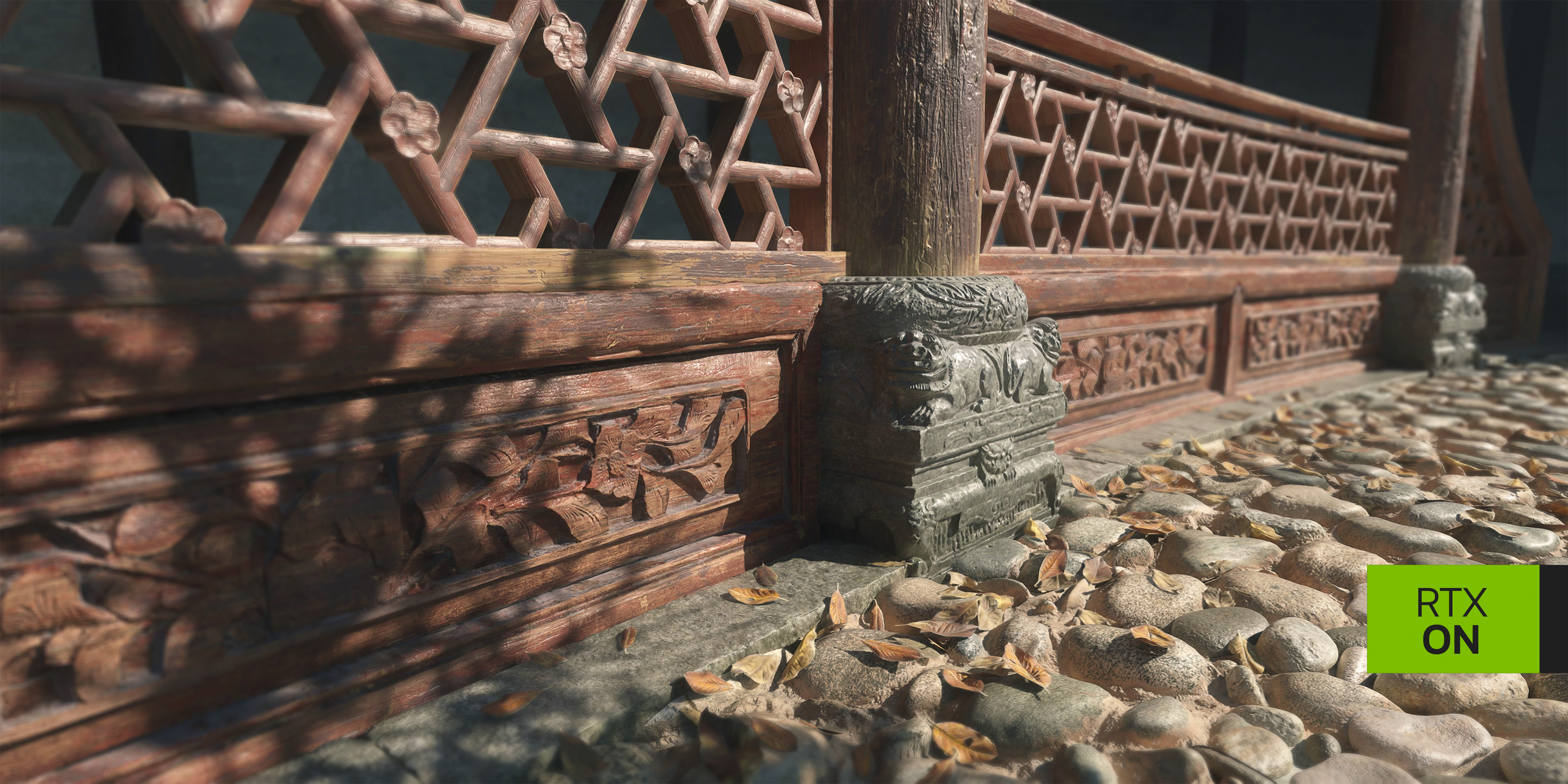 Click here to view the interactive comparison in 4K
Justice players with GeForce RTX 40 Series graphics cards can accelerate Fuyun Court and the entire game using NVIDIA DLSS 3, which launches alongside the path tracing showcase. Additionally, players can benefit from NVIDIA Reflex, for the lowest levels of system latency, giving them a competitive edge.
Click each thumbnail to view a 4K, RTX ON-OFF comparison
NVIDIA DLSS 3 Launches October 12 With GeForce RTX 40 Series Graphics Cards
Since its launch, NVIDIA DLSS has transformed gaming, enabling developers to craft more detailed and immersive games that run smoothly on today's hardware.
Performance boosts of up to 2X in 216 games and apps have made it possible for GeForce RTX gamers to enjoy the most-anticipated titles at the highest detail levels and resolutions, with ray tracing maxed out.
On October 12th, NVIDIA DLSS evolves with the launch of NVIDIA DLSS 3 and its incredible new Optical Multi Frame Generation technology that multiplies performance, whether bottlenecks are a result of the CPU or GPU.
Stay tuned to GeForce.com for further information about the release of NVIDIA DLSS 3 for the latest and greatest games. And be sure to check out our other GeForce RTX 40 Series articles, covering all the new technologies and features that make your experiences even better.