Launched in October 2007 as part of Valve's Orange Box, Portal was a revolutionary first-person platformer, widely regarded as one of the best video games of all time, giving players a previously unimaginable way to creatively tackle challenges. Challenges that were accompanied by an award-winning script that made antagonist GLaDOS one of gaming's most-loved characters, spawning a massive fandom that celebrates Portal and its sequel to this day.
Portal's gameplay is timeless, but in the 15 years since its release GPUs have become hundreds of times faster. Our new GeForce RTX 40 Series graphics cards are beyond fast and come loaded with immersive features, such as ray tracing and AI graphics, that weren't possible all those years ago.
To demonstrate the capabilities of these incredible new GPUs, we're releasing Portal with RTX, which reimagines the classic game's graphics with full ray tracing and entirely new art evocative of the original. Portal with RTX will be free for existing Portal owners. Wishlist on Steam now!
This RTX upgrade builds-upon our work on Quake II and Minecraft, but is extra special, as the tool used to make Portal with RTX will be released for free, allowing you to give the RTX treatment to other classic games. Called NVIDIA RTX Remix, this ingenious modding platform can add ray tracing with just a few clicks, and gives modders the tools to make ambitious remasters, even for games that were previously unmoddable. Simply press a hotkey to import a game, use AI to enhance materials, build custom assets using Omniverse, and export an RTX Mod complete with ray tracing, NVIDIA DLSS 3, and NVIDIA Reflex. RTX Remix elevates modding to a whole new level.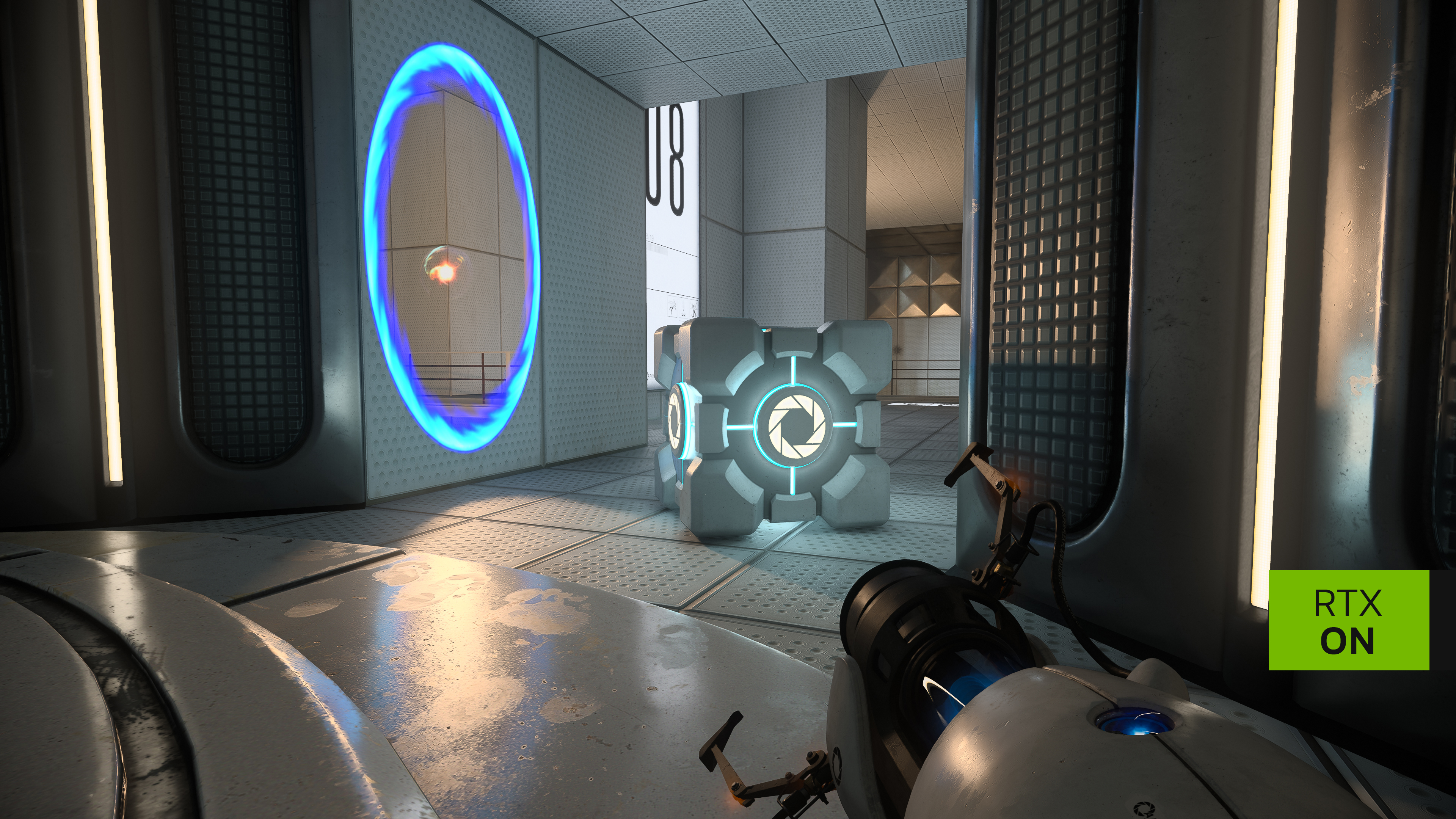 See the power of RTX in the fullscreen 4K comparison
Portal with RTX's Ray Tracing Is No Lie
Portal with RTX exemplifies the incredible power of our new, beyond fast GeForce RTX 40 Series graphics cards, and the capabilities of our NVIDIA RTX Remix modding platform. Every frame of gameplay is upgraded with stunning full ray tracing, new, hand-crafted hi-res physically based textures, and new, enhanced high-poly models evocative of the originals. Performance is accelerated with NVIDIA DLSS 3, allowing the game to run incredibly smoothly, and system latency is minimized using NVIDIA Reflex. And it was all built collaboratively by NVIDIA Lightspeed Studios.
In Portal with RTX, full ray tracing transforms each level, enabling light to bounce and be affected by the scene's geometry and materials. Every light is ray-traced and casts shadows, global illumination indirect lighting naturally illuminates and darkens rooms, volumetric ray-traced lighting scatters through fog and smoke, and shadows are pixel perfect.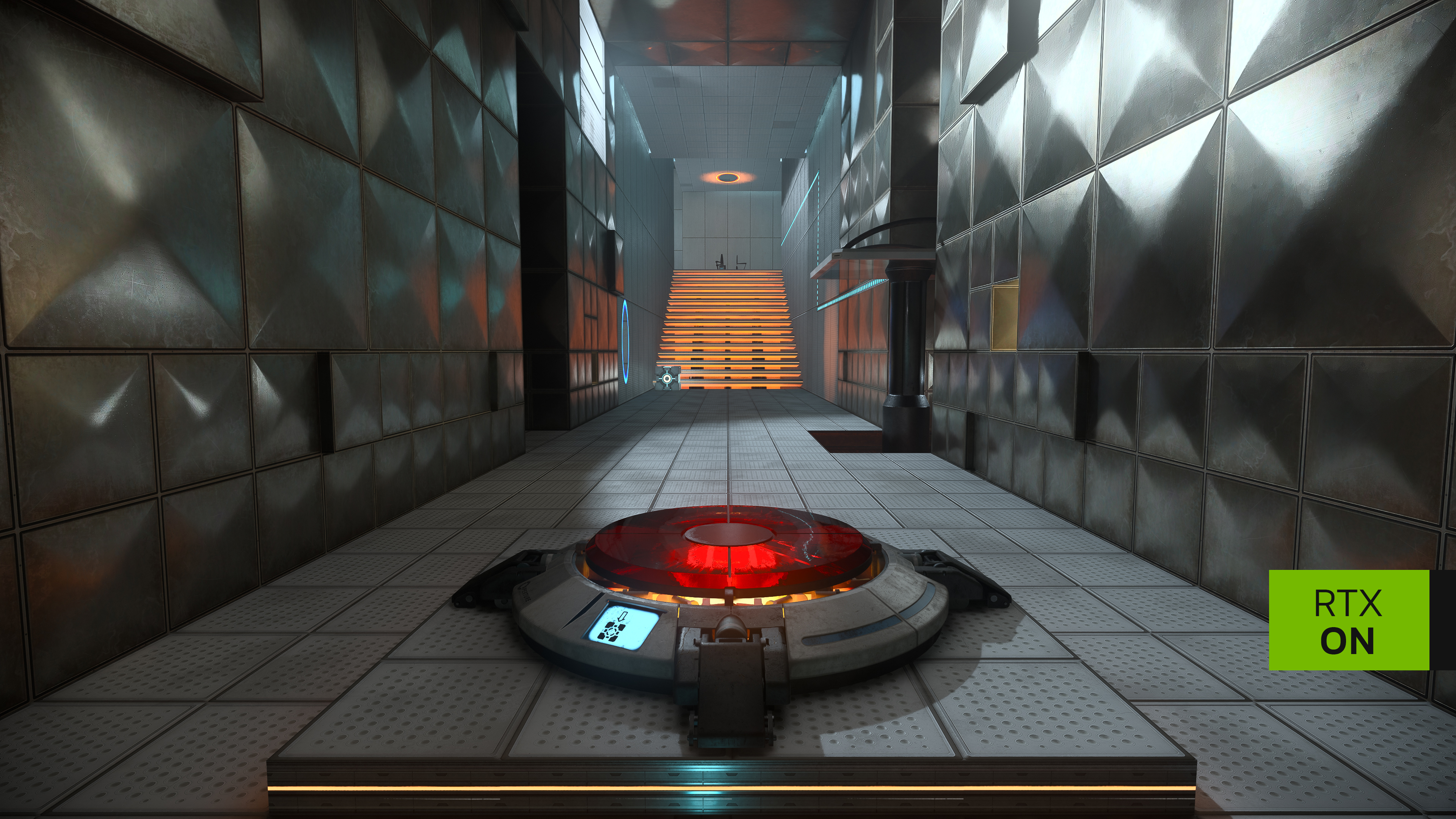 Click here to view the comparison in 4K
With RTX Remix, the game runs in the background and we replace the old rendering APIs and systems with RTX Remix's 64-bit Vulkan renderer. This enables the addition of ray-tracing to classic games and it all updates in real-time as lights and objects move. Light can be cast from behind the player, or from another room, and in Portal with RTX, light even travels through portals. Glass refracts light, surfaces reflect detail based on their glossiness, reflections can be cast into the scene from behind the player, objects can self-reflect, and indirect light from off-screen illuminates and affects what you see.
Compared to Quake II RTX and Minecraft with RTX, the path-traced ray tracing introduced by RTX Remix is even more advanced, bouncing light four times instead of once, improving quality, immersion, and the simulation of real-world light. Additionally, we've also introduced several new ray tracing techniques that further improve quality while also being more performant.
NVIDIA RTX Direct Illumination (RTXDI) enables the addition of countless direct light sources, big and small, each casting light and shadows.
NVIDIA Reservoir Spatio Temporal Importance Resampling Global Illumination (ReSTIR GI) enhances indirect light, enabling it to bathe a scene and illuminate dark corners that are not lit directly. And it also works smarter than previous ray-traced global illumination techniques, improving the efficiency of our ray tracing denoiser.
A denoiser converts the raw ray-traced output into the beautiful on-screen graphics you experience in Portal with RTX and other ray-traced games. NVIDIA Real Time Denoisers (NRD) is a new spatio-temporal ray tracing denoising library that assists in denoising ray traced images in real-time, with superior performance and quality. Portal with RTX, RTX Remix, and other new ray-traced games and game updates leverage NRD for maximum quality and performance.
Click here to view the comparison in 4K
Portal with RTX and RTX Remix also introduce a number of graphical enhancements that improve ray tracing, immersion, realism, and your overall experience.
Volumetric ray-traced lighting is perhaps the most spectacular, converting the fog effects of old into true, properly simulated volumetrics. Now, thick captivating beams of light pierce through smoke and fog, with light rays realistically scattering, affecting a scene in a realistic manner. Want more instances elsewhere? Add them quickly and easily with RTX Remix.
Portal's unique selling point is the ability to take anything through a portal, and see through them, something that hadn't been done before its release. With ray tracing, light can pass through portals, too. Even the light from the moving High Energy Pellets will cast through portals, causing shadows to shift in step.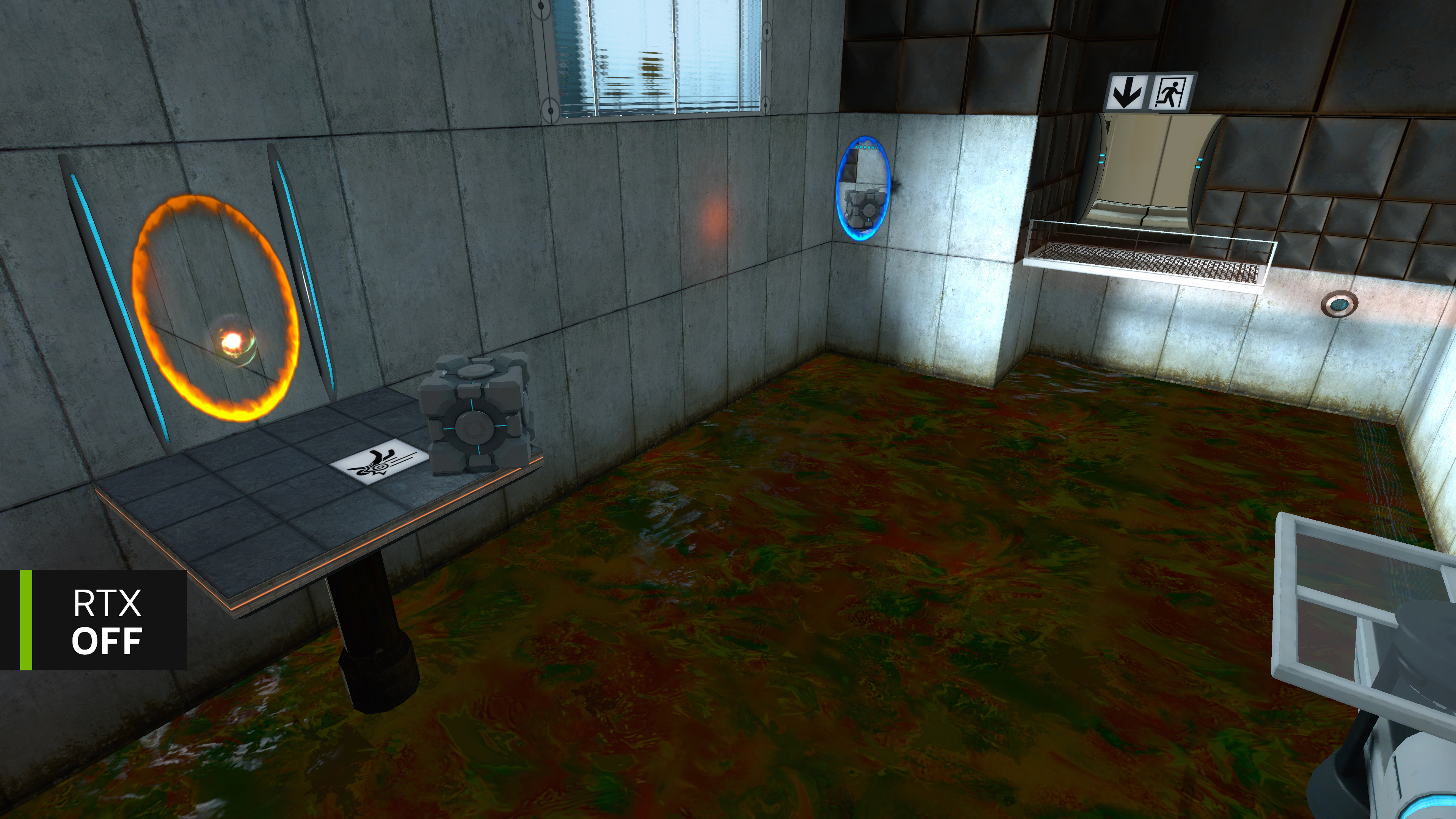 Click here to view the comparison in 4K
Portal and RTX Remix also introduce ray-traced emissive particles, and emissive game elements, such as our remixed and enhanced Companion Cube. These all cast light, which is of course ray-traced and rendered realistically in the game. For games that make extensive use of particle effects, the upgrade will be jaw-dropping.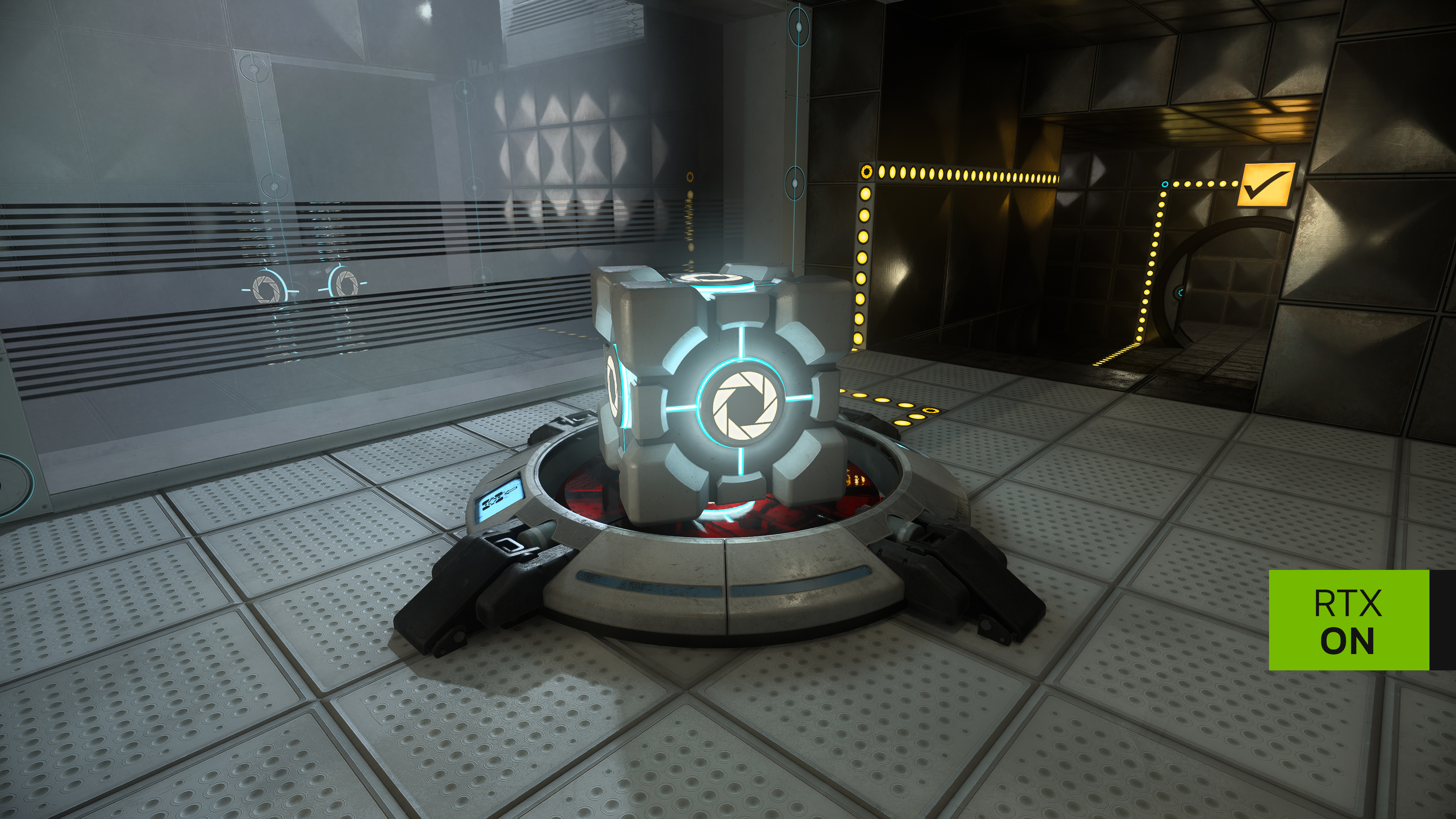 Click here to view the comparison in 4K
Lights get an upgrade, too. The original Portal used point lights exclusively. For a greater variety of lighting, and improved quality, lights of different shapes and sizes have been introduced, along with area lights, enabling entire rooms to be illuminated by a single bright light source, such as the offices that loom over test chambers.
To take full advantage of ray tracing, your game assets need to have physically based properties, and ideally be geometrically detailed, too. Without physically based rendering (PBR) materials, light reacts identically on all surfaces. By specifying the attributes of each material and their reflectivity, light bounces, reflects, diffuses and dissipates realistically across each texture.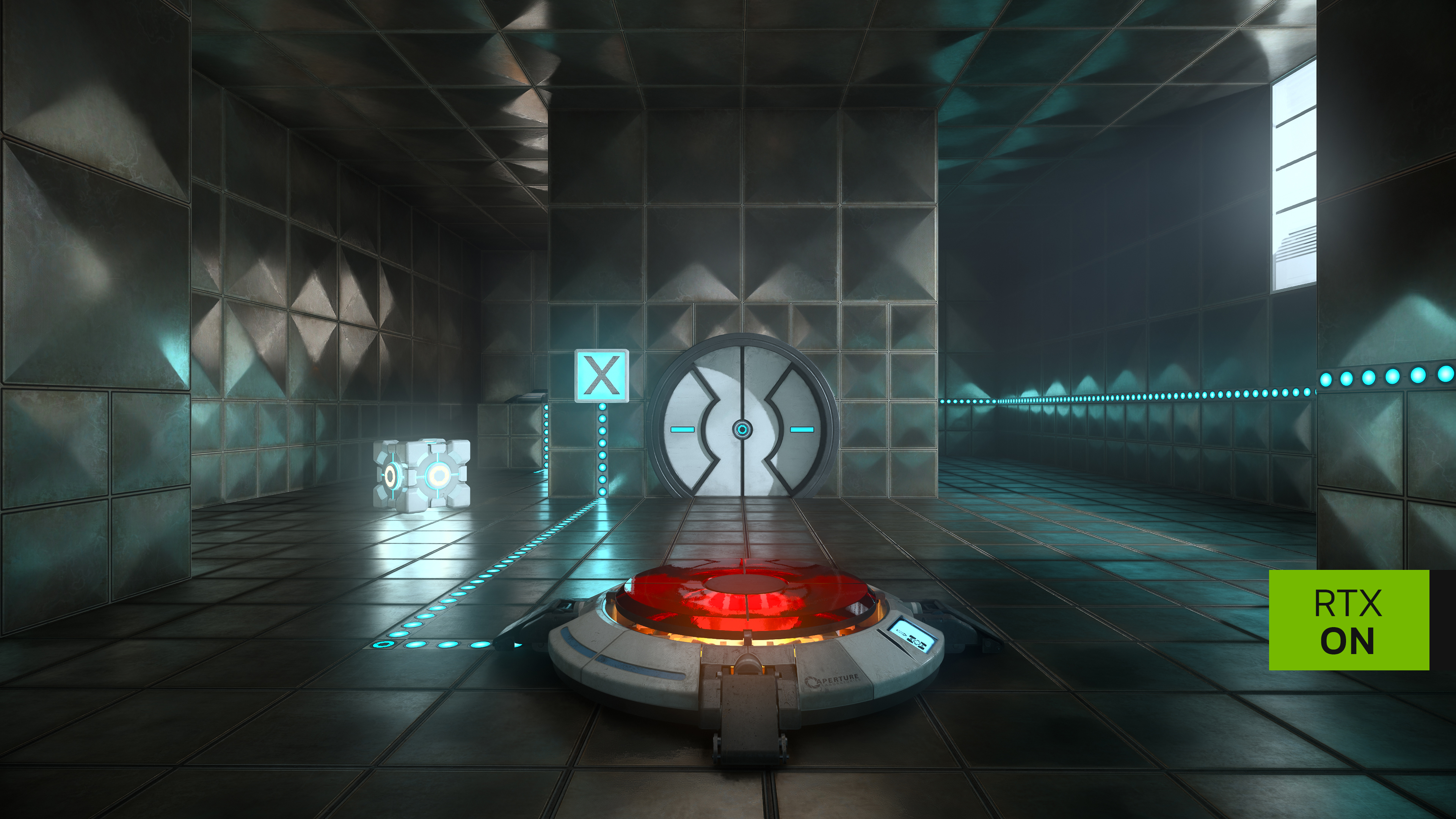 Click here to view the comparison in 4K
As for surfaces, if they're flat, as most were in games back in 2007, light won't react realistically. In the process of remaking each of Portal's surface materials, we've introduced detail, such as bumps, divots and rivets, allowing light to fall across them accurately, bouncing light, creating new shadows, and generating accurate reflections.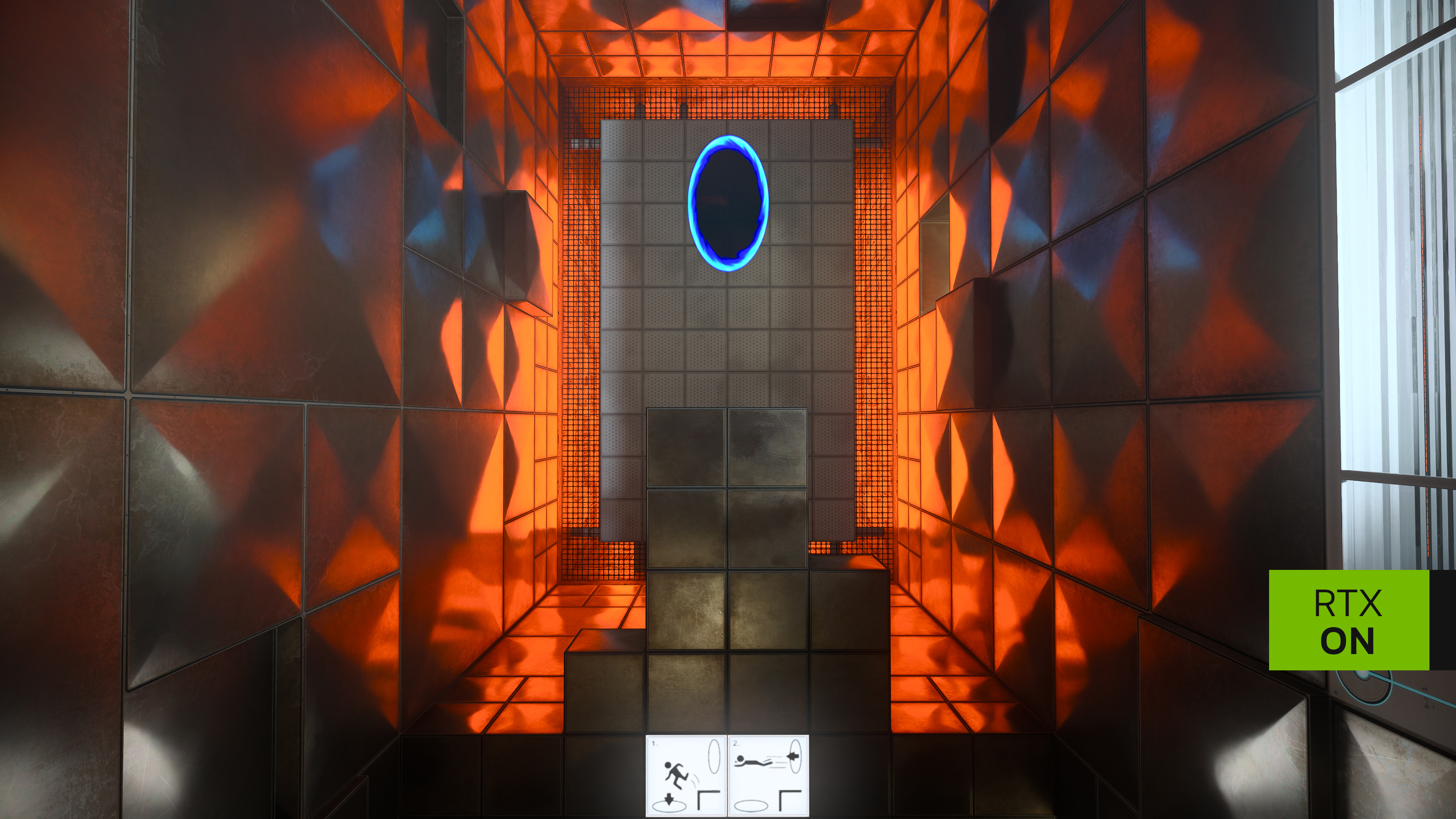 Click here to view the comparison in 4K
To maximize the benefit of upgraded materials and surfaces, our team remade many of Portal's models. Silhouettes were retained to avoid changing their appearance, but in every other respect models were updated, increasing polygon counts and adding geometric detail, allowing them to interact flawlessly with ray tracing, and to look appropriately detailed alongside the game-changing ray-raced effects. A continually-seen example is on the Portal gun: its plastics react differently, and the cylinder is upgraded with ray-traced glass, with accurate fresnel properties, showing accurate real-time reflections that bend and distort across the glass as you attempt to escape from the test facility.
Even decals, such as bullet holes, blood splatters and scorch marks, have been upgraded with PBR properties. Remix's AI texture tools transform the decals to accurately blend with the upgraded scenery, and interact naturally with ray tracing.
The end result is incredible, enhancing Portal, putting it on par visually with today's latest and greatest games. And with gameplay that's still as good today as was in 2007, Portal with RTX delivers the definitive experience for anyone discovering Portal for the first time, or returning for a fresh playthrough.
Portal with RTX Performance Is Accelerated By NVIDIA DLSS 3
In just a few years, NVIDIA DLSS has transformed gaming, enabling developers to craft more detailed and immersive games that run smoothly on today's hardware. Performance boosts of up to 2X in 216 games and apps have made it possible for GeForce RTX gamers to enjoy the most-anticipated titles at the highest detail levels and resolutions, with ray tracing maxed out. And all the while, NVIDIA DLSS has maintained --and in some cases improved-- image quality, a feat previously thought impossible for a scaling technique. That's the power of its AI-driven upscaling, running in real-time on GeForce RTX GPUs thanks to their Tensor Cores.
The possibilities of AI graphics are constantly evolving, just like NVIDIA DLSS, and with the launch of our GeForce RTX 40 Series graphics cards we're debuting NVIDIA DLSS 3. Headlining this major update is Optical Multi Frame Generation, a groundbreaking technique for creating entirely new frames.
Performance increases multiply when Optical Multi Frame Generation is activated, with the same amazing DLSS image quality you know and love, making gameplay even faster, and giving you the headroom to max out the most demanding titles. In Portal with RTX, GeForce RTX 40 Series graphics card owners can experience full ray tracing at 4K!
NVIDIA DLSS 3 is coming to over 35 games, and is available for RTX Remix mods. Learn more about the first wave of games adding DLSS 3 in our #RTXON games article, and get the complete rundown on the new tech in our NVIDIA DLSS 3 article.
The Best Responsiveness With NVIDIA Reflex
As NVIDIA DLSS revolutionized scaling and performance, NVIDIA Reflex has revolutionized low latency gaming, giving multiplayer gamers a competitive advantage, and making single-player games incredibly responsive. Pinpoint accuracy and timing are key to overcoming Portal with RTX's most difficult challenges; NVIDIA Reflex reduces system latency, making gameplay smooth and more responsive, delivering the reaction time needed in critical moments.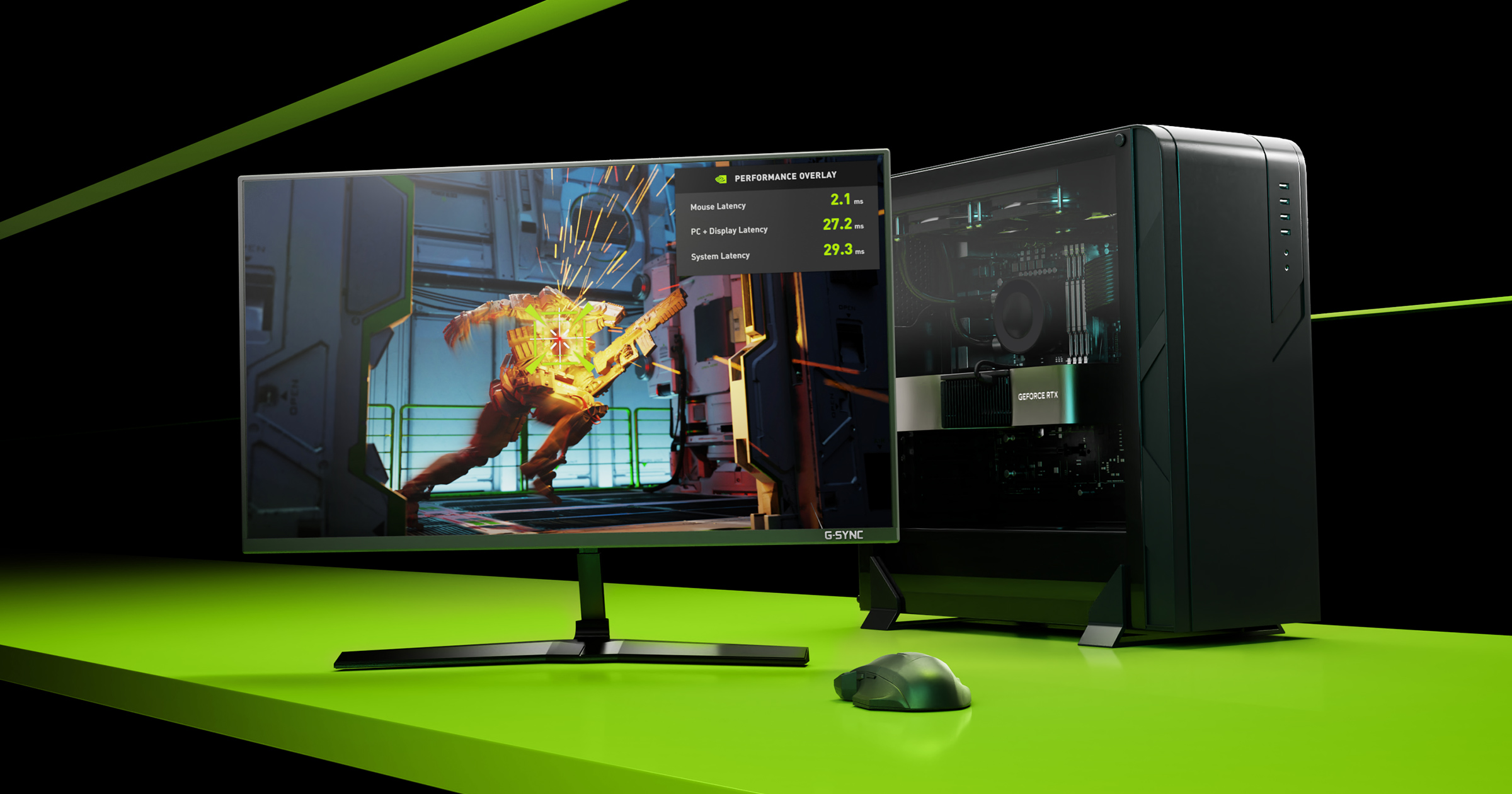 Reflex also comes as standard alongside RTX Remix mods, minimizing system latency in modded games.
NVIDIA RTX Remix: The Ultimate Modding Platform
NVIDIA's Lightspeed Studios loves bringing RTX to classic games, but each project requires many months of development effort to get everything product-ready. With these challenges in front of us we set out to make a modding platform that enabled gamers and modders of all ability levels to bring ray tracing and NVIDIA technologies to classic games. Combining Open Source technology like DXVK, the latest rendering technology from NVIDIA, and a toolchain built on Omniverse, we were able to achieve this vision. The result is the revolutionary NVIDIA RTX Remix, and we can't wait to see what the community creates.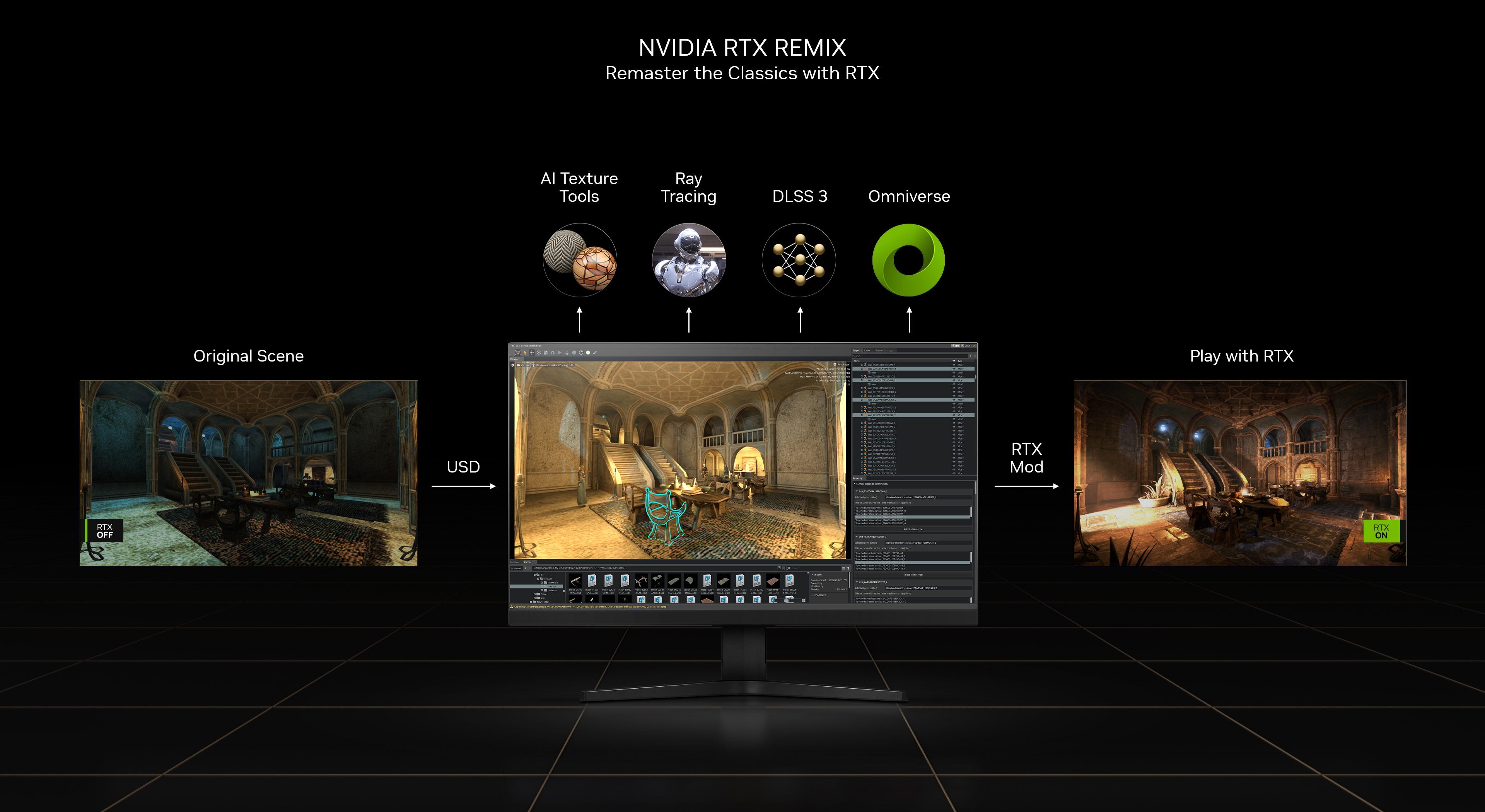 RTX Remix launches soon, supporting DirectX 8 and DirectX 9 games with fixed function graphics pipelines. In a compatible game, press the hotkey and the surrounding scene is captured, ready to be enhanced. Then, load into the Remix Application, and use AI to super-res textures to transform materials to be physically based. Rebuild your favorite assets using Omniverse-connected applications like Autodesk Maya and Adobe Substance, while you tweak the lighting and set the scene in Remix. Finally, hit a button to compile your changes into a mod that players simply place alongside the game's .exe to play with full ray tracing and DLSS 3.
Built on NVIDIA Omniverse, RTX Remix solves a multitude of previously insurmountable challenges for modders, making classic game graphics modding simple, opening the door to modding previously unmoddable games.
For graphics modding, it's a game changer, and with the necessary time and expertise you too can craft a total upgrade like the one we've made for Portal. Learn about the complete classic game modding workflow in our NVIDIA RTX Remix article, and sign up for the beta here.
NVIDIA RTX Remix requires a GeForce RTX GPU to create RTX Mods, while mods built using Remix should be compatible with any hardware that can run Vulkan ray-traced games. GeForce RTX 40 Series GPUs, with up to 2X ray tracing performance and DLSS 3, are sure to provide the ultimate performance for RTX Mods.
Portal with RTX Sweepstakes: Win A GeForce RTX 40 Series GPU
We want to read all of your favorite Portal memories, and you could win a GeForce RTX 40 Series GPU in the process! Beginning September 21st 2022:
Follow us on social media (Twitter, Instagram and Facebook) at @NVIDIAGeForce
a. Look out for prompts in our posts to share your favorite Portal memory using #PortalRTX.
WIshlist the free Portal With RTX DLC and share a screenshot of the title in your Steam Wishlist on Twitter or Instagram with #PortalRTX

See the full terms and conditions here.
Portal with RTX Launches November - Wishlist Now
Our free Portal with RTX DLC is launching in November, demonstrating the possibilities of NVIDIA RTX Remix, and the power of our new GeForce RTX 40 Series graphics cards.
Wishlist the Portal with RTX DLC on Steam now, ensuring you're notified the second it's released. Portal with RTX uses Vulkan Ray Tracing extensions and requires hardware capable of running Vulkan ray-traced games.
For more GeForce RTX 40 Series announcements, head over to GeForce.com, and be sure to return frequently to learn about all the new games integrating game-changing NVIDIA technologies.