Powered by the new ultra-efficient NVIDIA Ada Lovelace, 3rd generation RTX architecture, GeForce RTX 40 Series graphics cards are beyond fast, giving gamers and creators a quantum leap in performance, AI-powered graphics, more immersive gaming experiences, and the fastest content creation workflows.
Gaming performance in the latest titles rockets by up to 2X, and by harnessing DLSS 3 and new Ada innovations, developers can boost performance by up to 4X in fully ray-traced titles. In creative apps, GeForce RTX 40 Series graphics cards provide up to 2X the performance in 3D rendering, video export speed, and AI tools.
With the new GeForce RTX 4090 and GeForce RTX 4080, your system will have the power to render fully simulated, fully ray-traced worlds at the highest resolutions, with incredible levels of detail and unbelievable performance. Portal with RTX, NVIDIA Racer RTX, and Cyberpunk 2077's new Ray Tracing: Overdrive Mode launch soon, demonstrating the incredible experiences developers can now deliver with GeForce RTX 40 Series graphics cards.
Ada also powers new features that further enhance your experience: NVIDIA DLSS 3 multiplies frame rates using the new Optical Flow Accelerator; NVIDIA RTX Remix enables you to easily make incredible mods with ray tracing and DLSS for classic games, like Portal with RTX; Shader Execution Reordering revolutionizes ray-traced rendering; AV1 dual encoders speed up video exports by up to 2X, and significantly improve quality in livestreams and video calls.
The benefits of Ada extend to existing features, too. For gamers, NVIDIA Reflex makes your games even more responsive, with system latency as low as 10 milliseconds in top esports titles, and GeForce Experience can now record gameplay at up to 8K 60 FPS in HDR. For creators, NVIDIA Broadcast, a free NVIDIA Studio app that eliminates microphone background noise and enhances your camera for video calls and streams, applies effects up to 2X faster than prior gen. And NVIDIA Omniverse creators gain an average 2X speed up in real-time RTX ray tracing and interactive path tracing performance with Ada.
Game developers and app creators are already taking advantage of these and other Ada enhancements, bringing NVIDIA DLSS 3 to over 35 games and apps, including A Plague Tale: Requiem, Cyberpunk 2077, Microsoft Flight Simulator, and Warhammer 40,000: Darktide, and top real-time 3D apps, including Unreal Engine, Unity, and NVIDIA Omniverse. Full ray tracing is coming to Cyberpunk 2077, Justice, and Portal with RTX. NVIDIA Reflex launches soon in 8 new games, including Overwatch 2 and Cyberpunk 2077. And all features are supported by our extensively-tested Game Ready and NVIDIA Studio drivers.
When you upgrade to the GeForce RTX 40 Series, you're not just getting the fastest GPUs in existence, you're being welcomed into the world's most advanced GPU ecosystem, filled with applications and technologies that leverage our decades of experience, industry-leading AI, and class-leading hardware to enhance your PC experience every second of every day.
Watch our GeForce Beyond presentation on demand, and read-on below for more details about each announcement.
The best gaming platform in the world just got better.
Marvels Of The NVIDIA Ada Lovelace Architecture
The NVIDIA Ada Lovelace architecture at the heart of each GeForce RTX 40 Series graphics card delivers a massive generational leap in performance, efficiency and capabilities. Built on a custom TSMC 4N process, with up to 76 billion transistors (compared to last-gen's 28 billion), Ada is the world's most advanced GPU architecture ever created.
Ada is incredibly efficient, with over twice the performance at the same power compared to Ampere, and excellent scalability and overclockability as power is increased.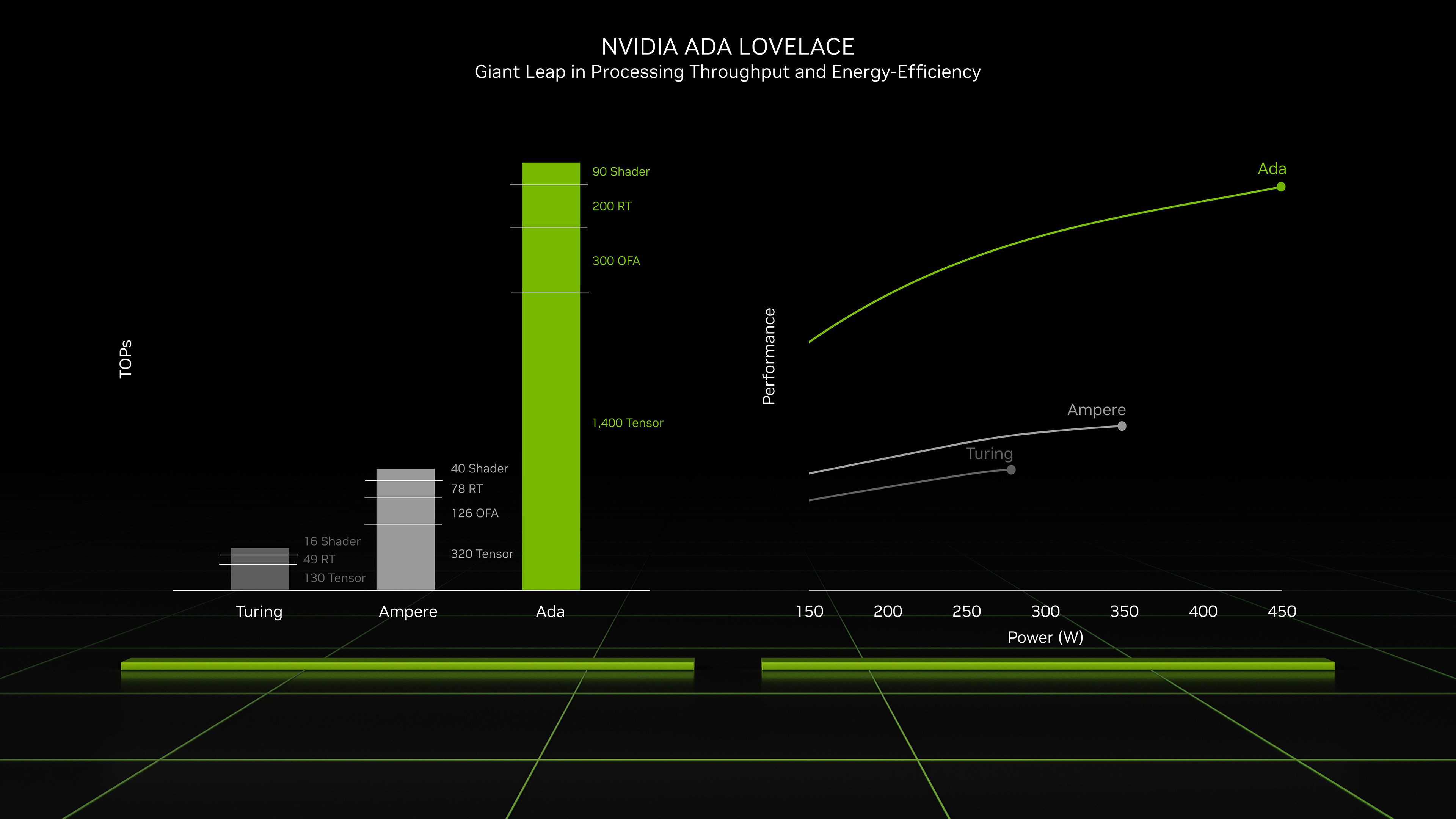 NVIDIA Ada Lovelace Streaming Multiprocessors
Streaming Multiprocessors (SMs) deliver much of the performance for your games. Having previously doubled peak FP32 throughput last-gen, we're now more than doubling peak throughput with the launch of Ada, packing up to 90-TFLOPs of Shader power on NVIDIA GPUs, with 83-TFLOPs on the GeForce RTX 4090. That's compared to the 40 Shader-TFLOPS of our fastest previous-gen GPU.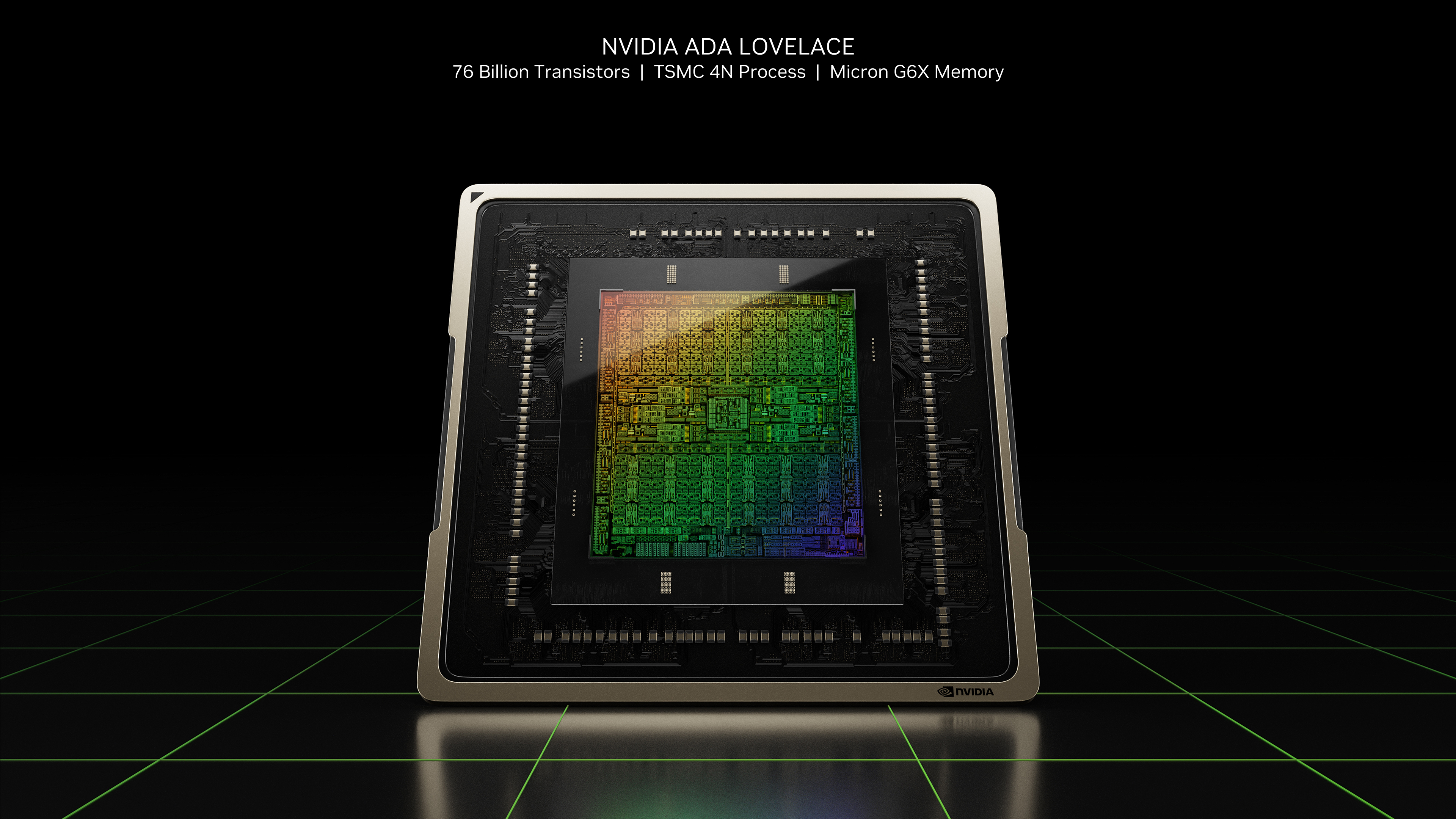 Shader Execution Reordering
GPU architecture is highly parallelized and at its most efficient when executing similar workloads at the same time. However, advanced ray tracing requires computing the impact of millions of rays striking numerous different material types throughout a scene, creating a sequence of divergent, inefficient workloads for shaders (shaders calculate the appropriate levels of light, darkness, and color during the rendering of a 3D scene, and are used in every modern game).
Our new Shader Execution Reordering (SER) technology dynamically reorganizes these previously-inefficient workloads into considerably more efficient ones, improving shader performance by up to 2X, and in-game frame rates by up to 25%!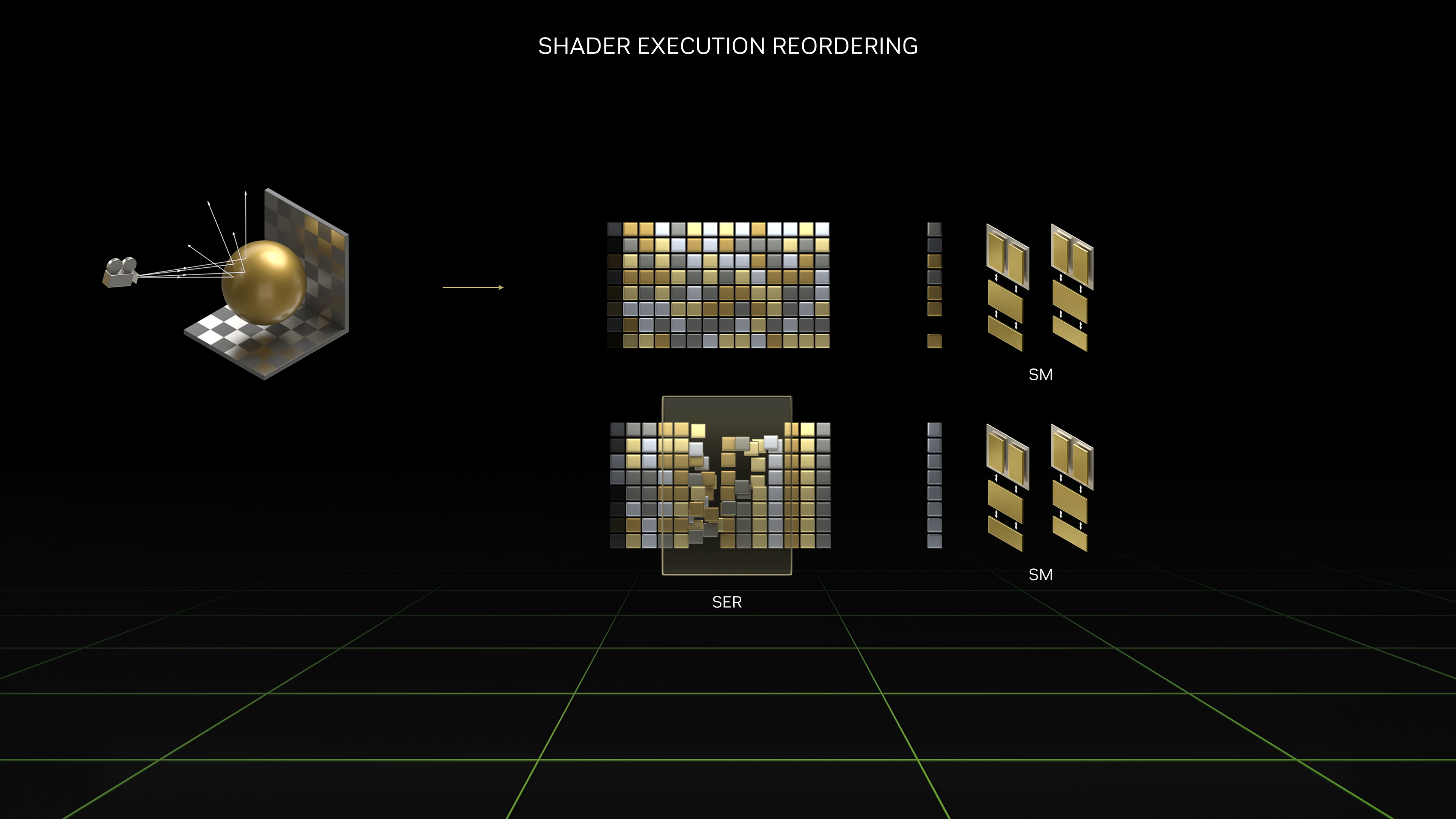 3rd Generation Ray Tracing Cores
NVIDIA made real-time videogame ray tracing a reality with the invention of Ray Tracing Cores, dedicated processing cores on the GPU specifically designed to tackle performance-intensive ray tracing workloads. Ada's 3rd generation Ray Tracing Cores have twice the ray-triangle intersection throughput, increasing peak RT-TFLOP performance by up to an astounding 2.8X. On the GeForce RTX 4090, gamers and creators will have 191 RT-TFLOPS of power at their disposal, compared to the 78 RT-TFLOPS of our fastest previous-gen GPU, enabling far more immersive ray-traced worlds to be rendered, at far faster speeds.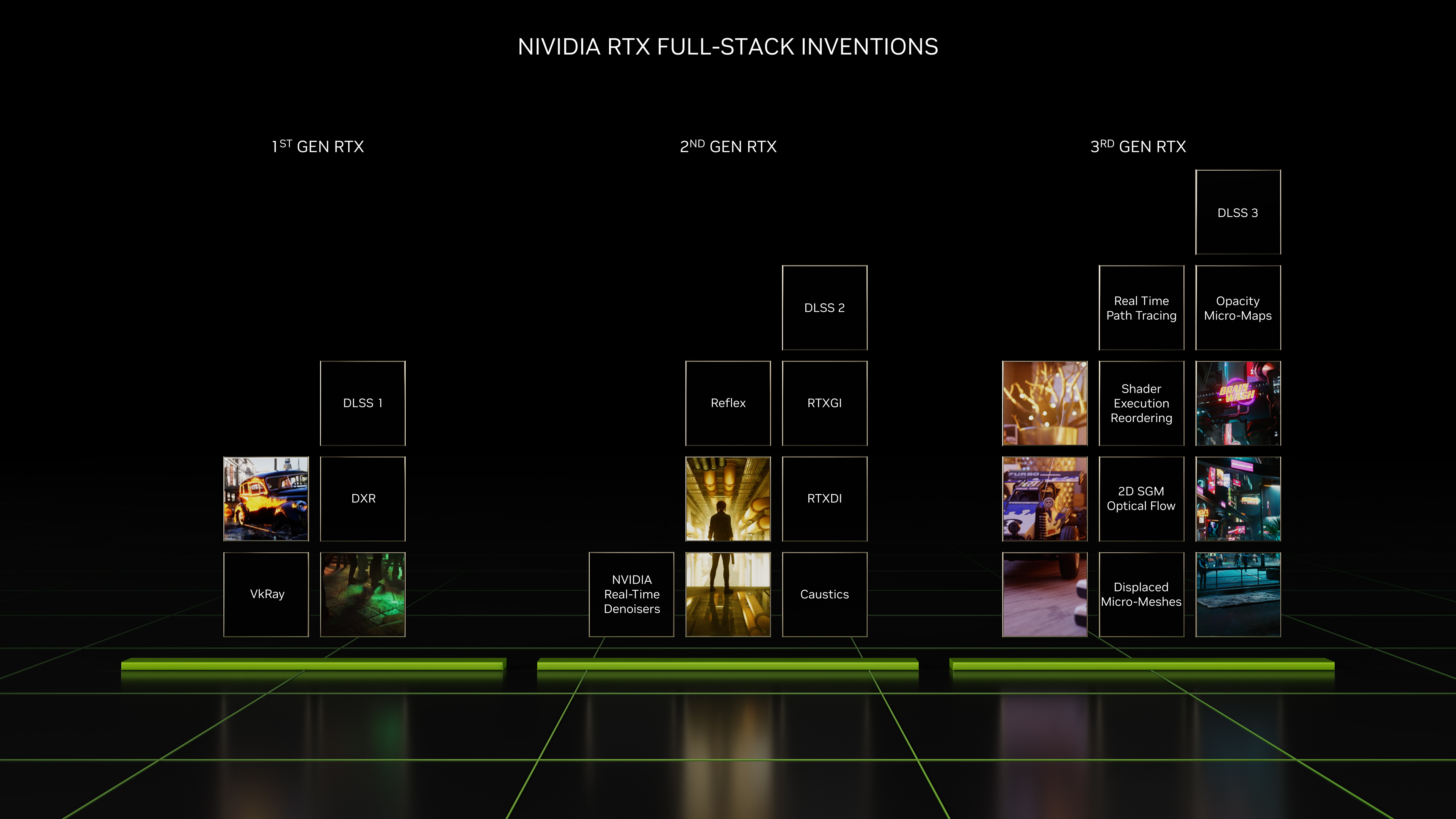 Ada's 3rd gen RT Cores also introduce Opacity Micro-Map Engines and Micro-Mesh Engines, two new hardware units for the acceleration of demanding ray-traced workloads, used in concert with new software techniques detailed below.
4th Generation Tensor Cores
NVIDIA Tensor Cores enable and accelerate transformative AI technologies, including NVIDIA DLSS, which is available in 216 released games and apps, and the new frame rate multiplying NVIDIA DLSS 3. Millions of GeForce RTX and NVIDIA RTX users also leverage Tensor Cores to enhance their broadcasts, and video and voice calls, in the free NVIDIA Broadcast app.
Ada's new 4th Generation Tensor Cores are unbelievably fast, with an all new 8-Bit Floating Point (FP8) Tensor Engine, increasing throughput by up to 5X, to 1.32 Tensor-petaFLOPS on the GeForce RTX 4090.
New Optical Flow Accelerator
NVIDIA DLSS 3's Frame Generation technology is powered by Ada's new Optical Flow Accelerator, which feeds pixel motion data from subsequent frames to the DLSS neural network, generating new frames on the GPU, ensuring performance accelerates even in CPU-bound scenarios.
Dual AV1 Encoders
GeForce RTX 4090 and GeForce RTX 4080 graphics cards feature two of our new eighth-generation NVIDIA Encoders (NVENC), now with support for AV1 encoding, enabling a raft of new possibilities for livestreamers, video editors and video callers.
For livestreamers, AV1 improves encoding efficiency by 40% - your livestreams will look as if you were using 40% more bitrate. OBS Studio, the leading streaming app, is collaborating with NVIDIA to enable AV1 encoding within its next software release, expected in October. OBS is also optimizing encoding pipelines to reduce overhead by 35% for all NVIDIA GPUs. Video callers also get the benefits of high quality live streaming, with Discord adding AV1 support later this year.
For video editors, the dual encoders are up to 2X faster, saving creators hours upon hours each week. We've collaborated with DaVinci Resolve, Voukoder - a popular plugin for Adobe Premiere Pro - and Jianying - China's most popular video editing app - to enable this feature on the top video editing apps. The updates will be available in October. And if you are interested in capturing high-res content for your videos, GeForce Experience users with GeForce RTX 40 Series graphics cards can now use NVIDIA ShadowPlay to capture gameplay at up to 8K at 60 FPS, in HDR.
Learn more about all the benefits of 8th gen encoders in our NVIDIA Studio article.
New Software Accelerates & Optimizes Performance
NVIDIA is at the forefront of graphics research and development, with subject matter experts devising new and better ways to deliver immersive experiences at performant frame rates. With the creation of Ada, our GeForce RTX 40 Series graphics cards can leverage new features that greatly accelerate advanced ray-traced workloads, and deliver even faster frame rates in your favorite games.
NVIDIA DLSS 3 Multiplies Frame Rates
NVIDIA Deep Learning Super Sampling (DLSS) is a groundbreaking revolution in AI-powered graphics, increasing performance on GeForce RTX GPUs using dedicated Tensor Cores. To date, 216 released games and apps accelerate performance with DLSS, while generating beautiful, sharp images that maintain – and in some cases improve upon - the native picture.
Ada introduces DLSS 3, adding new AI-powered Optical Multi Frame Generation, which generates entirely new high quality frames, rather than just pixels. Through a process detailed in full in our NVIDIA DLSS 3 article, DLSS 3 combines DLSS Super Resolution, DLSS Frame Generation, and NVIDIA Reflex to reconstruct 7/8ths of the displayed pixels, accelerating performance significantly.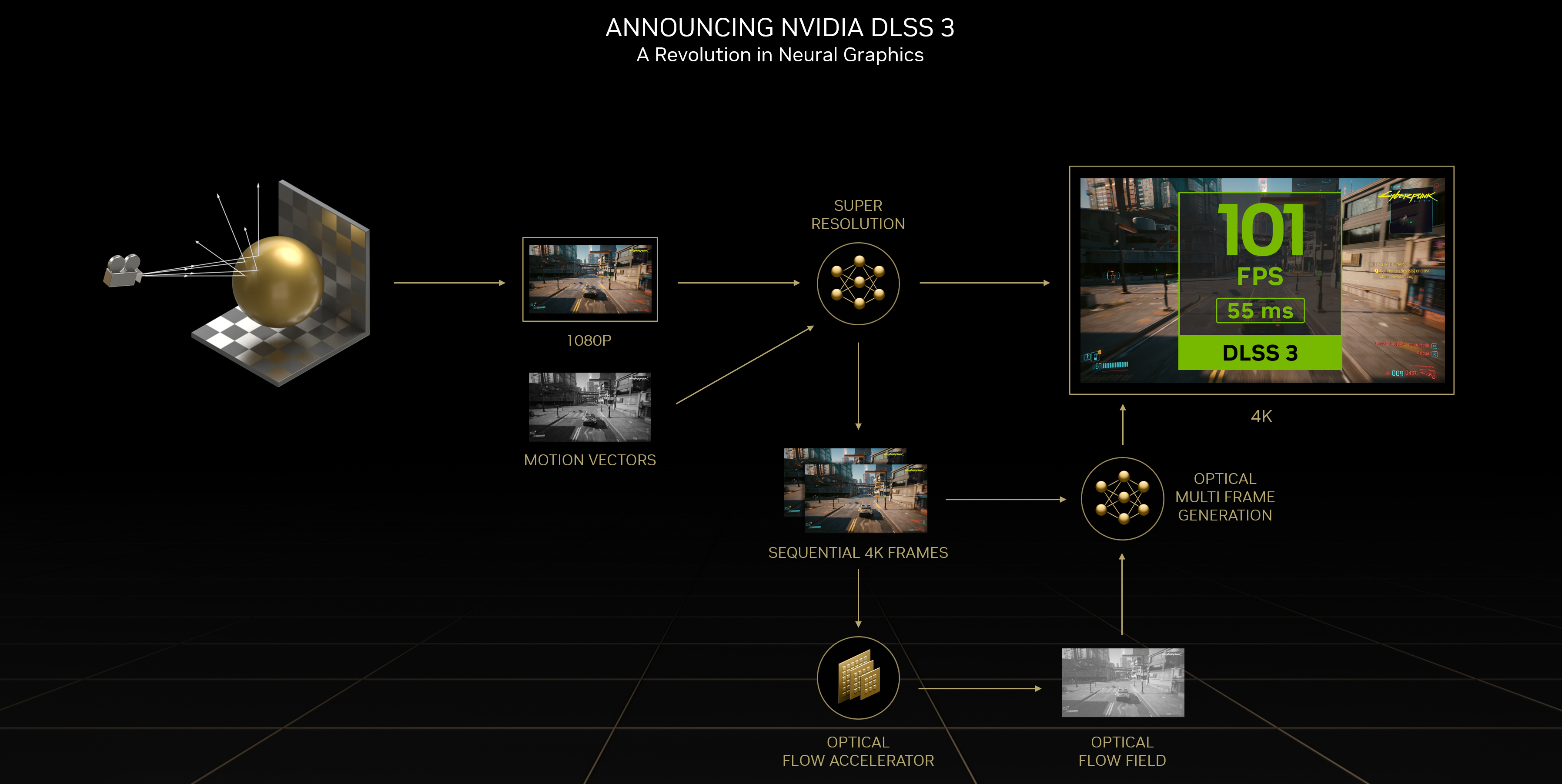 In GPU-limited games, DLSS 2 and its Super Resolution technology can increase your frame rates by up to 2X. With DLSS 3, we can boost them by up to 4X in fully ray-traced worlds like those seen in the incredible NVIDIA Racer RTX.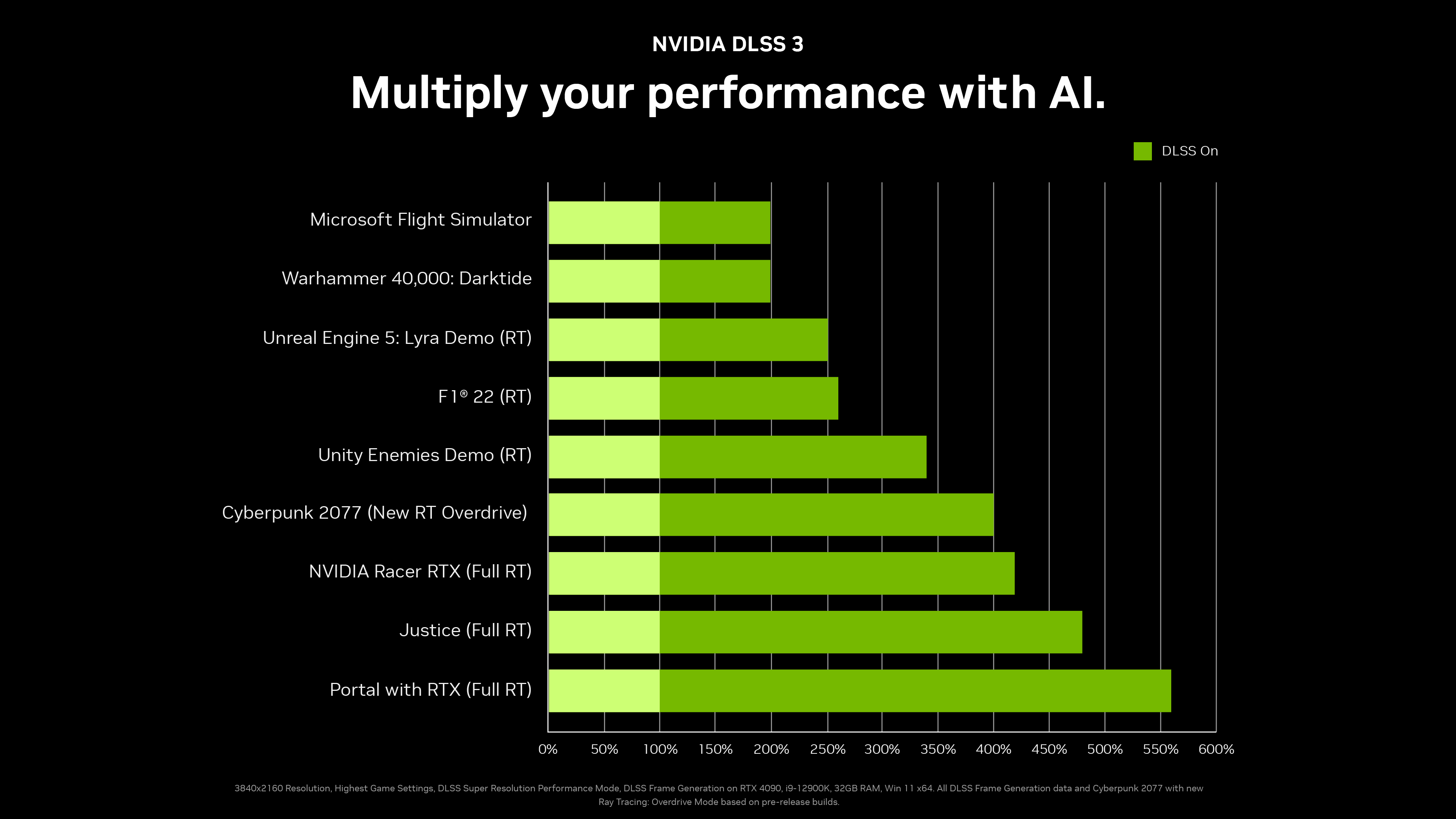 Certain games make extensive use of the CPU, limiting the benefit of faster graphics cards and Super Resolution technologies. DLSS 3 operates on the GPU, bypassing CPU bottlenecks and boosting frame rates. In Microsoft Flight Simulator, with a 1:1 real-world recreation of our planet, DLSS 3 boosts frame rates by up to 2X.
NVIDIA DLSS 3 is one of our greatest neural rendering inventions, and it's powered by our new 4th gen Tensor Cores and Optical Flow Accelerator. NVIDIA's DLSS Supercomputer also continuously trains and improves the AI networks, delivering further quality enhancements via driver and game updates.
NVIDIA DLSS 3 is coming to over 35 games and apps, with the first games arriving in October. Get further details about all of the games in our #RTXON games article.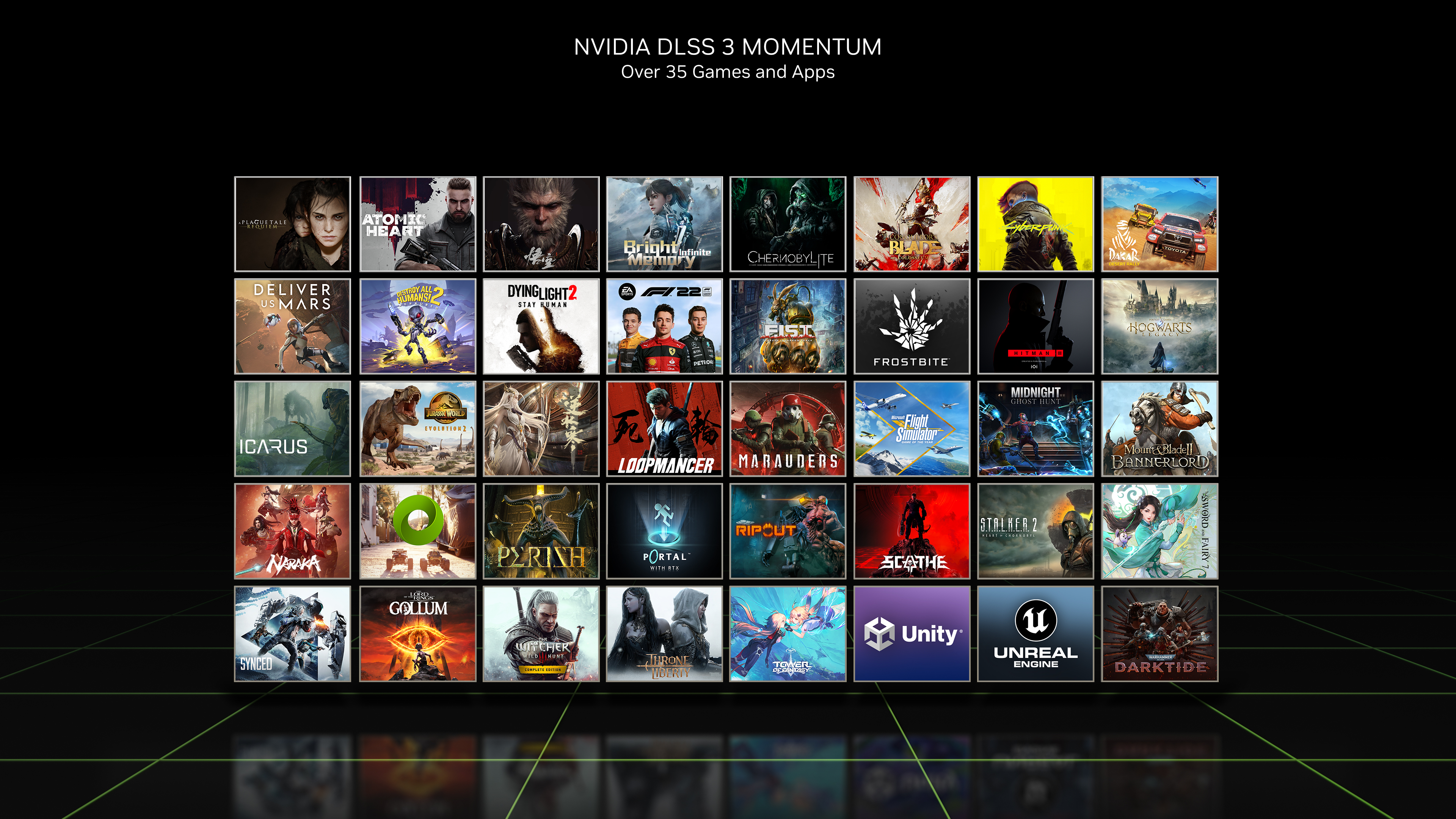 Game developers looking to integrate DLSS 3 can learn more here.
Opacity Micro-Maps
Opacity Micro-Maps optimize ray tracing by encoding data about game details directly onto the world's objects in the game engine ahead of time. Complex items, like foliage, are especially demanding to ray trace due to the many different ways rays can affect their appearance based on scene lighting, and the innumerable directions rays can bounce between leaves and branches. The 3rd generation RT Core present in Ada GPUs uses opacity masks to assign the opacity state of these items, which can be opaque, transparent, or unknown.
By baking the ray tracing characteristics of irregularly-shaped and translucent objects into an opacity mask, the 3rd generation RT Cores render these complex objects faster, improving performance.
Displaced Micro-Meshes
Displaced Micro-Meshes (DMM) are generated by Ada's 3rd generation RT Cores, which build ray tracing Bounding Volume Hierarchies (BVH) 10X faster, using 20X less VRAM. DMMs are new primitives that represent a structured mesh of micro-triangles that 3rd gen RT Cores process natively, reducing storage and processing requirements compared to previous-generations, when rendering complex geometries using only basic triangles.
DMM is particularly beneficial in highly detailed ray-traced games and scenes, and gives developers the performance to create photo-real games and experiences that leverage photogrammetry, and super-detailed objects and surfaces.
GeForce RTX 4090: 2X The Performance Of GeForce RTX 3090 Ti
Available October 12th, 2022, starting at $1599, the GeForce RTX 4090 is the ultimate GeForce GPU for gamers and creators, running up to twice as fast, using the same amount of power as the previous-generation champ, the GeForce RTX 3090 Ti. This quantum leap in performance is made possible by the Ada architecture, and the many innovations outlined above.
If you equip your system with this beast of a GPU, you'll get 16,384 CUDA Cores, 1,321 Tensor-TFLOPs, 191 RT-TFLOPs, and 83 Shader-TFLOPs of power, supported by 24GB of G6X VRAM.
In games, you'll have the performance to play at the absolute highest settings at 4K, at high frame rates. And the power to play fully ray-traced games with the highest levels of fidelity, realism and immersion.
Today's ray-traced games see their performance increase by up to 2X compared to the GeForce RTX 3090 Ti. And tomorrow's RTX titles, such as Cyberpunk 2077, Portal with RTX and NVIDIA Racer RTX, leveraging DLSS 3, SER and other Ada innovations, run up to 4X faster!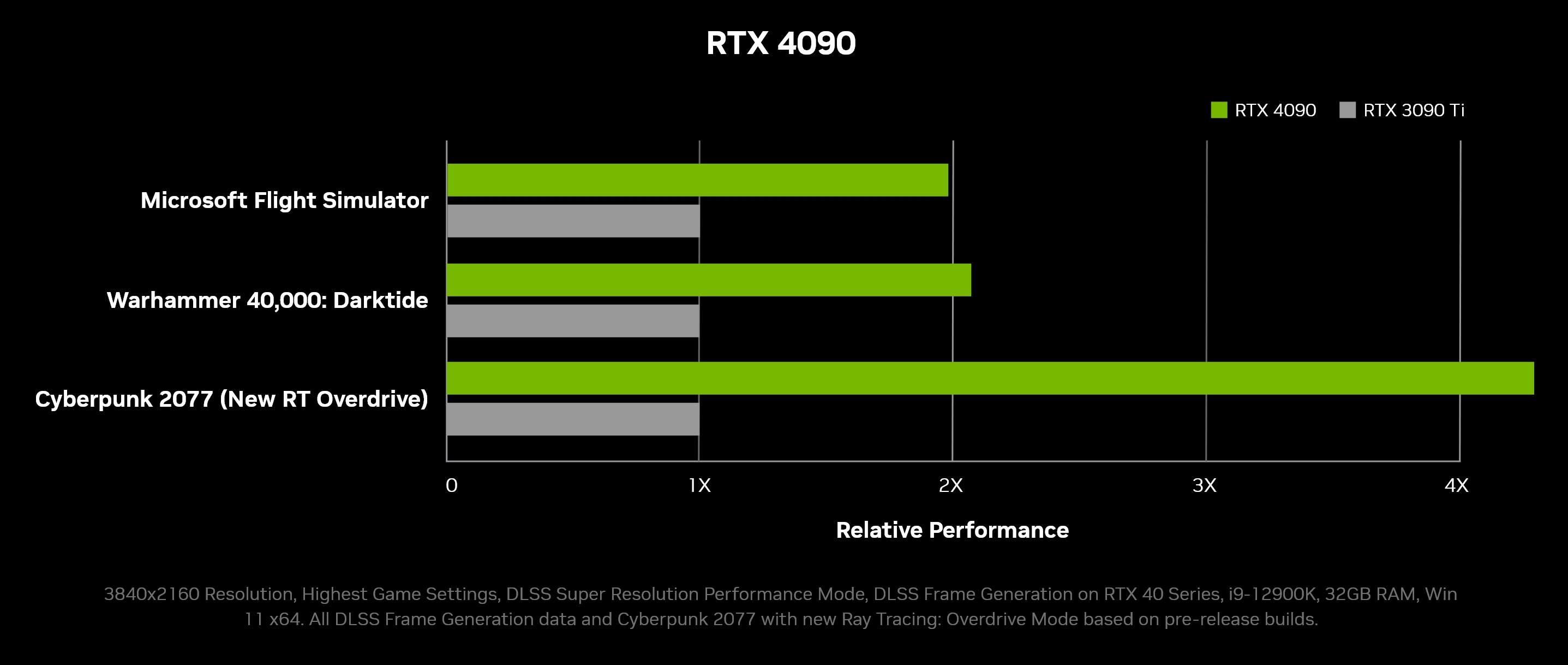 In creative apps, every workflow from video exports to 3D rendering, to AI effects, will run up to 2X faster, saving you precious time and helping you complete projects faster.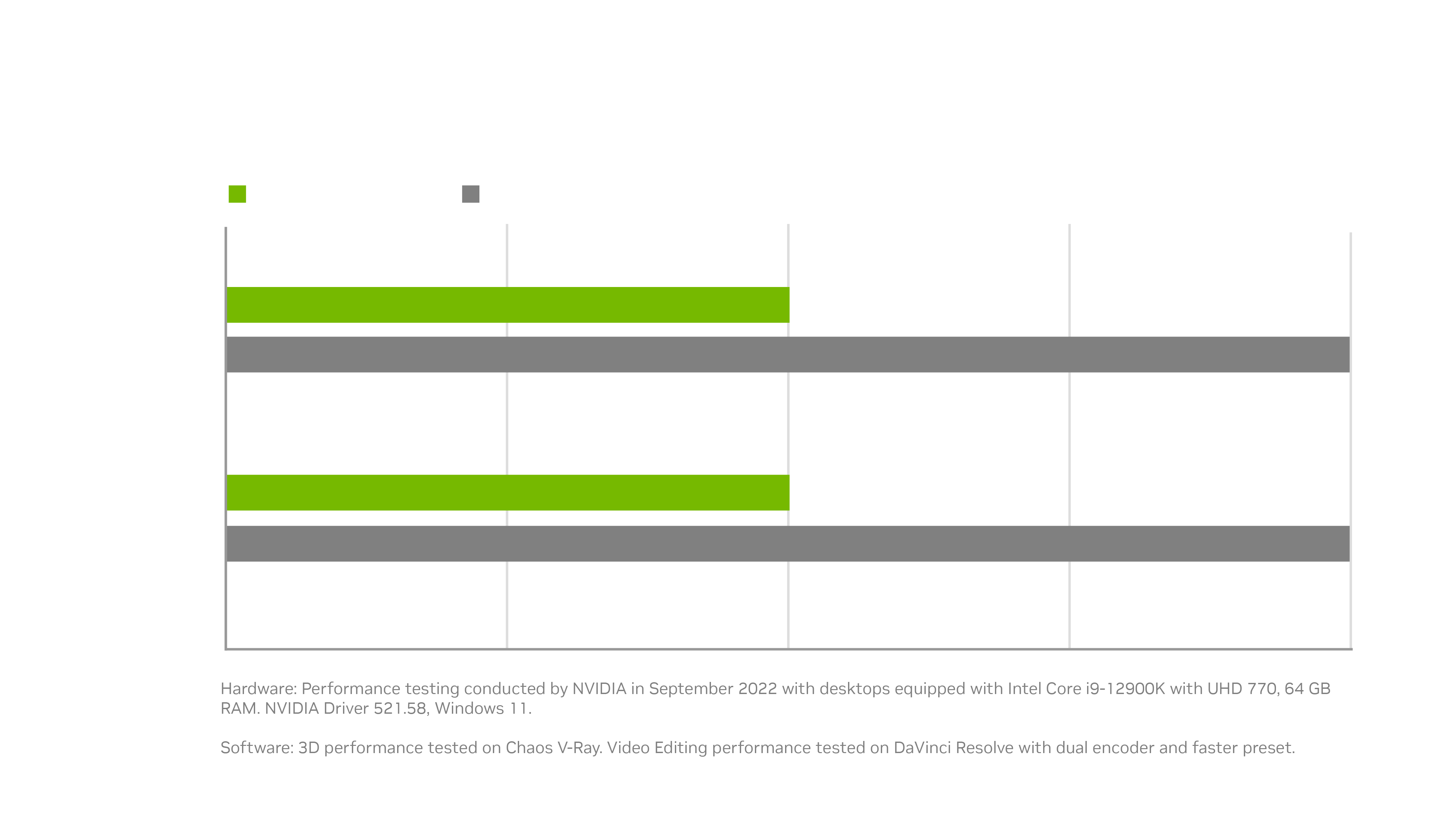 The GeForce RTX 4090 is beyond fast.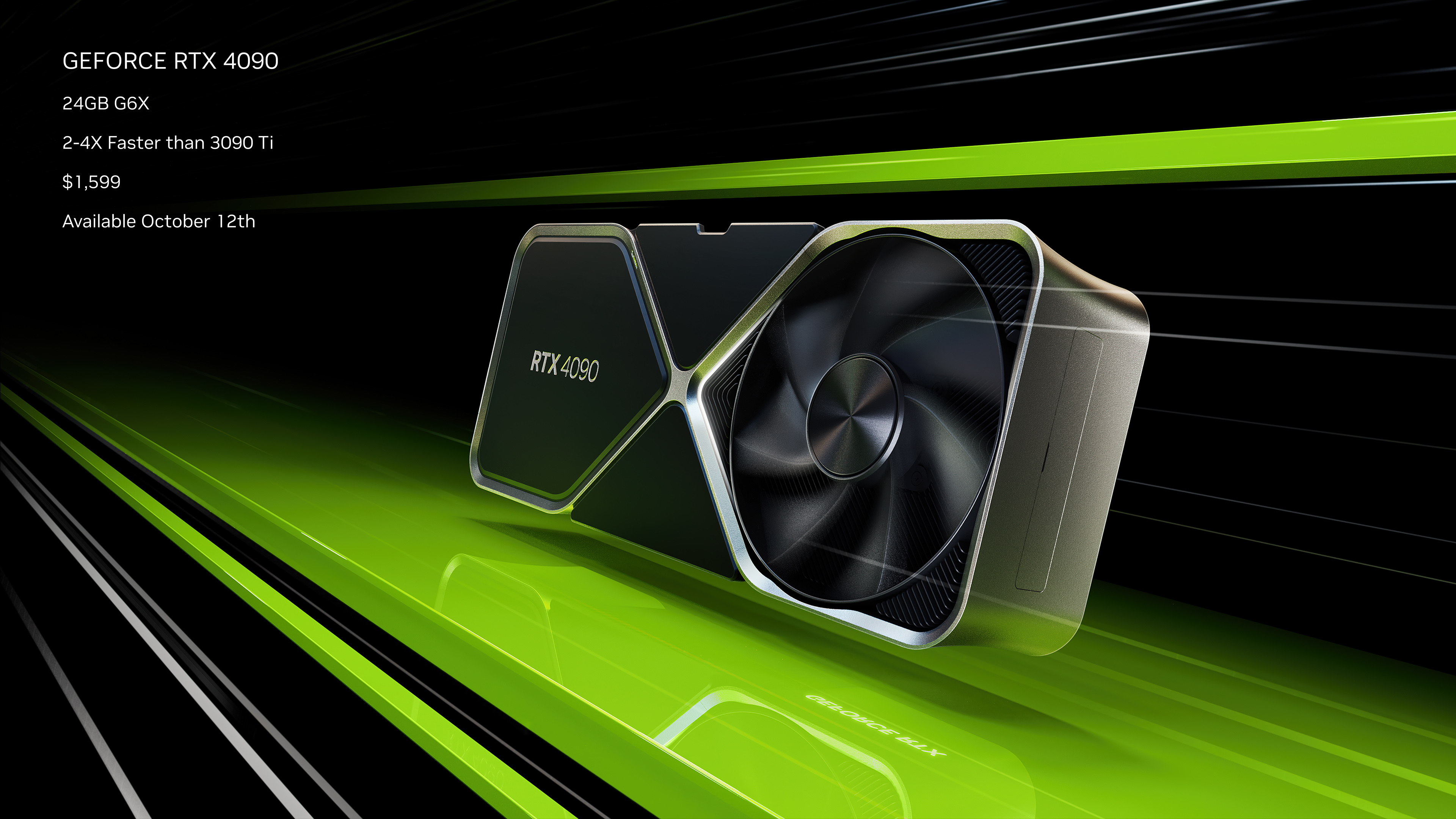 GeForce RTX 4080: Twice As Fast As The GeForce RTX 3080 Ti
The GeForce RTX 4080 is launching in two configurations.
The GeForce RTX 4080 (16GB) boasts 9,728 CUDA Cores, 780 Tensor-TFLOPs, 113 RT-TFLOPs, 49 Shader-TFLOPs of power, and GDDR6X memory, making it twice as fast as the GeForce 3080 Ti, using nearly 10% less power. Creators will also benefit from the additional memory when rendering larger scenes, editing 12K RAW video, and working with multiple apps at the same time. Prices start at $1199.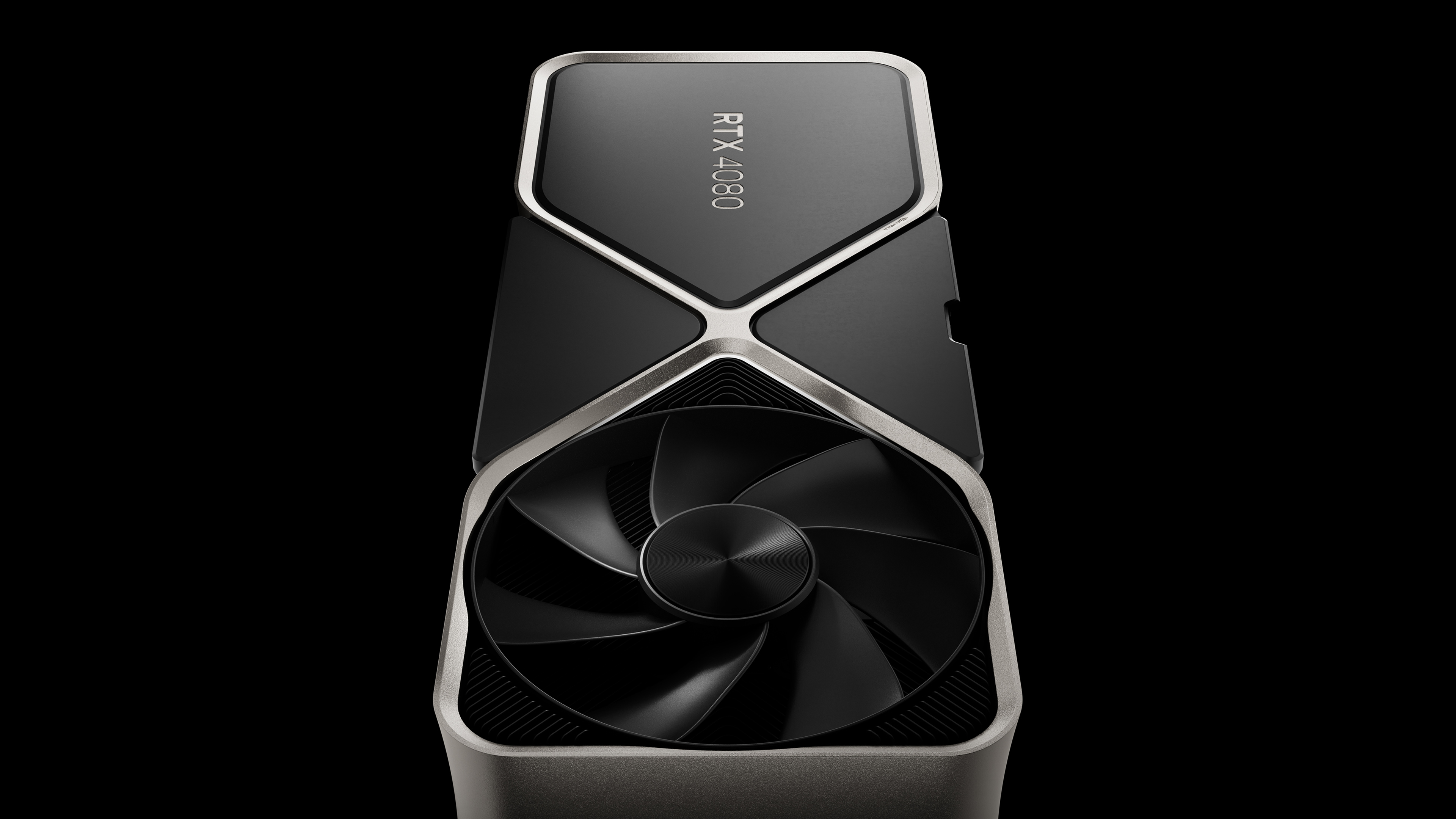 The GeForce RTX 4080 (12GB) has 7,680 CUDA Cores, 639 Tensor-TFLOPs, 92 RT-TFLOPs, 40 Shader-TFLOPs, and GDDR6X memory, giving buyers more performance than the GeForce RTX 3090 Ti, and access to all of our new-generation innovations. Prices start at $899.
Both versions will launch this November - keep an eye on GeForce.com for further details.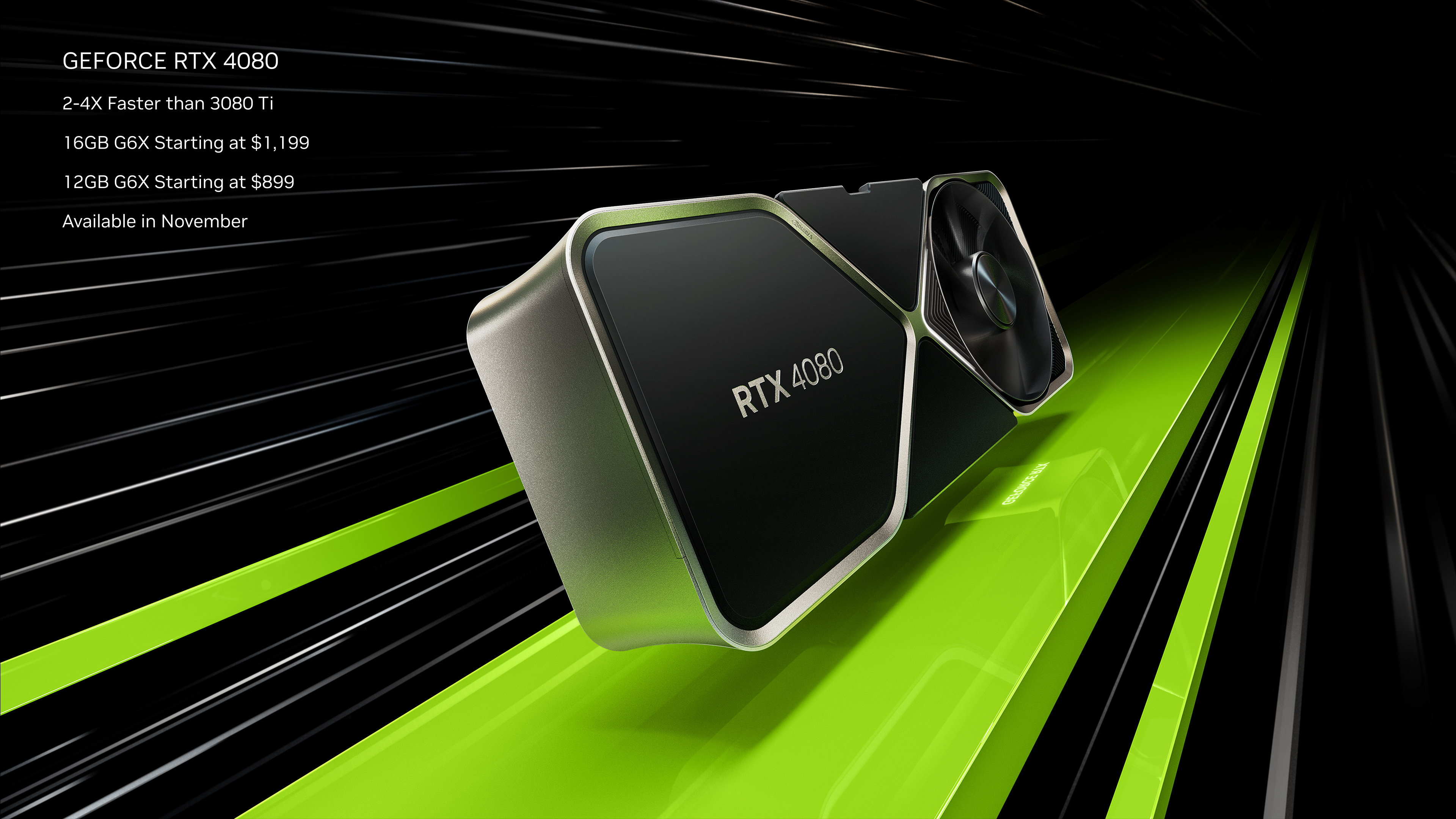 Introducing GeForce RTX 40 Series Founders Edition Graphics Cards
Last gen we introduced an innovative Dual Axial Flow Through cooler for our Founders Edition graphics cards that was paired with a striking new design, and premium materials.
For our new GeForce RTX 40 Series Founders Edition graphics cards, we've further optimized the Dual Axial Flow Through system, increasing fan sizes and fin volume by 10%, and upgrading to a 23-phase power supply. Memory temperatures are reduced, and the new, substantially more powerful Ada GPUs are kept cool in ventilated cases, giving gamers excellent overclocking headroom.
Each GeForce RTX 40 Series Founders Edition graphics card reduces cable clutter by leveraging the new standard GPU power input of next-gen ATX 3.0 power supplies, the PCIe Gen-5 16-pin Connector. This enables you to power GeForce RTX 40 Series graphics cards with just a single cable, improving the aesthetics of your build. If you are using a previous-gen power supply, an adapter cable is included in the box, allowing you to plug in three 8-pin power connectors, with an optional fourth connector for more overclocking headroom. ATX 3.0 power supplies will be available in October from ASUS, Cooler Master, FSP, Gigabyte, iBuyPower, MSI, Silverstone, and ThermalTake, with more models to come.
Partners from around the planet, including ASUS, Colorful, Gainward, Galaxy, GIGABYTE, INNO3D, MSI, Palit, PNY, and ZOTAC will soon sell custom cards utilizing their own unique designs and cooling solutions. Stay tuned to their websites for further details. GeForce RTX 4090 and RTX 4080 (16GB) graphics cards will also be produced directly by NVIDIA as a limited Founders Edition, for fans who want graphics cards using our unique in-house design.

Also, look for the GeForce RTX 40 Series graphics cards in gaming systems built by Acer, Alienware, ASUS, Dell, HP, Lenovo and MSI, plus leading system builders worldwide.
Portal with RTX DLC, Free For Portal Owners
Portal is one of the highest-rated games of all time, and this November we're giving it a fully ray-traced makeover with the release of our free Portal with RTX DLC, created with the new NVIDIA RTX Remix modding platform built on NVIDIA Omniverse.
In Portal with RTX, full ray tracing transforms each scene, enabling light to bounce and be affected by each area's new hi-res physically based textures, and enhanced high-poly models. Every light is ray-traced and casts shadows, global illumination indirect lighting naturally illuminates and darkens rooms, volumetric ray-traced lighting scatters through fog and smoke, shadows are pixel perfect, and generally, every single aspect of Portal's graphics have been upgraded and enhanced with loving attention to detail.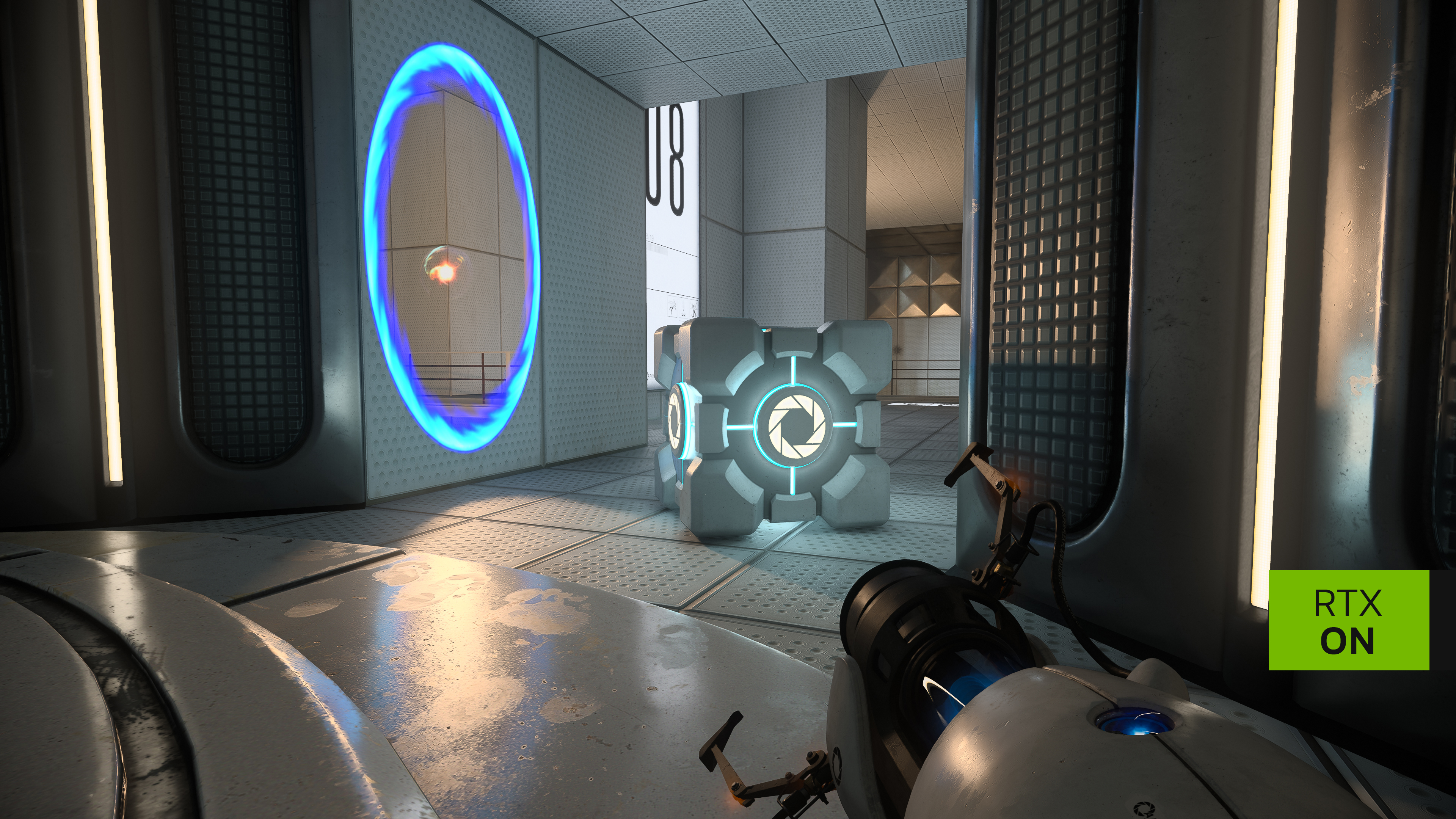 Click here to view the comparison in 4K
Wishlist on Steam now, and head over to our Portal with RTX article for all the details and many more RTX ON screenshots.
NVIDIA Racer RTX, Showcases The Power Of GeForce RTX 40 Series Graphics Cards
Our new, beyond fast GeForce RTX 40 Series graphics cards have the power to render entirely ray-traced, physically accurate virtual worlds at up to four times the speed of the last generation. To demonstrate the possibilities of gaming on GeForce RTX 40 Series graphics cards, this November you can download and play NVIDIA Racer RTX, a free experience rendered with the most detailed graphics seen to date.
Taking control of realistically rendered and physics-accurate RC cars, you'll navigate around unique environments, each filled with photo-real objects, simulated in real time in NVIDIA Omniverse, a platform for building and operating custom 3D pipelines.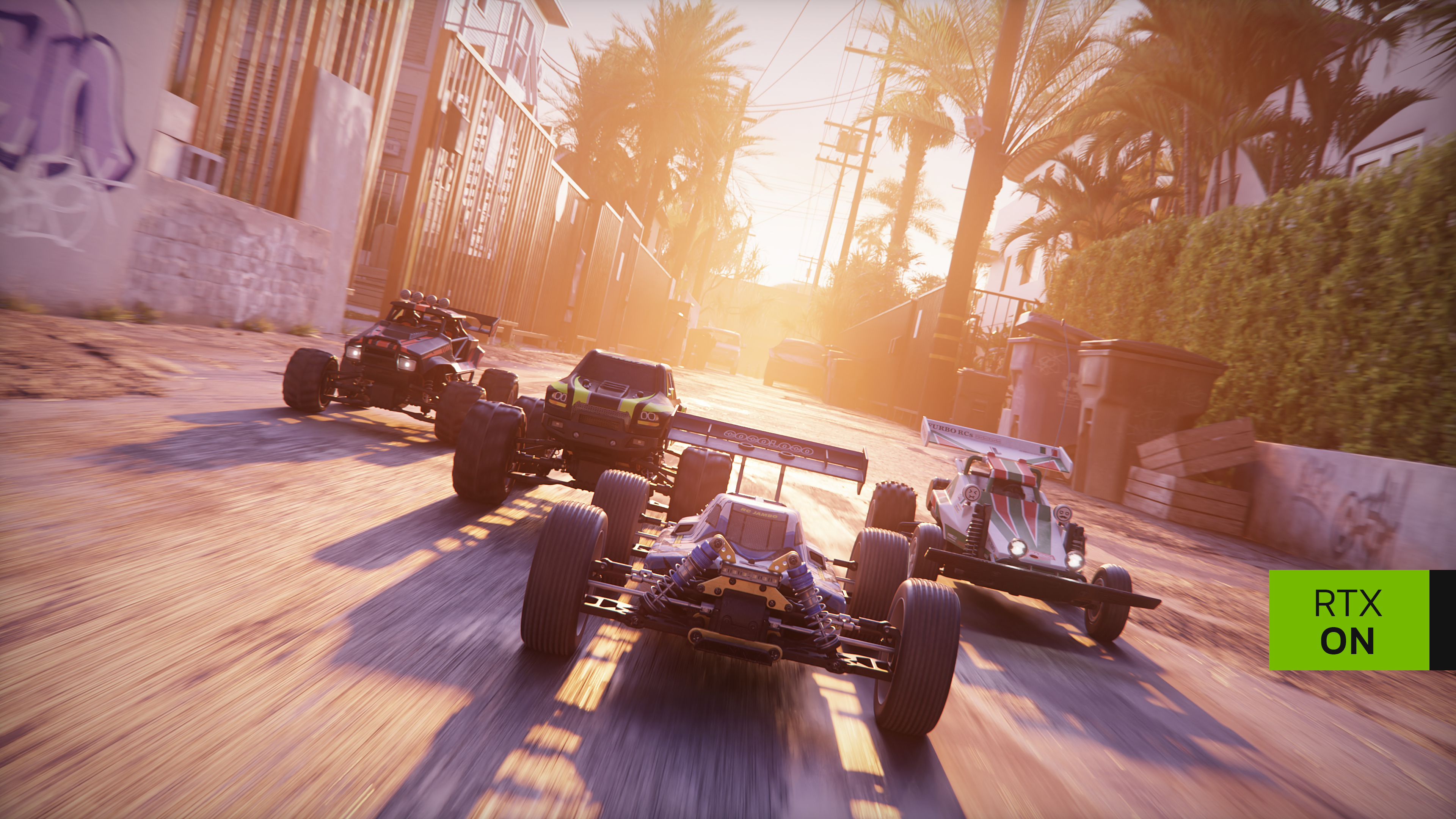 For further information, head on over to our RTX games article.
Cyberpunk 2077 New Ray Tracing: Overdrive Mode & DLSS 3 Upgrade
CD PROJEKT RED's Cyberpunk 2077 is already one of the most advanced games available, using several ray tracing techniques to render the massive, futuristic Night City at incredible levels of detail. In the near future, a new Cyberpunk 2077 update will hit the streets, bringing with it a new Ray Tracing: Overdrive Mode that greatly enhances the game's already-incredible visuals.
NVIDIA DLSS 3 is also coming, multiplying frame rates on GeForce RTX 40 Series graphics cards, giving gamers the performance to render Cyberpunk 2077's new Ray Tracing: Overdrive Mode at the highest detail levels and resolutions.
For all the details, hit up our #RTXON games article.
Justice 'Fuyun Court' New Graphics Showcase Launching October 12
Justice, NetEase's martial arts MMO, leads the way in its native China, with engrossing gameplay set in ancient China during the time of the Northern Song Dynasty, a 36 million-strong player base, and a continually-upgraded, internally-developed engine called Night Blaze that's at the forefront of tech.
In 2018, Justice's Night Blaze engine was one of the first to add ray-traced reflections, shadows and caustics, and NVIDIA DLSS. And now, NetEase is showcasing a path-traced upgrade with the launch of Fuyun Court, a new location that all players can access from October 12th when the next Justice game update is released.
Justice's Fuyun Court update will also include NVIDIA DLSS 3 and NVIDIA Reflex, which can be used throughout the game, not just in the stunningly-rendered showcase. Head here to learn more about the tech that makes Fuyun Court possible, and to see jaw-dropping ON-OFF 4K screenshots.
NVIDIA RTX Remix Modding Platform: Create & Share #RTXON Mods For Classic Games
Graphics mods are the most popular upgrade for the 1,800 games supported by Nexus Mods, the Internets' premier mod repository. But making these isn't easy - mod tools are complex and don't exist for many classic games. Enter NVIDIA RTX Remix, a free modding platform built on NVIDIA Omniverse that enables modders to quickly create and share #RTXON mods for classic games, each with enhanced materials, full ray tracing, and NVIDIA DLSS 3.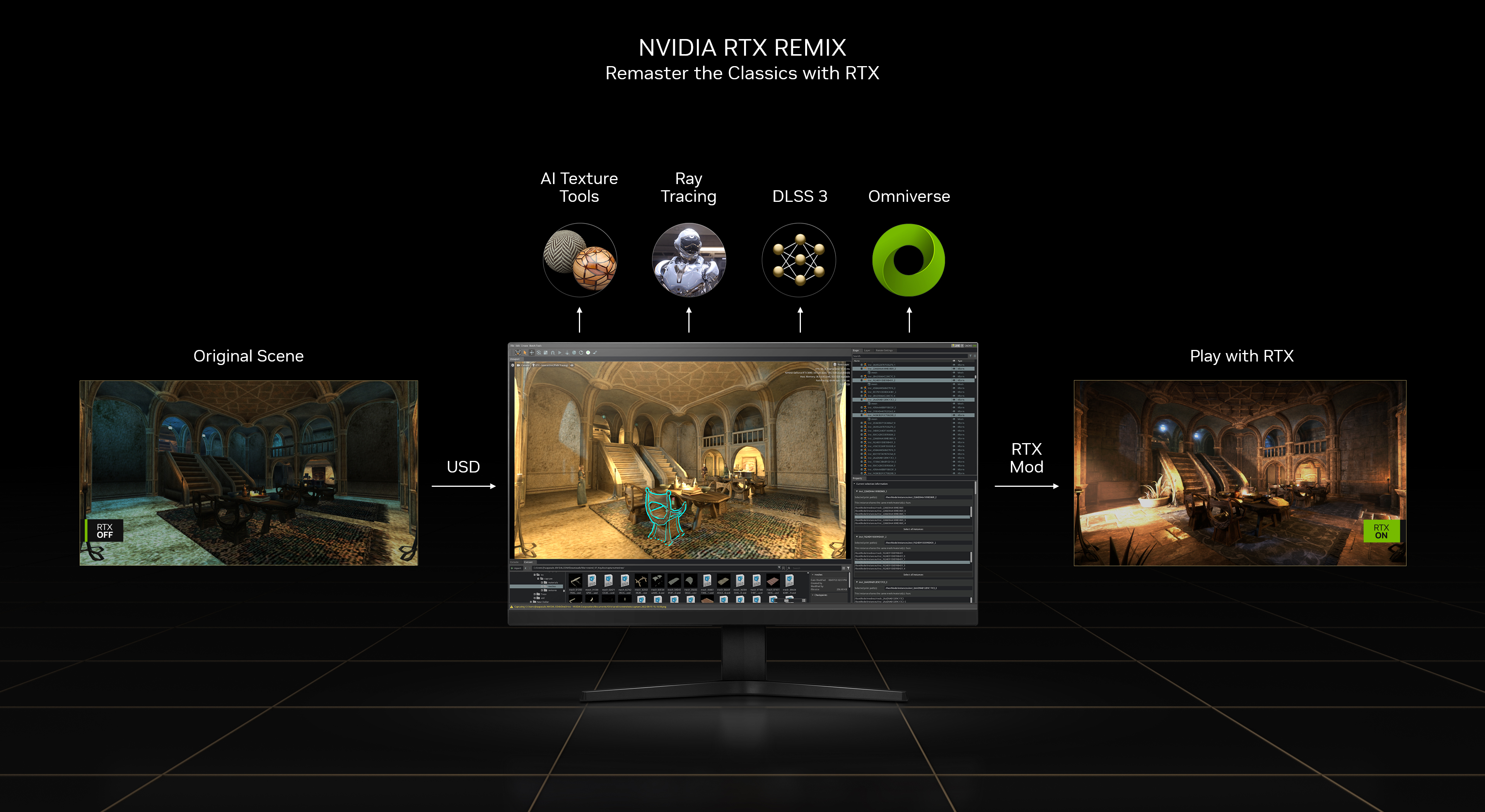 RTX Remix powers Portal with RTX, and to demonstrate its ease of use we walk you through the modding of Bethesda Softworks' The Elder Scrolls III: Morrowind in our in-depth NVIDIA RTX Remix article. Sign up to be notified of RTX Remix availability here.
Step Up To 1440p 360 FPS Competitive Gaming With GeForce RTX 40 Series Graphics Cards & NVIDIA Reflex
In recent years, NVIDIA has transformed the competitive gaming landscape. GeForce RTX graphics cards have delivered previously unfathomable frame rates, our work with panel partner AU Optronics created ultra-high refresh rate, tear-free G-SYNC esports monitors, and NVIDIA Reflex revolutionized the measurement and reduction of system latency. Now, virtually all esports pros use GeForce RTX graphics cards and 240Hz+ esports monitors.
With the GeForce RTX 40 Series being so fast, competitive players can step up to 27" 1440p 360Hz monitors beginning this fall, with 360+ FPS, and with system latency as low as 10ms in top esports titles. Our research found that 1440p 27" displays can improve aiming by up to 3% over traditional 1080p 24" displays, when aiming at small targets, such as an enemy's head. For competitive gamers, 3% can mean the difference between victory and defeat.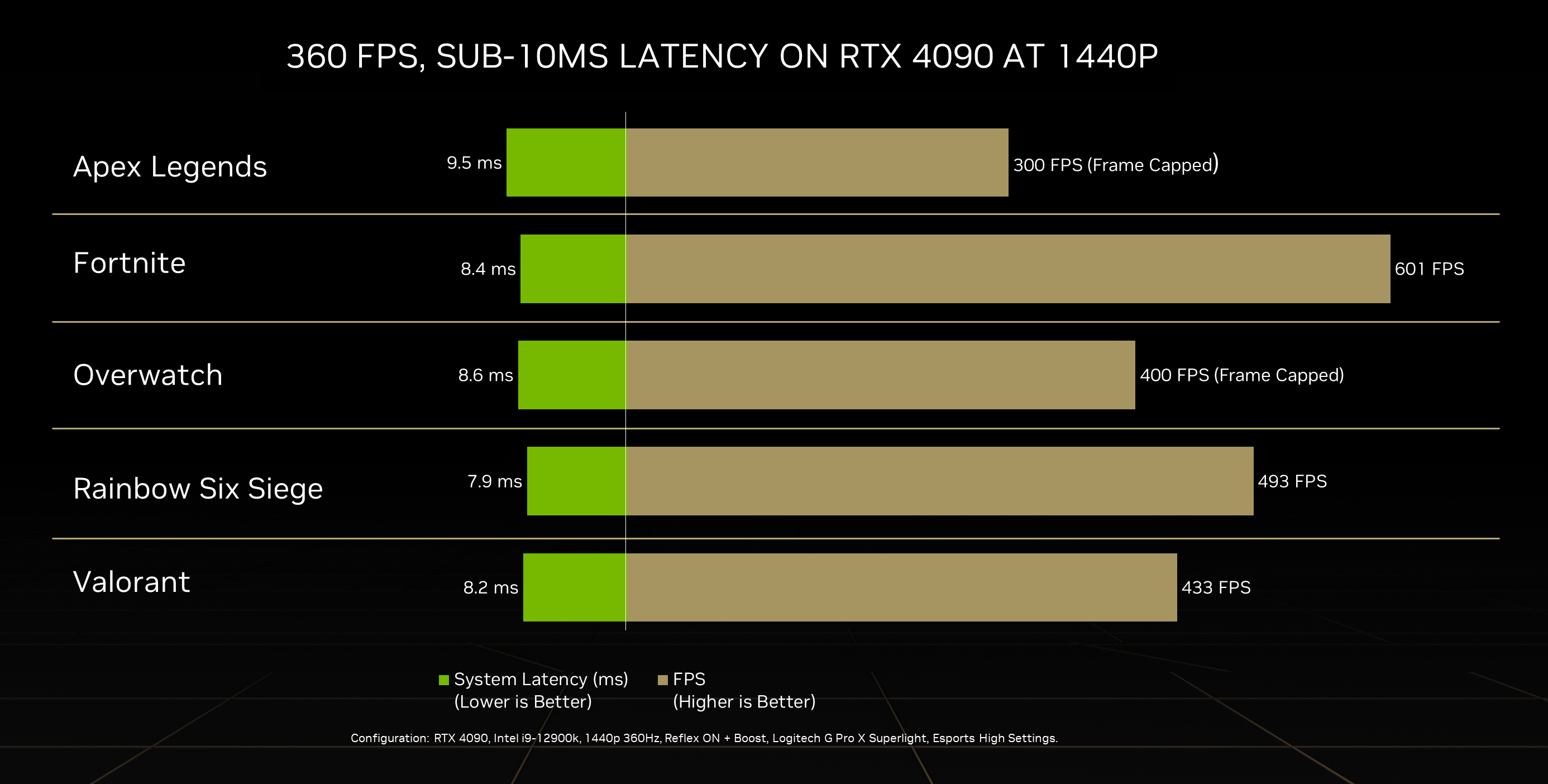 Up your game by heading to our NVIDIA Reflex article, where you'll find all the details.
NVIDIA Reflex Coming To Overwatch 2, Cyberpunk 2077, and More of The Most Popular & Anticipated Games
NVIDIA Reflex is already available in over 40 games, including 8 of the top 10 competitive shooters. In each, end to end system latency is reduced by an average of 20%, giving players a more responsive experience that improves reaction times, target acquisition, aim precision, and your chance of victory. In the near future, NVIDIA Reflex is coming to another 8 games, and adoption is set to expand with NVIDIA DLSS 3 utilizing the power of NVIDIA Reflex.
Titles coming soon with NVIDIA Reflex, include:
To learn about the next wave of games adding NVIDIA Reflex in the future, stay tuned to GeForce.com. For game developers looking to integrate NVIDIA Reflex into their game, check out our developer resources page here.
#BeyondFast: Your Chance To Win A GeForce RTX 4090!
Want to win a GeForce RTX 4090? Over the coming weeks, our social channels will bring you all the latest news about our new, beyond fast GeForce RTX 40 Series graphics cards. Read each post carefully and follow the prompts to share your excitement for GeForce PC gaming and the 3rd generation of RTX. Here's what you'll need to do:
Look out for prompts in our posts to share, tag or answer questions

Use #BeyondFast

Answer as many of our prompts as often as you like. Each entry is a chance to win!
Find the full terms and conditions here.
GeForce RTX 40 Series Build, Brought To You By GeForce Garage
GeForce Garage is celebrating the launch of our NVIDIA Ada Lovelace architecture by building a custom watercooled Ada PC, featuring the brand new GeForce RTX 4090.
Get inspiration for your GeForce RTX 40 Series build by watching the glorious GeForce Garage video below:
Join Us "In the NVIDIA Studio" For An In-Depth Look At How GeForce RTX 40 Series Graphics Cards Helps Creators Work Faster
Our weekly In the NVIDIA Studio blog series celebrates creativity everywhere, showcasing inspirational and thought-provoking work, and detailing how creators are using GeForce RTX GPUs to go from concept to completion, faster than ever.
We'll be deep diving on new GeForce RTX 40 Series features, technologies and resources, and how they'll dramatically accelerate your content creation. This week, we'll go behind-the-scenes with Racer RTX – built with a single GeForce RTX 4090 GPU within Omniverse, an open platform for virtual collaboration and real-time photorealistic simulation. Go to the NVIDIA Studio blog to take an inside look on how the demo was made, only In the NVIDIA Studio.
GeForce RTX 40 Series Graphics Cards: Beyond Fast
The ultra-efficient NVIDIA Ada Lovelace architecture delivers a quantum leap in graphics card performance and capabilities, giving GeForce RTX 40 Series users the power to experience the next generation of fully ray-traced games. And to finish their work and creative endeavors in a fraction of the time. They're beyond fast.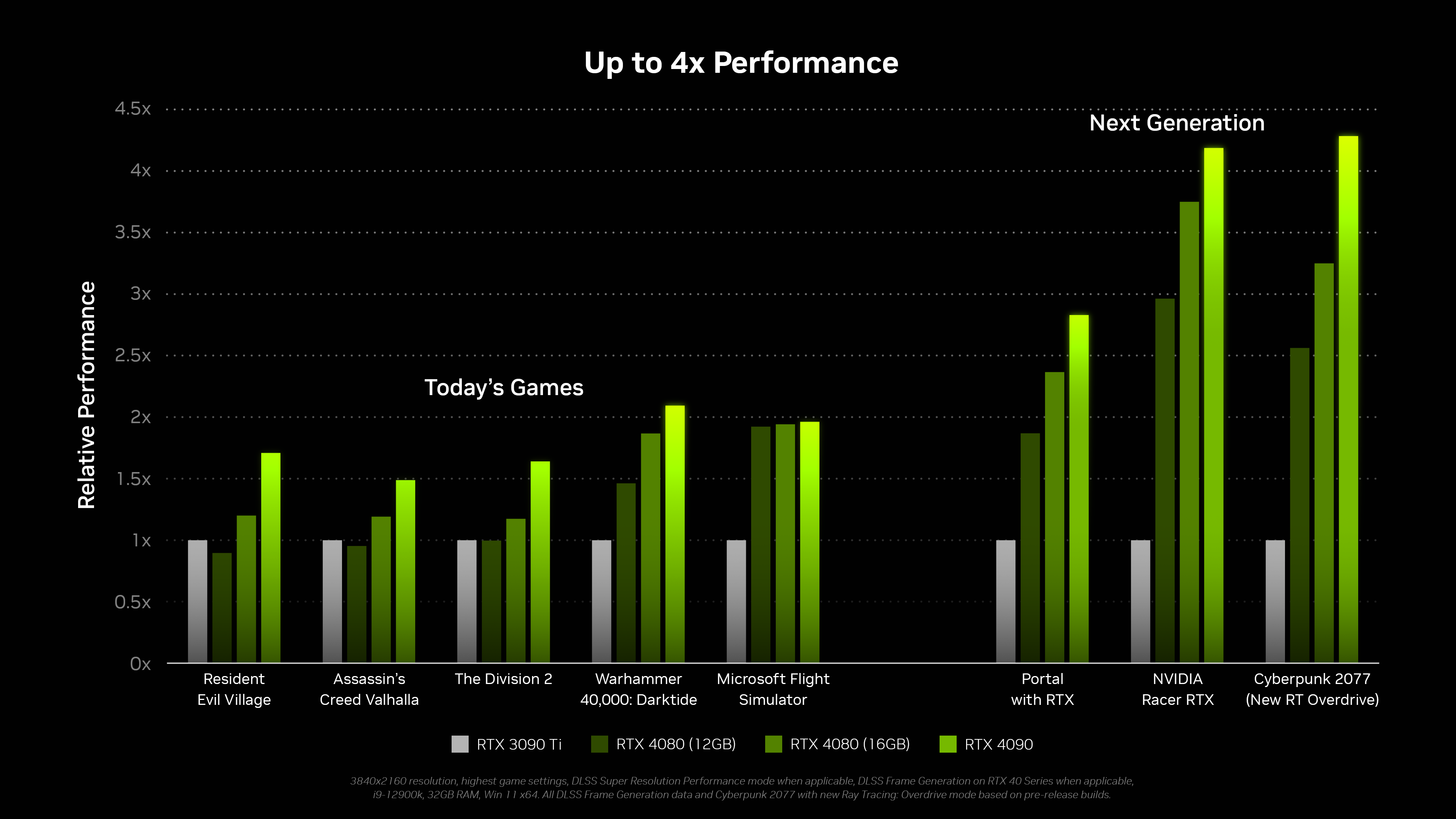 The new GeForce RTX 4090 and GeForce RTX 4080 join our GeForce RTX family, giving gamers and creators class-winning performance across the entire stack, and an unparalleled platform of features and experience-enhancing upgrades, improving your work and play.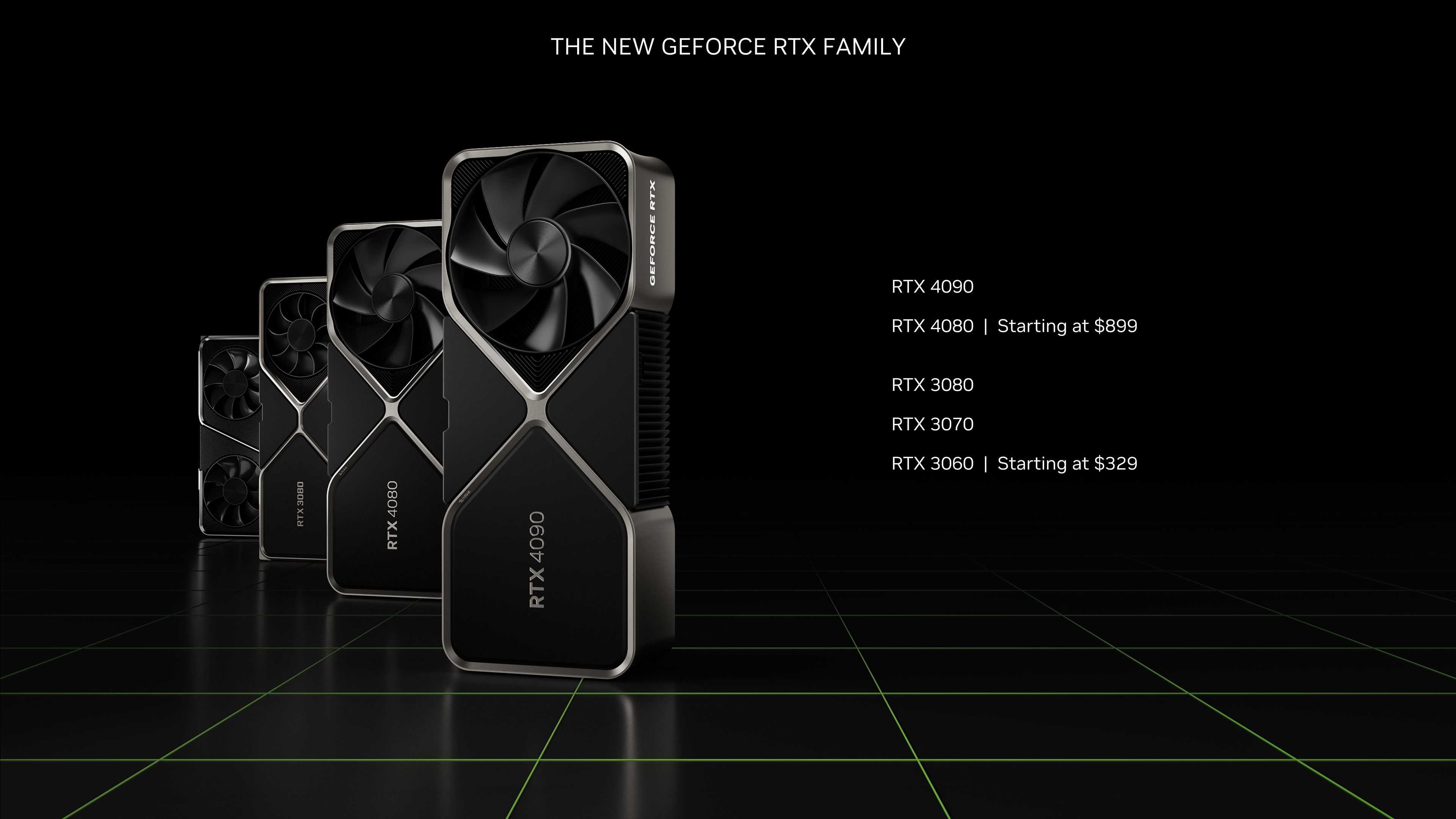 GeForce RTX 4090 graphics cards launch October 12th, followed by GeForce RTX 4080 graphics cards in November. Stay tuned to GeForce.com for further information as we approach their launch, and for all our future game, GPU and technology announcements.
Game developers, get all the info about our new SDKs and development resources in our announcement recap blog.