2022 was an amazing year for GeForce gamers, with the launch of GeForce RTX 40 Series graphics cards, and continual innovation that made NVIDIA DLSS, NVIDIA Reflex, and ray tracing even better. DLSS momentum is strong with over 250 DLSS games and creative applications now available, and 50 additional DLSS 3 games released or soon-to-be released.
Ray tracing entered a new era with the launch of Portal with RTX, a fully ray-traced reimagining of Valve's classic game, showing the full potential of NVIDIA RTX Remix and real-time ray tracing on GeForce RTX graphics cards. And NVIDIA Reflex adoption accelerated rapidly, with GeForce gamers now enjoying more responsive gameplay in over 50 titles, with new integrations launching every month.
2023 promises to be equally exciting, and to kick things off NVIDIA headed to CES 2023 to make numerous announcements for gamers and creators that leverage the power of RTX to accelerate workloads, and enable new possibilities.
In this summary, we'll highlight all of our GeForce announcements, which include the unveiling of GeForce RTX 40 Series laptops, releasing February, the reveal of the GeForce RTX 4070 Ti, releasing January 5th, the announcement of new DLSS 3 games, news about GeForce NOW's Ultimate upgrade streaming RTX 4080-class performance, and more.
For all the details, and everything else we announced, watch our full presentation, and read on below.
GeForce RTX 40 Series Laptops Launch February 8th
From February 8th, our critically acclaimed NVIDIA Ada Lovelace Architecture comes to laptops with the launch of GeForce RTX 4090 and 4080 laptops, followed by GeForce RTX 4070, 4060, and 4050 laptops on February 22nd. Prices start at $999.
The world's fastest laptops, powered by GeForce RTX 4090 and 4080 Laptop GPUs, run up to 3X more efficiently than our previous-generation flagship laptops, enabling users to game at previously impossible detail levels and speeds, and to power through creative workloads in a fraction of the time, all in thin and light form factors.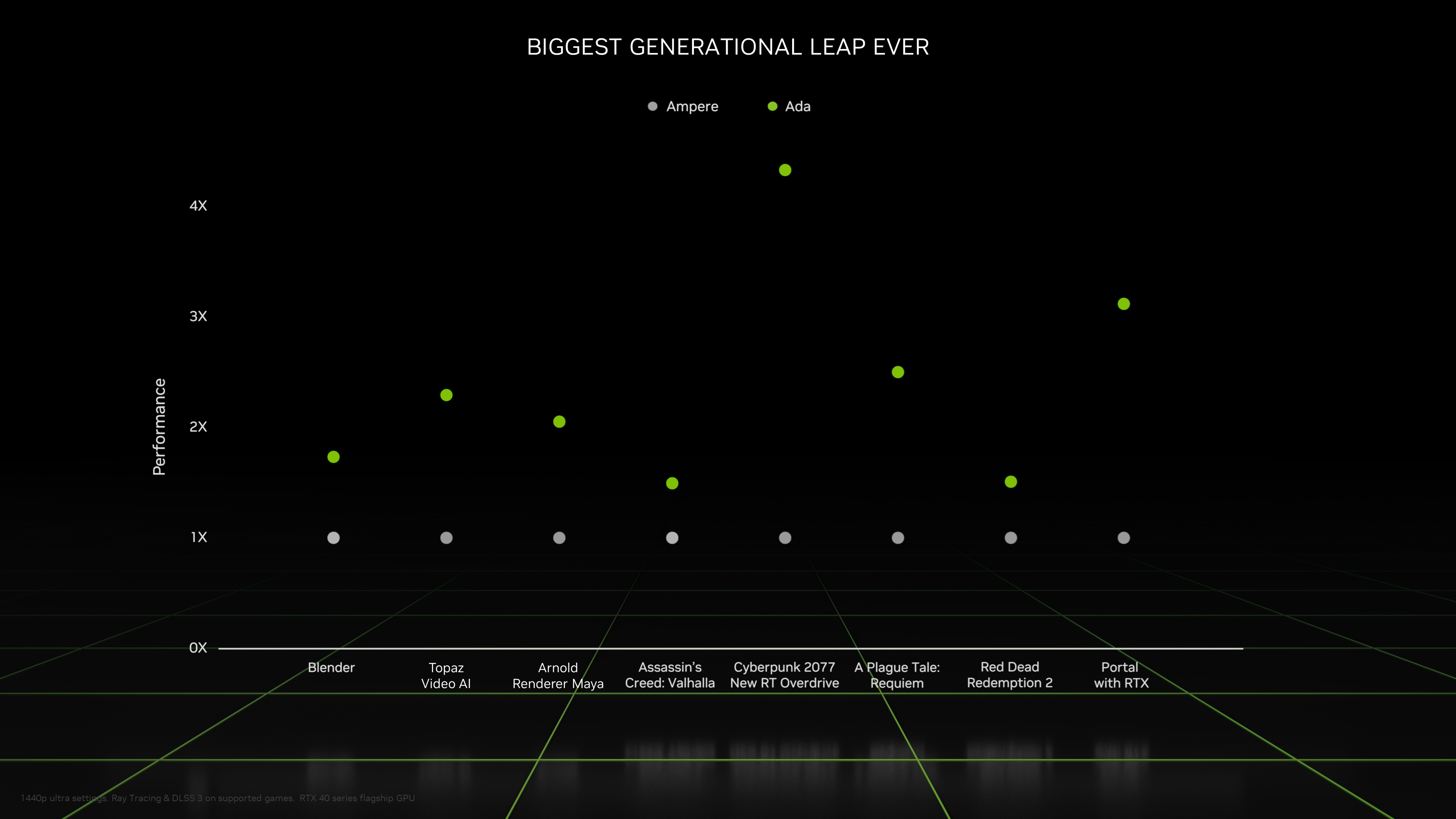 Play A Plague Tale: Requiem, Microsoft Flight Simulator, F1Ⓡ 22, Loopmancer, F.I.S.T.: Forged In Shadow Torch, and more at Ultra settings at over 100 FPS. Collaborate in 3D scenes with Omniverse at a smooth 4K60 with DLSS 3. Export videos in half the time with Ada's dual AV1 encoders. And connect three 4K displays for the ultimate immersive experience in professional-grade driving simulators.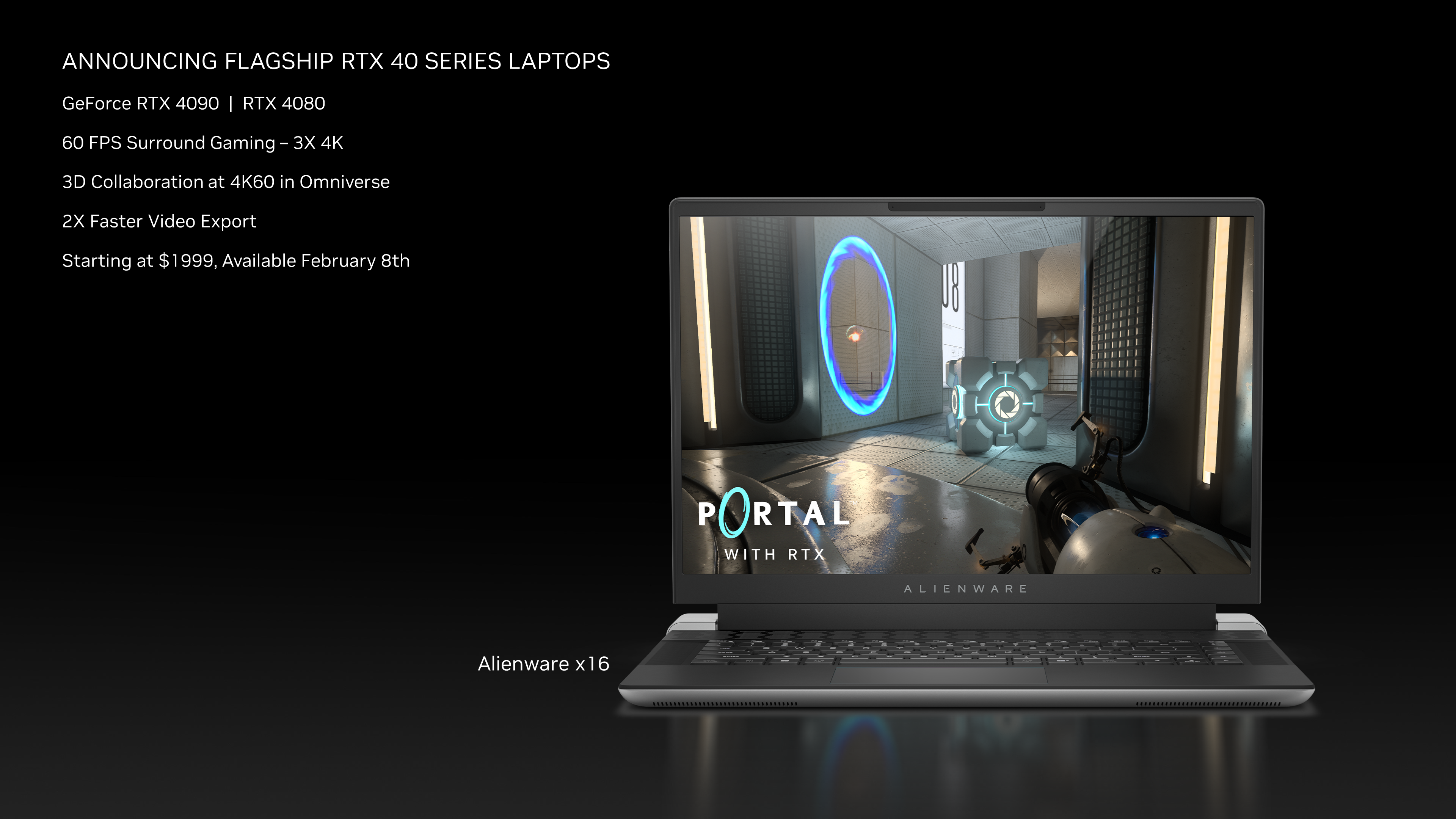 GeForce RTX 4070, 4060 and 4050 Laptop GPUs deliver up to RTX 3080 flagship class performance at one-third of the power, improving thinness, acoustics, and thermals.
Play at up to 80 FPS at 1440p in Cyberpunk 2077 at Ultra settings, render complex Blender scenes in mere minutes, and take advantage of Ada's AV1 encoder for better quality video editing and live streaming. And now, high-performance GeForce RTX Laptop GPUs are available in super portable 14" devices.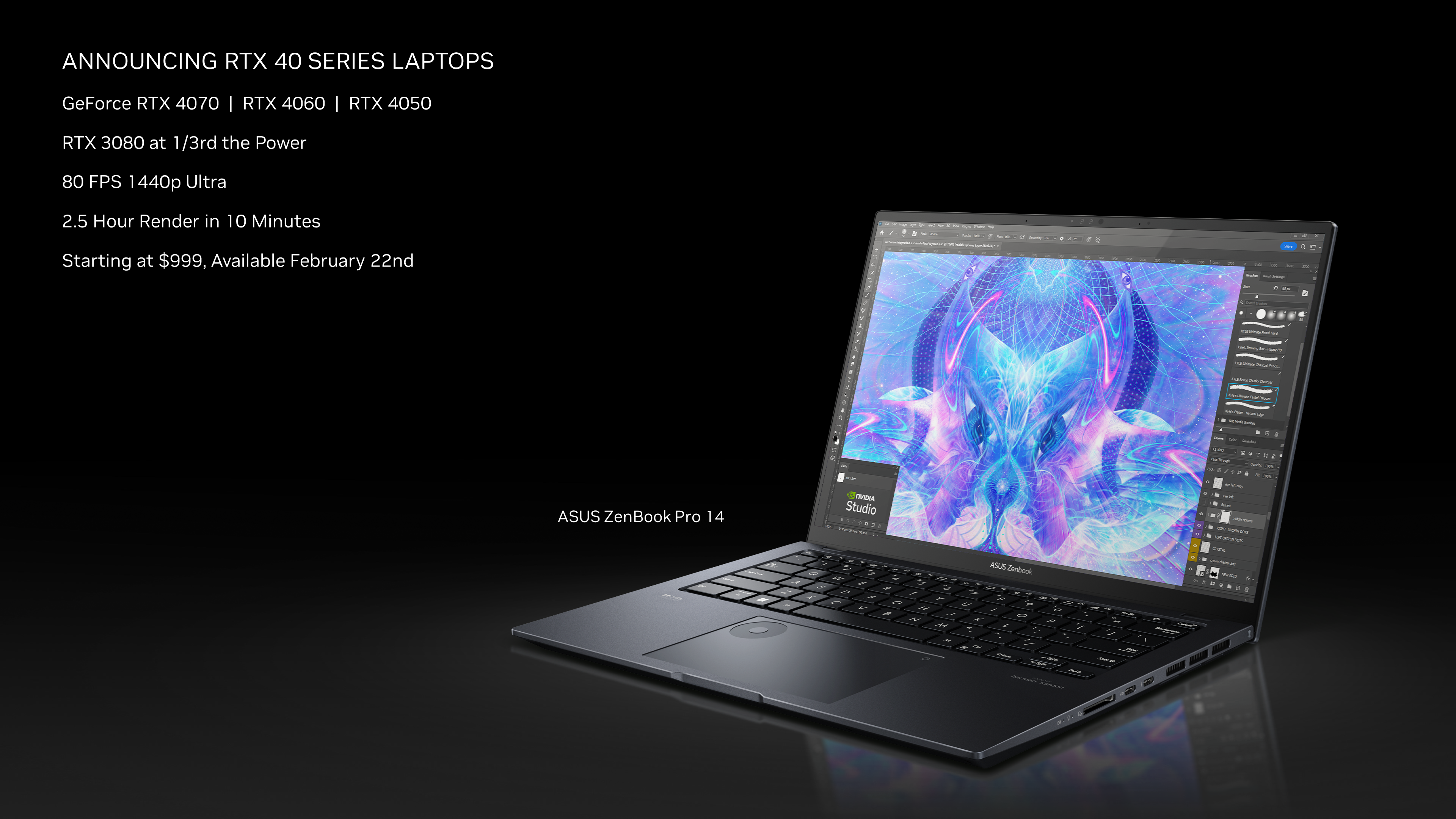 All GeForce RTX 40 Series laptops feature our new 5th Gen Max-Q technologies that further enhance efficiency and performance, giving users an even better experience and even longer battery life. Get a complete rundown here, and learn how Max-Q has improved laptop efficiency by 22X over the past 6 years.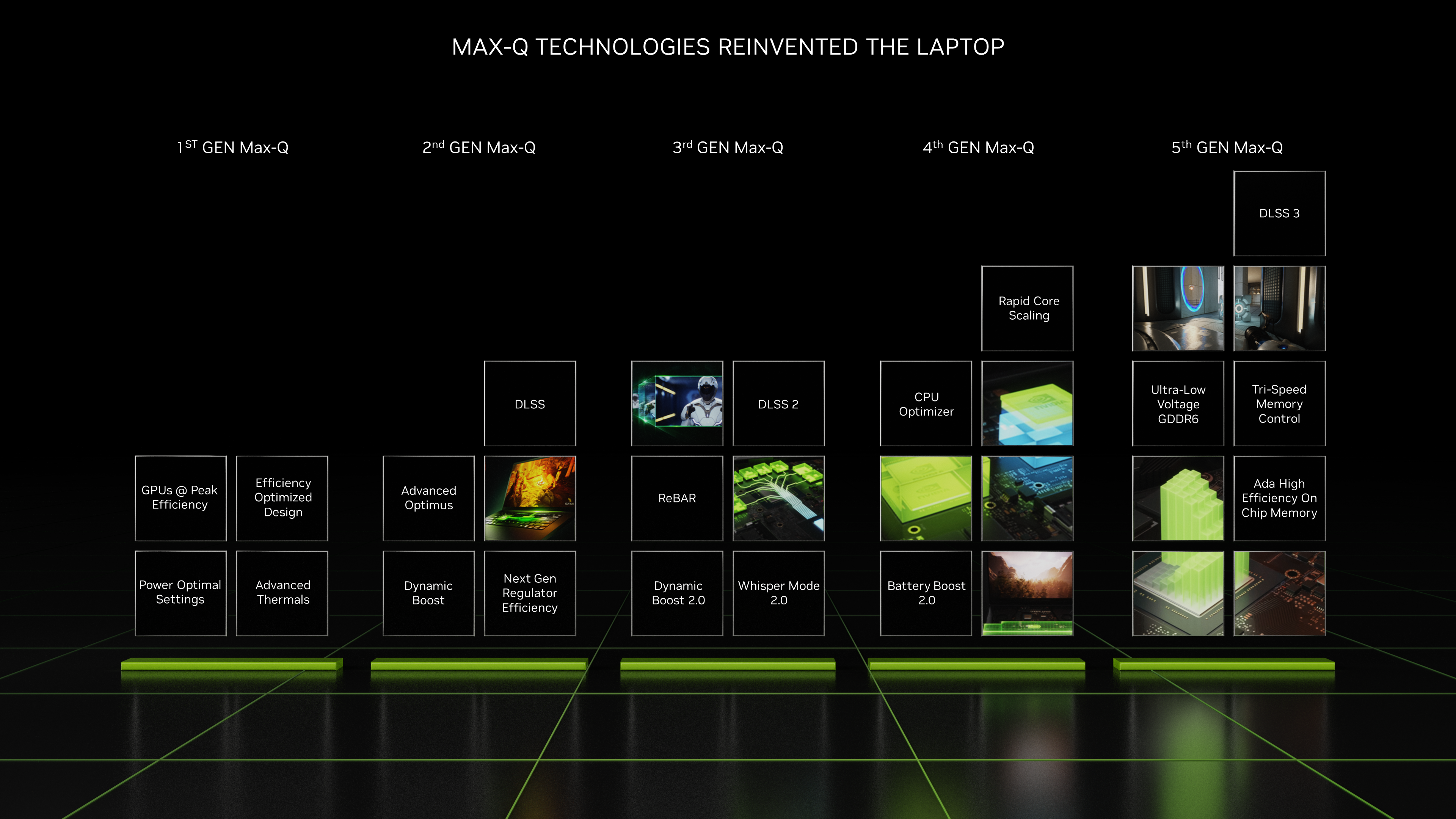 Over a third of GeForce laptop owners use creative and STEM applications. GeForce RTX users can take advantage of all the app accelerations in NVIDIA Studio — 110+ RTX accelerated apps and exclusive NVIDIA software: Omniverse, Canvas, Broadcast and the soon-to-be-released RTX Remix. And NVIDIA Studio validated laptops provide built-for-creator laptops that come preloaded with exclusive NVIDIA Studio software and optimized to take advantage of Studio benefits.
There's much more to say about the capabilities and features of new GeForce RTX 40 Series Laptops, so be sure to head on over to our laptop announcement article for further information.
GeForce RTX 4070 Ti Available January 5th
The GeForce RTX 4070 Ti is faster and more power efficient than the GeForce RTX 3090 Ti thanks to NVIDIA Ada Lovelace architecture innovations and NVIDIA DLSS 3. It will max out your 1440p gaming monitor, delivering over 120 FPS in modern games like A Plague Tale: Requiem, Warhammer 40,000: Darktide, and F1Ⓡ 22, and enable you to experience 2023's upcoming titles at their very best.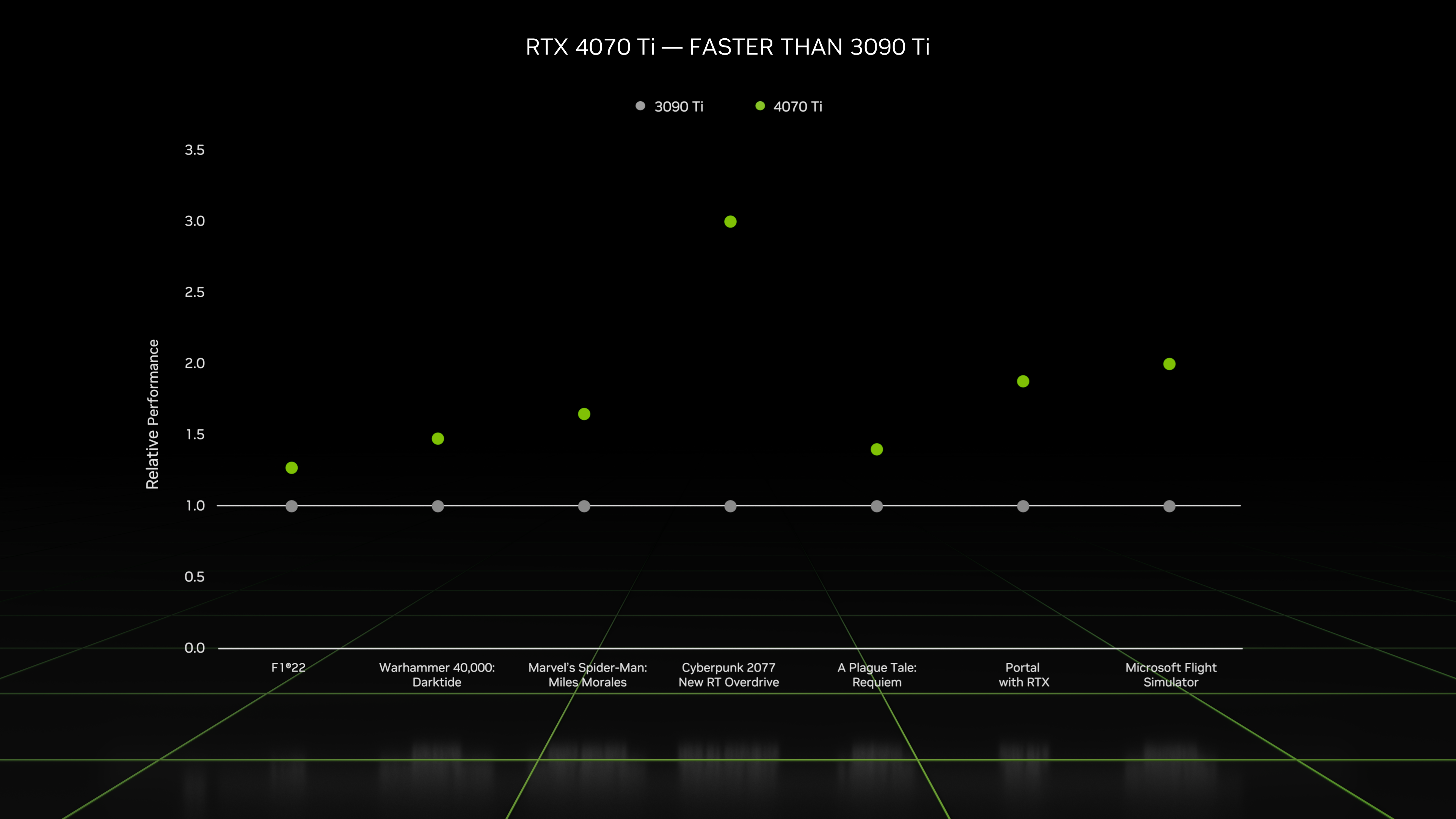 For complete details about the new GeForce RTX 4070 Ti, head over to our comprehensive announcement article, where you can learn more about gaming performance, creative app capabilities, power efficiency, supported features, the GPU's specifications, and much more.
The GeForce RTX 4070 Ti will be available starting January 5th from top add-in card providers ASUS, Colorful, Gainward, GALAX, GIGABYTE, INNO3D, KFA2, MSI, Palit, PNY and ZOTAC, as well as from gaming system integrators and builders worldwide. If you pick one up, download and install our January 5th Game Ready Driver to instantly unlock all of its features for the definitive experience in games and apps.
DLSS Momentum Continues: 50 DLSS 3 Released and Upcoming Games
DLSS is a breakthrough in AI-powered graphics that massively boosts performance. To date, over 250 games and creative applications have added NVIDIA DLSS. And DLSS 3, which uses AI to create additional high-quality frames, is being adopted faster than any prior NVIDIA tech, with 50 released or soon-to-be released titles.
At CES 2023 we announced DLSS 3 will multiply performance in Atomic Heart, Dakar Desert Rally, Marvel's Midnight Suns, The Day Before, Warhaven, Witchfire, and even more anticipated 2023 games. Also, DLSS 2 will be coming to more games, including Dead Space.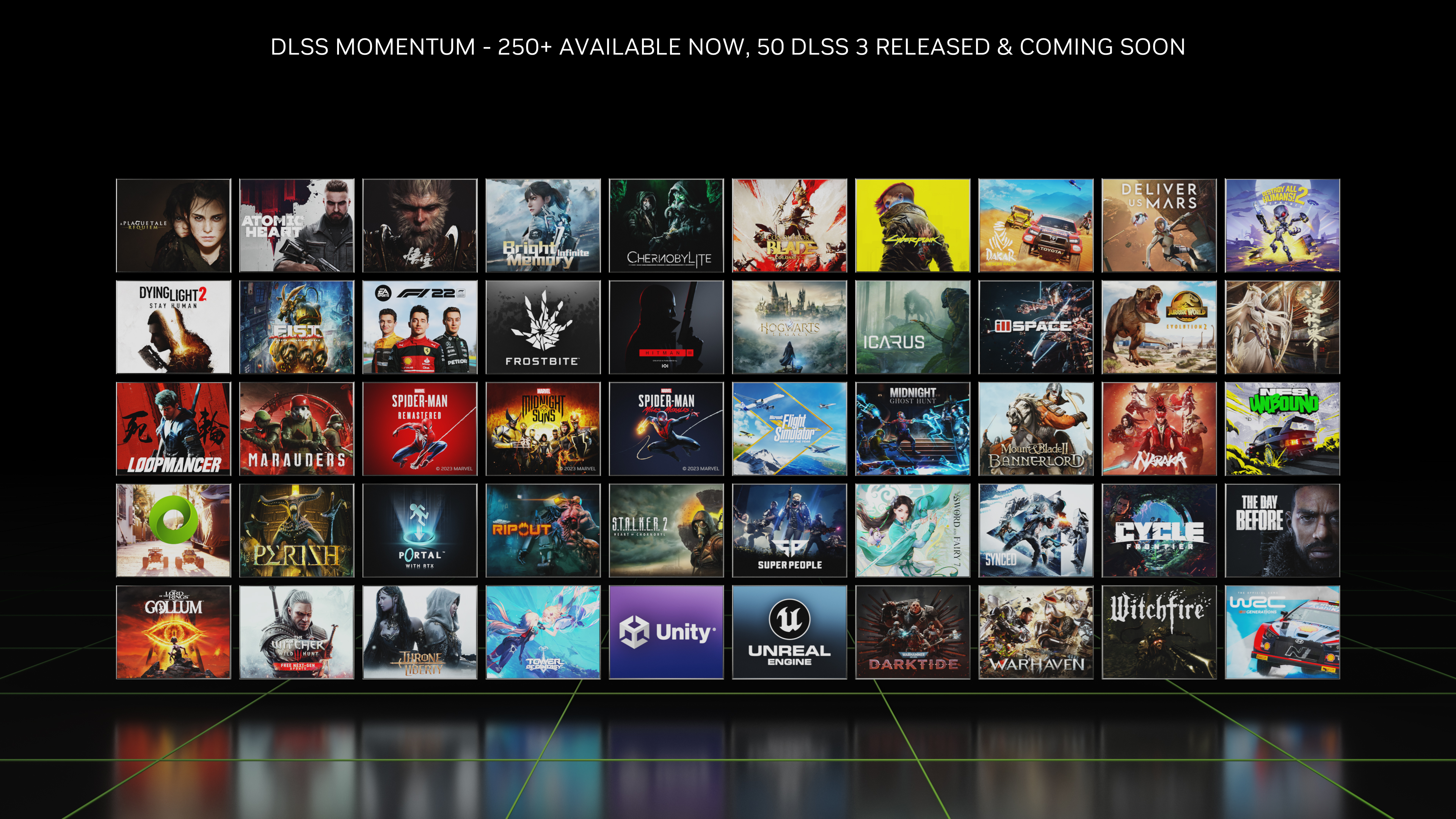 Check out NVIDIA DLSS and RTX videos for the games below, and head to our dedicated CES 2023 RTX Games article to learn more about each title as well as a sneak peek at ongoing DLSS improvements to DLSS Frame Generation and DLSS Super Resolution Ultra Performance mode.
RTX 4080 Gaming Coming To GeForce NOW, Streaming At Up To 240 FPS
GeForce NOW is NVIDIA's cloud gaming service, which makes high-performance gaming accessible on billions of devices everywhere. With over 25 million members, more than 1,500 games including over 100 free-to-play titles, and 30 data centers that reach over 100 countries, GeForce NOW gives PC gamers everywhere the power to stream across all their devices with the latest in GeForce RTX technology.
Starting later this month, NVIDIA Ada Lovelace Architecture GPUs are rolling out to GeForce NOW. Exclusively available with the new Ultimate membership, the upgraded GeForce NOW RTX 4080 SuperPods will deliver the highest resolutions and frame rates from the cloud, beautifully ray-traced experiences thanks to the magic of DLSS 3 powered by AI, and immersive, high-performance gaming from the first cloud gaming solution with support for ultrawide monitors.
For competitive gamers, we are also bringing NVIDIA Reflex to GeForce NOW, streaming games at 240 FPS. Combined with Reflex, gamers playing on GeForce RTX 4080 SuperPODs can achieve click-to-pixel latency below 40ms, also a first in cloud gaming. That's about half the latency of a console game played natively in your home.
New NVIDIA Studio Announcements For Creators
At CES, we've made several new announcements about NVIDIA Studio, our RTX accelerated platform for creators. In addition to the benefits Ada brings to new Studio laptops, here are a few of the highlights:
New GeForce RTX 40 Series GPUs, including new GeForce laptops, power NVIDIA Omniverse creative workflows, with Omniverse Nucleus Cloud, for cloud 3D collaboration. 3D creators can take advantage of a new suite of generative AI tools and experimental plug-ins using the power of AI as the ultimate creative assistant, including an alpha Blender release with new AI integrations. Built on Omniverse, NVIDIA RTX Remix is the easiest way to mod classic games. Read on below for more information, including availability.

NVIDIA Broadcast adds Eye Contact, a new feature that uses AI to make it appear as if you're looking directly at the camera, even when glancing to the side or taking notes. This new feature allows for better audience engagement, and makes you appear fully invested in the conversation at all times. Look for the update later in January.
Over half of RTX users run their display at resolutions above 1080p, but over 90% of online video is 1080p or lower, resulting in upscaling that further degrades the picture. In February, we're launching RTX Video Super Resolution, which uses AI to improve the quality of any video streamed through Google Chrome and Microsoft Edge browsers on GeForce RTX 30 and 40 Series GPUs. Support for GeForce RTX 20 Series GPUs will come in a later update.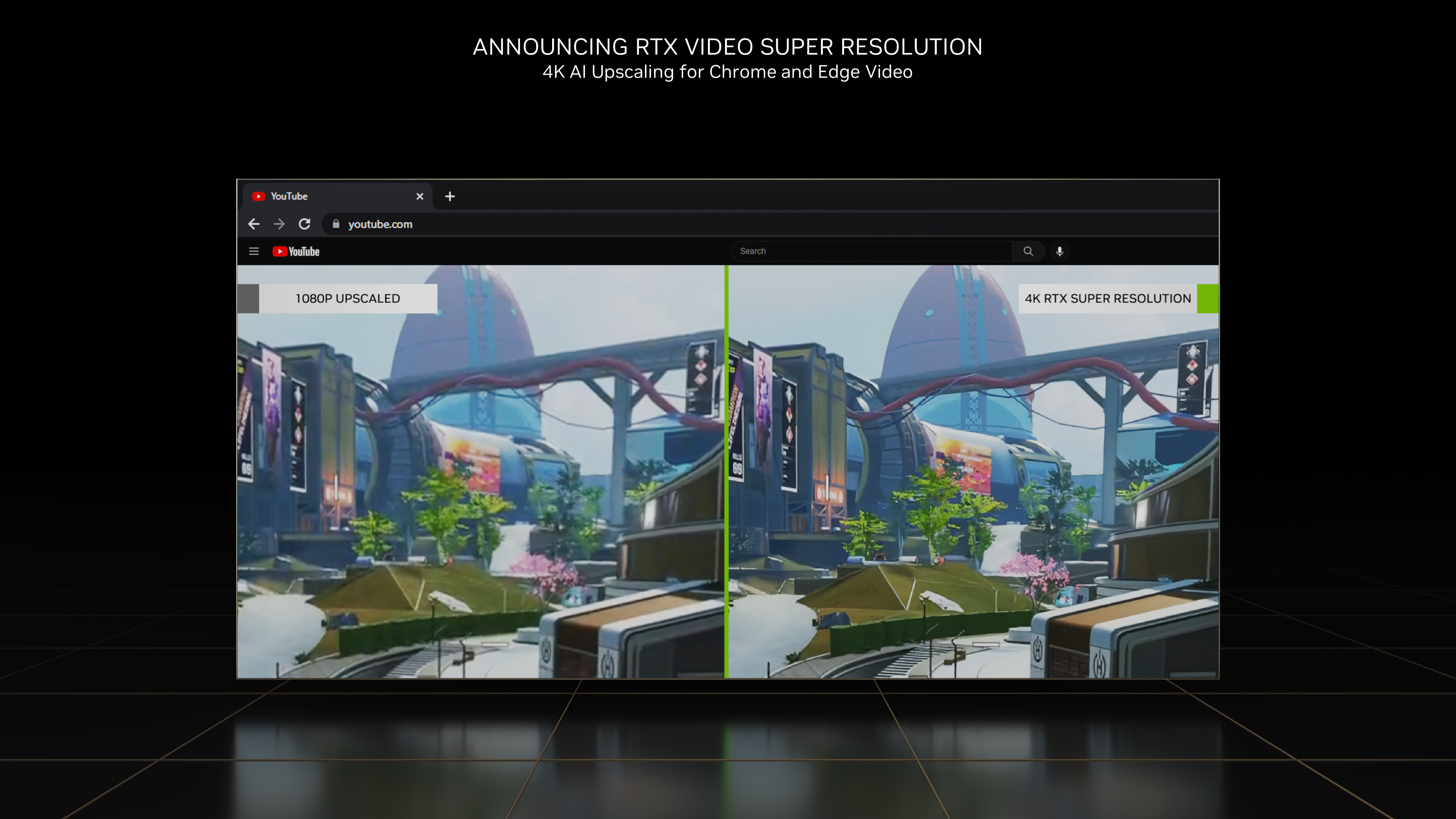 NVIDIA Canvas turns basic brushstrokes into photorealistic landscapes in seconds. We are adding a new feature - Canvas 360 - that will turn Canvas' vistas into exportable spherical maps that can be loaded into a 3D app, such as Unreal Engine, Unity, or Blender, to use as environmental maps to set the ambient lighting of your scenes. The update to Canvas is coming later in Q1.
There's much more, for NVIDIA Omniverse and other applications, so be sure to check out the new NVIDIA Studio article for details.
Portal: Prelude RTX, Built With RTX Remix, Coming Soon
NVIDIA RTX Remix, is a free modding platform built on NVIDIA Omniverse that enables modders to quickly create and share #RTXON mods for classic games, each with full ray tracing (a.k.a. path tracing), enhanced materials, NVIDIA DLSS 3, and NVIDIA Reflex.
The jaw-dropping Portal with RTX was built with NVIDIA RTX Remix, and to demonstrate how easy it is for modders to turn RTX On in their mods, we shared RTX Remix with the original creator of Portal: Prelude, an unofficial Portal prequel originally released in 2008.

Portal: Prelude is a challenging expansion that packs as much content as the original Portal. It is the most popular Portal mod, and was a breakout success for its mind-bending puzzles, much harder platforming, and its boldness to tell an original story in the Portal universe. It was even bundled as a free CD-ROM with Joystick magazine, and featured on MTV.
Nicolas "NykO18" Grevet, the original creator, is working alongside famous modder David "Kralich" Driver-Gomm to modernize Portal: Prelude's assets and relight the game with stunning full ray tracing.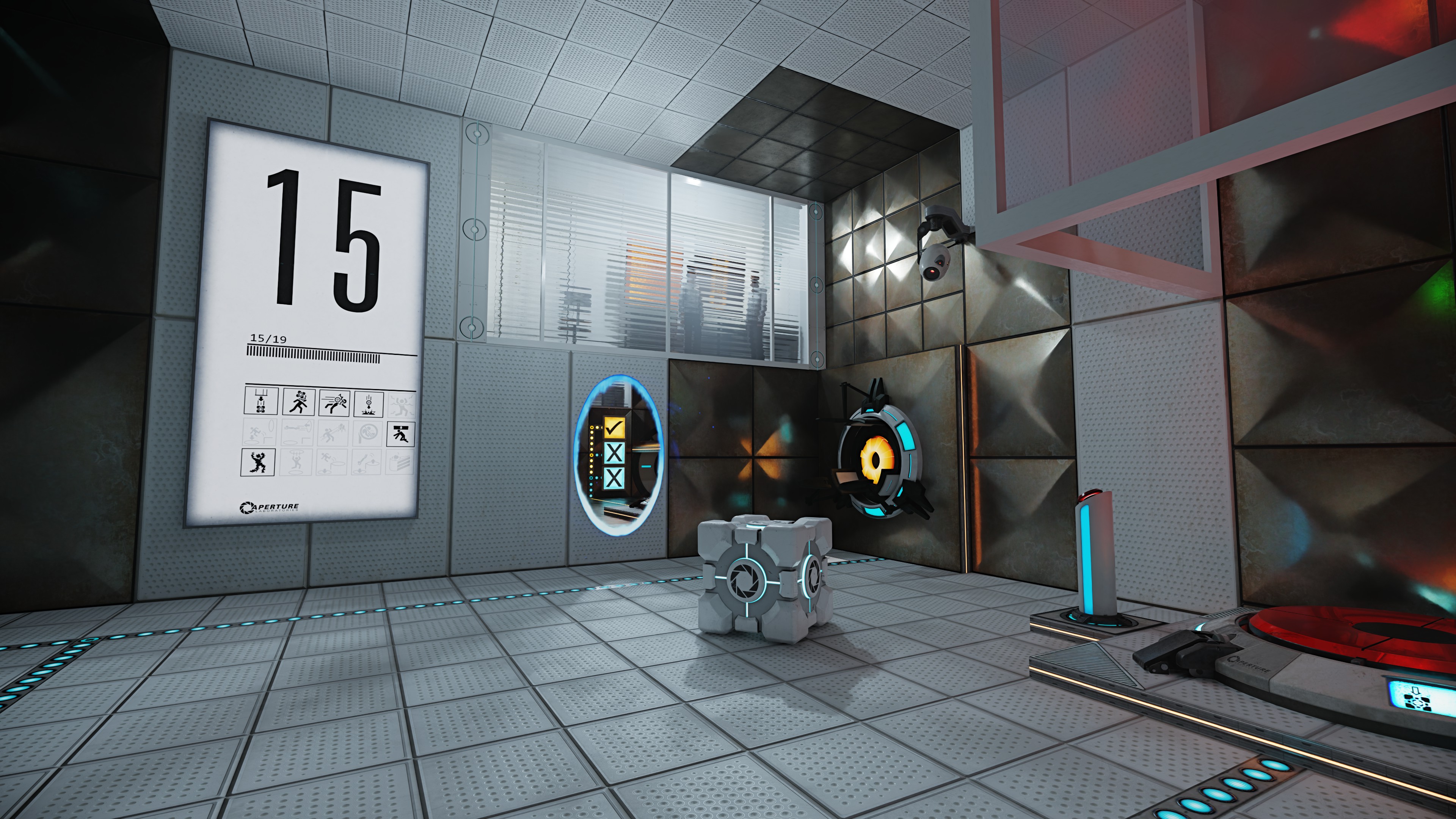 Portal: Prelude RTX will release soon, and will be free to download on mod sites like ModDB and Nexus Mods.
NVIDIA RTX Remix will enter Early Access soon. Sign up here to be notified of its release.
NVIDIA Reflex Ecosystem Continues to Expand With New Games & 1440p 360Hz Monitors
NVIDIA Reflex reduces system latency so your actions occur quicker, making you more competitive in multiplayer matches, and single-player titles more responsive.
NVIDIA Reflex is used by over 20 million players each month and over 50 games feature Reflex support. Soon, the highly anticipated Party Animals, from Recreate Games and Source Technology, will launch with NVIDIA Reflex. And we've recently added support for 4 more games:
Jurassic World Evolution 2: reduce system latency by up to 28%
Portal with RTX: reduce system latency by up to 33%
The Witcher 3: Wild Hunt: reduce system latency by up to 43%
Warhammer 40,000: Darktide: reduce system latency by up to 44%
For gamers who want the highest competitive advantage, it's time to upgrade to a 1440p 360Hz gaming monitor. These deliver superior image quality and clarity, helping improve your aim, while maintaining the low latency of 1080p displays.
The new ASUS ROG Swift 360Hz PG27AQN, Acer Predator XB273U F, and upcoming AOC AGON PRO AG276QSG, are the first super high quality, esports-ready 1440p, 360Hz, 27" gaming monitors, with improved motion clarity, dual driver IPS panels, native G-SYNC modules, G-SYNC esports mode latency optimizations, and optional Ultra Low Motion Blur modes.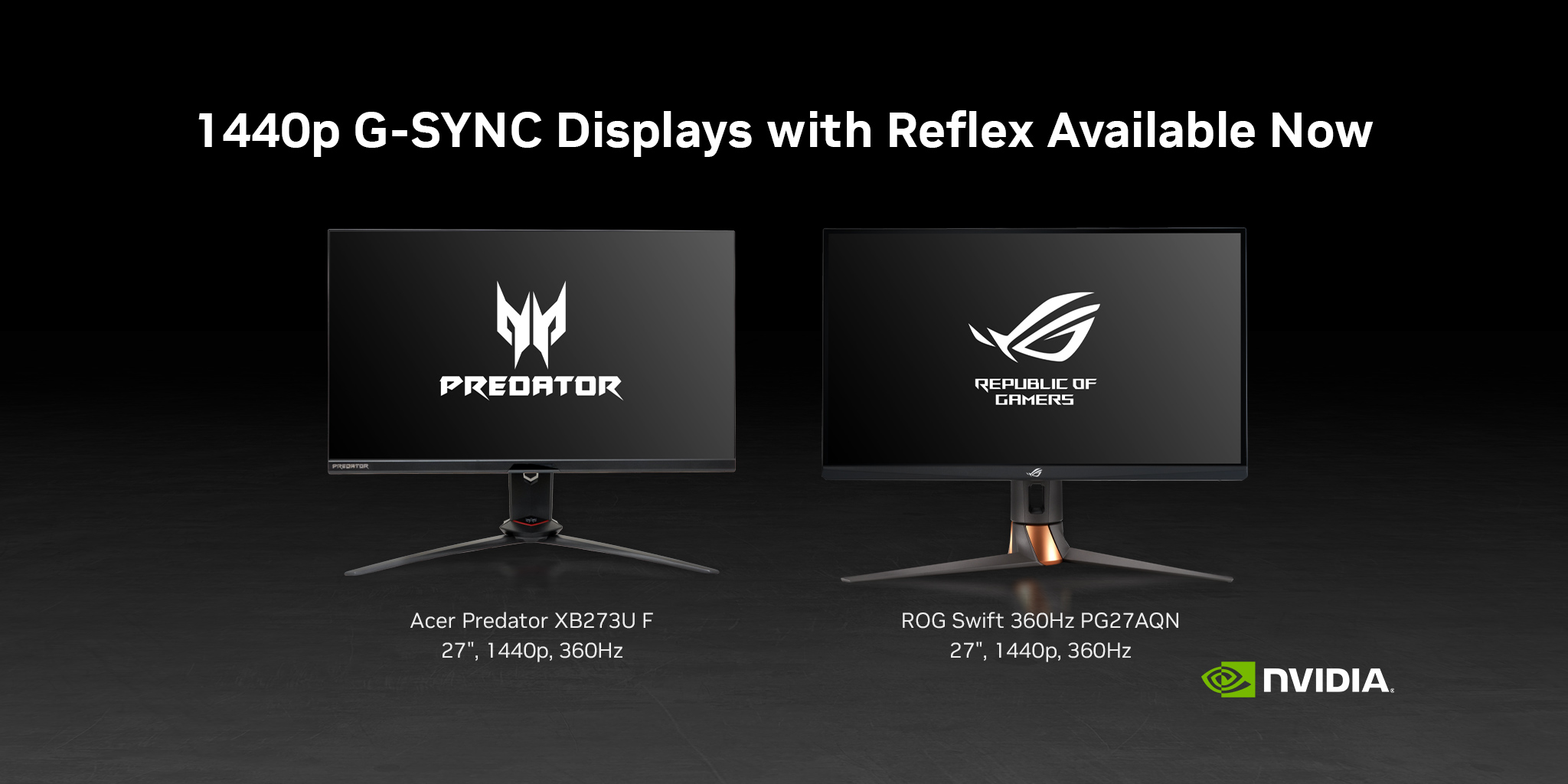 Learn more about the benefits of 1440p for competitive gamers in our new NVIDIA Reflex article.
For More Announcements…
Stay tuned to GeForce.com! It's the best way to learn about new DLSS, RTX and Reflex game enhancements, new drivers, new features, and new product launches.