>
>
>
>
Quadro External Graphics
NVIDIA Quadro
External Graphics


Breathe new life into your workflow
Connect an external high-end desktop Quadro GPU to your Thunderbolt™ 3 and Intel Certified laptop to harness the power of high performance*, purpose built professional graphics to dramatically accelerate your professional workflows with ease. Enhance your workflow in VR to explore your creations in the most compelling way possible.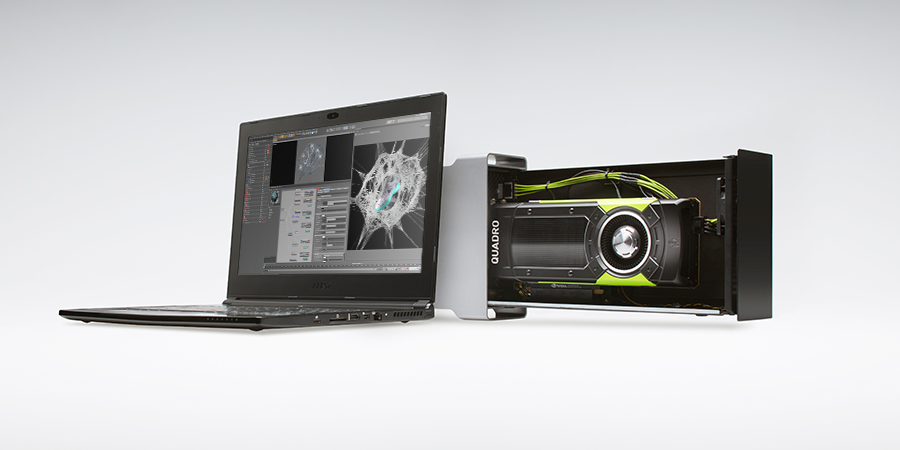 Supported GPUs
> Quadro GP100
> Quadro P6000
> Quadro P5000
> Quadro P4000
*Performance may vary depending on utilized configuration.
Interested in becoming a Quadro External Graphics Partner?



One Stop Systems | Magma
Magma is a brand of One Stop Systems and includes various Thunderbolt™ Expansion products. Our Thunderbolt™ products are platform independent, and are used in a variety of industries including audio and video production, test and measurement, medical imaging, surveillance, aerospace and defense, telecommunications, data acquisition, and high performance computing. We have a reputation as innovators using the very latest technology and design equipment to operate with the highest efficiency. For more information, visit www.onestopsystems.com.



Bizon
Starting in 2009, Bizon has been building professional workstations for the film industry, computer graphics, rendering, data storage and servers. The following 6 years, the company has seen significant growth and have more than 1000+ customers from the film industry. In 2014, Bizon began working on an external graphics solution focused on the Mac customer. Today, we continue to grow our technology and footprint in order to serve our customers in the best way possible.

Sales Contact
sales@bizon.tech.com
Website: bizon-tech.com



Akitio
At AKiTiO we believe in creating cutting-edge products that are both easy to use and also reliable. We believe that our products should last and that you should enjoy using them. We strive to create the most user-friendly experience possible with the most reliable and long lasting materials and parts available so that you will continue to enjoy using our great products for a long time to come. AKiTiO is an international company specializing in the design, development and manufacturing of premium, high-quality external computer storage products with an emphasis on Thunderbolt technology. We are a leading Thunderbolt developer and currently have some of the fastest and highest capacity Thunderbolt products on the market.

Sales Contact
sales@akitio.com & Phone: 408-780-2829
Website: www.akitio.com/



Sonnet
Sonnet Technologies Inc. is a leading provider of Thunderbolt™ to-PCIe® card expansion systems; pro media readers; RAID storage systems; and storage, network, and other interface cards for pro users in the audio, video, and broadcast industries. Sonnet's Thunderbolt expansion products enable the use of pro audio I/O and DSP cards, pro video capture and transcoding cards, network and storage interface cards, and other high-performance PCIe cards with Thunderbolt technology-enabled computers. For nearly 30 years Sonnet has pioneered and brought to market innovative and award-winning products that enhance the performance and connectivity of Mac®, Windows®, and other industry-standard computers.

Sales Contact
sales@sonnettech.com & Phone: 1-949-587-3500
Website: www.sonnettech.com