Please register to download:
DRIVE PX XAVIER
(PDF – 739KB)
Artificial intelligence is enabling autonomous vehicles. Through deep learning, a form of AI, engineers and researchers are training networks to drive without human intervention.
AI allows vehicles to respond to variation and complexity in the driving environment. It facilitates the creation of HD maps, and plans a driving path in response to mapping and environmental data. AI also assists people inside the vehicle, detecting spoken commands and learning preferences to ensure both a safe and enjoyable ride.
This type of sophisticated deep learning requires a powerful AI car computer. NVIDIA's next-generation DRIVE PX XAVIER platform utilizes the first chip to integrate all of the compute cores that a fully autonomous driving system needs. With 30 trillion operations per second, consuming only 30 watts of power, XAVIER is powerful and efficient, while meeting automotive standards like the ISO 26262 functional safety specification.
In this issue of the Microprocessor Report, by The Linley Group, Mike Demler dives deep into XAVIER's architecture and performance. You'll learn about the entire NVIDIA DRIVE platform, including the NVIDIA DriveWorks software development kit, as well as the competitive landscape.
Download this report for:
In depth analysis of DRIVE PX XAVIER
Information about NVIDIA's Deep Learning Accelerator
The benefits of using TensorRT for optimization
An overview of NVIDIA's end-to-end solution for self-driving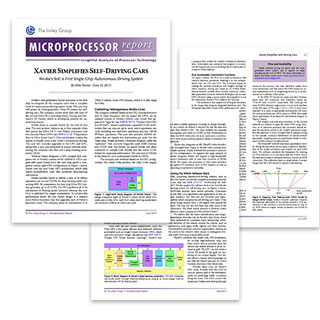 ---