>
>
>
>
GRID Benefits for Cloud Gaming
AMAZING GAMING. ANYWHERE.NVIDIA GRID™

Dedicated Cloud Gaming Solution
NVIDIA is the leader in gaming graphics and performance, delivering the industry's most trusted technology for the smoothest, most realistic gaming experience. For many years, NVIDIA has also worked with leading supercomputer centers to build the fastest computers in the world, including the world record-holding Titan supercomputer.
NVIDIA GRID leverages some of this same technology to render and stream games from the cloud, with thousands of engineers dedicated to creating the ultimate system for gaming-as-a-service operators. Think of it as a gaming supercomputer in the cloud, built by NVIDIA.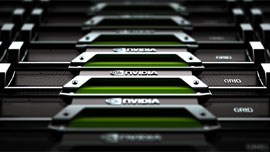 Cloud Gaming Server with NVIDIA GRID GPUs
Comparison of Game Latency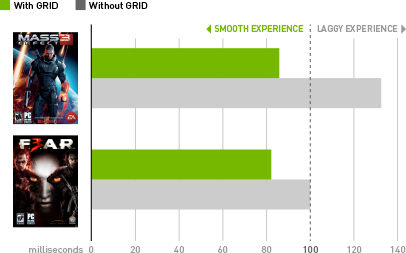 CUTTING-EDGE PERFORMANCE
Only NVIDIA offers industry-leading graphics hardware to deliver this level of high-performance, scalable, and cost-effective cloud gaming.
More concurrent users: Enable up to 48 HD-quality game streams from a single server using NVIDIA's on-chip video encoder technology.
Lower latency: NVIDIA has focused on reducing game server latency, achieving an amazing 30 ms reduction with the NVIDIA GRID platform. The end result is a cloud gaming experience that feels like playing on a local console.
BEST-IN-CLASS SOFTWARE FEATURES
The GRID Software Development Kit (SDK) allows service and middleware providers to deliver unmatched cloud gaming quality and uptime including:
High quality gaming driver: Industry-leading GRID gaming drivers are the premier GPU software platform for delivering unmatched stability for server uptime and amazing graphics effects such as DirectX 11 tessellation, NVIDIA PhysX®, and high-quality anti-aliasing.
NVIDIA Fast Capture API: Captures the output of multiple rendered games or the entire operating system desktop instantly from the GPU, and send the images to the GPUs' built-in H.264 encoder. As a result, latency is reduced for users by up to 30ms over standard graphics card and allows cloud gaming to feel like playing on a local console.
Multi-stream hardware encoder with QoS: Encode multiple HD quality (720p/1080p) H.264 streams on each GRID GPU with advanced Quality-of-Service (QoS) features to ensure low-latency, smooth cloud gaming on any device.
NVIDIA Management Library: This allows server operators to add GPU monitoring on top of existing Intelligent Platform Management Interface (IPMI) management consoles to monitor and manage GRID GPUs, including power, performance, and utilization of each GPU.
BETTER GAME CONTENT
NVIDIA's dedication to game developers is unmatched in the industry and provides the foundation for bringing amazing PC gaming to the cloud.
More games: NVIDIA's dedicated developer team has worked side by side for over a decade with hundreds of developers to ensure that the best titles are ready for NVIDIA GRID.
More technology: NVIDIA technologies give game developers the tools needed to develop the cutting-edge effects in the hottest AAA titles.
More performance: By lending engineering and hardware support to game developers, NVIDIA assures that games perform best on NVIDIA hardware.