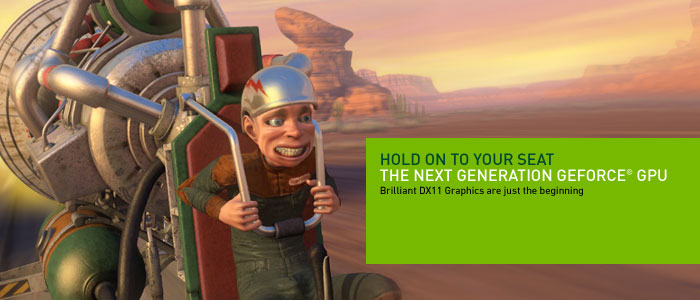 The next generation NVIDIA GeForce
GPU has arrived – and it's built for the ultimate gaming experience
Code named GF100, the GeForce GTX 400 GPU delivers unparalleled 3D realism, brilliant Microsoft DirectX 11 graphics, and immersive NVIDIA
®
3D Vision™ gaming; all with incredible performance. And yes, it's ok to drool.
UNRIVALLED PERFORMANCE AND QUALITY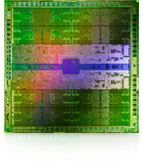 Packing in 3 billion transistors, double the CUDA cores of previous generation GPUs¹, a high speed GDDR5 memory interface, and full DirectX 11 support, GTX 400 is designed for groundbreaking graphics performance. With a revolutionary new scalable geometry pipeline and enhanced anti-aliasing capabilities, GTX 400 delivers both unrivalled performance and breathtaking image quality.
NVIDIA PolyMorph Engine:
The Gold Standard in Tessellation
With the PolyMorph Engine, GTX 480 implements the world's first scalable geometry pipeline with 15 individual tessellation engines on a single GTX 480 GPU…
Read More

Faster, High Quality Anti-aliasing
GTX 480 implements a brand new 32x antialiasing mode for higher levels of image quality. And the GPU's enhanced compression engine maintains incredible performance…
Read More
WORLD CLASS COMPUTE ARCHITECTURE FOR GAMING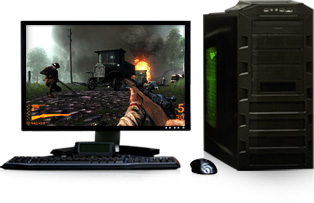 Next generation games will demand much more than just fast rendering of triangles and pixels—they will require the GPU to compute physics, simulate artificial intelligence, and render advanced cinematic effects. These demands are all met by the next generation NVIDIA
®
CUDA™ architecture in GTX 400 GPUs.
Real Time Physics
The GTX 480 compute architecture was designed to take NVIDIA
®
PhysX
®
technology to the next level…
Read More

Advanced
Cinematic Effects
The next generation CUDA architecture accelerates advanced gaming effects for crisper, more realistic visuals…
Read More

Ray tracing:
the future of gaming
GTX 480 brings interactive ray tracing to the consumer market for the first time, providing a glimpse into the future …
Read More
TOTAL IMMERSION

Need for Speed Shift image captured on NVIDIA GPU. Provided by Electronic Arts
Prepare to be blown away by the most immersive PC gaming experience imaginable. Leveraging the power of multiple GTX 400 GPUs in an NVIDIA
®
SLI
®
configuration, NVIDIA 3D Vision Surround
*
enables a new level of eye-popping 3D stereo gaming, expanding your real estate across 3 panels for the ultimate "inside the game" feeling². And next generation GeForce GPUs provide the incredible graphics horsepower to run your game in 3D stereo, across 3 panels, at HD resolutions up to 1920x1080. Not ready to enter the third dimension? NVIDIA
®
Surround™ will also be supported with GTX 400 on non-stereo displays.
*
NVIDIA 3D Vision Surround requires upcoming NVIDIA release 256 driver, two or more graphics cards in NVIDIA SLI configuration, 3D Vision glasses, and 3D Vision-Ready displays. See www.nvidia.com/surround for more information
.


¹ Compared to GeForce GTX 200 GPUs
² Requires two or more GPUs in NVIDIA
®
SLI
®
configuration
– Dark Void image captured on NVIDIA GPU. Provided by Capcom Entertainment, Inc.
– Darkest of Days image captured on NVIDIA GPU. Provided by Phantom EFX.
– 2010 THQ Inc. Developed by 4A Games. 4A Games Limited and their respective logo are trademarks of 4A Games Limited THQ and the
THQ logo are trademarks and/or registered trademarks of THQ Inc. All Rights Reserved. All other trademarks, logos and copyrights are
property of their respective owners
Keep up to date on GTX 400 with the latest fun facts and information!