Introducing SLI Antialiasing: The Ultimate in Visual Quality

SLI Antialiasing: Redefining Image Quality
SLI Antialiasing is a new standalone SLI rendering mode that offers up to double the antialiasing performance by splitting the antialiasing workload between the two graphics cards. When enabled, SLI Antialiasing offers 2 new antialiasing settings: SLI8x and SLI16x. If you own a Quad SLI PC, you will have the option to select a third setting: SLI32x.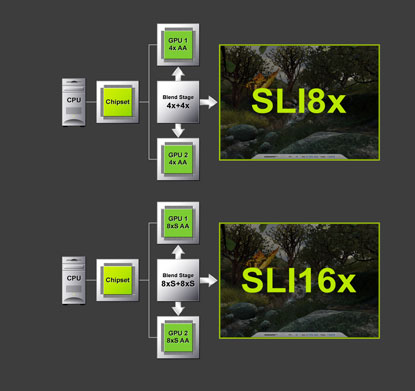 The following screenshots from Battlefield 2 show the visual quality benefit from increasing your antialiasing setting from the standard 4x AA to the new SLI16x AA.

| | |
| --- | --- |
| | |
| Standard 4x AA | SLI Antialiasing: SLI16x |
Using the latest driver, SLI customers can enable SLI8x and SLI16x Antialiasing for any game.