>
>
>
IT Management and Monitoring
IT Management and Monitoring
GPU-Driven Insights for the Virtual Workspace

100% VISIBILITY ACROSS YOUR VIRTUAL WORKSPACE LIFECYCLE
NVIDIA Virtual GPU Solutions IT Management & Monitoring capabilities for every IT user,
in all phases of your GPU enabled VDI deployment
A COMPREHENSIVE SOLUTION TO ENHANCE USER EXPERIENCE
NVIDIA virtual GPU solutions monitoring insights give IT an end-to-end lifecycle approach for managing the entire user experience—from infrastructure right-sizing, to proactive management, to issue remediation. They can now take advantage of actionable insights to deliver the right level of performance to every user in their virtual environment.
KEY BENEFITS
Simplified Deployment
Easily understand GPU utilization during the assessment and proof-of-concept phase and ensure an optimized user experience from day one.
Proactive Management
Create thresholds that expose consumption trends that impact user experiences before they become an issue.
Faster Support
Quickly isolate and correlate GPU bottlenecks with user experience issues. This can drive down help desk costs and keep users delighted instead of dissatisfied.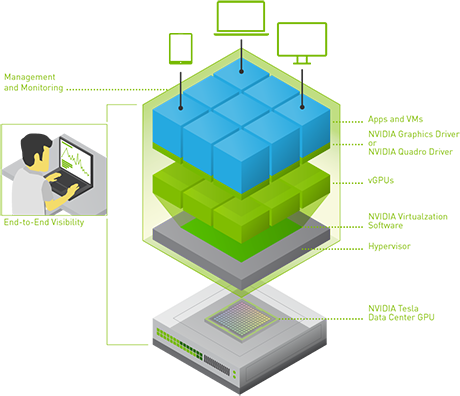 Getting Started: 3 Ways to Integrate your IT with NVIDIA virtual GPU Solutions Monitoring
Simplified approaches that leverage familiar tools, including perfmon and NVIDIA SMI (CLI)
An ecosystem of partner solutions that offer single pane-of-glass management of the VDI infrastructure, from the client to the server to the GPU and beyond
An open NVIDIA SDK for organizations who want to build their own infrastructure monitoring and management tools leveraging host, guest, and application graphics insights
Citrix


Get host level monitoring in XenCenter as well as guest level visibility in Citrix Director.

Learn more >

ControlUp


NVIDIA vGPU metrics integrated into the ControlUp Console for efficient troubleshooting of issues and identifying trends in your VDI environment

Learn more >

eG Innovations


GPU-sourced insights that aid in design right-sizing, proactive infrastructure optimization and help desk issue remediation

Learn more >

Lakeside SysTrack


Insights to identify which users have the most need for graphical processing to plan out a successful implementation, and to monitor end-user experience

Learn more >

Liquidware Labs


Virtual GPU visibility and metrics within Stratusphere UX for better management, optimization, monitoring and troubleshooting of graphics-related challenges

Learn more >

VMware (New)


With insights into vGPU, IT departments will better understand their workloads to architect the right virtualized environment with the best user experience using VMware Horizon and NVIDIA Virtual GPU software

Learn more >