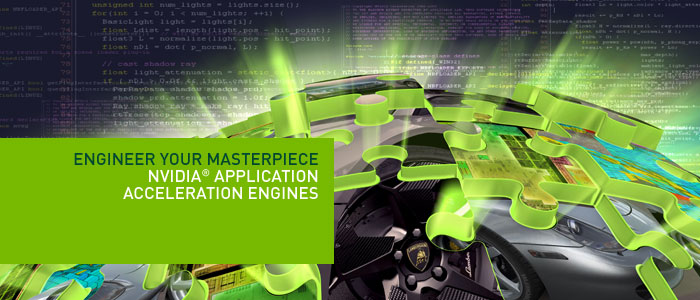 NVIDIA® application acceleration engines are highly optimized software modules enabling developers to supercharge their products with high performance capabilities. When combined with NVIDIA® Quadro® solutions, these acceleration engines unleash advanced creative and investigative possibilities for professionals.

Many commercial and private applications currently leverage NVIDIA acceleration engines to exploit the exceptional graphics and compute power within Quadro solutions to produce mission critical solutions for professionals. Whether it's making designs realistic for stylists, medical device data immediate for physicians, or enormous exploration data searchable for geophysicists, NVIDIA accelerated solutions are making it easier for professionals to be more expressive, efficient, and insightful.
NVIDIA Application Engines
NVIDIA application acceleration engines are available at no charge to incorporate and are designed for seamless integration, enabling developers to quickly add new features and greater performance to their products. Products employing application acceleration engines leverage ongoing NVIDIA development as they adopt new updates, ensuring optimal performance and access to the newest capabilities as Quadro solutions continue to advance.
NVIDIA

®

SceniX™
The interactive core powering many of today's most demanding professional real-time 3D graphics applications.
Image Courtesy of Realtime Technologies AG.
NVIDIA

®

CompleX™
Expanding scene size possibilities with NVIDIA

®

Quadro

®

Plex visual computing solutions.
NVIDIA

®

OptiX™
Flexible, high performance ray tracing acceleration for any application employing ray tracing techniques.