>
>
>
>
3D Design and Analysis
REALITY-BASED DESIGN
MULTI-GPU SYSTEMS FOR 3D DESIGN
In ultracompetitive markets, it's critical to shorten design cycles to get products to market faster.
Digital prototyping allows designers/engineers to iterate and visualize their product designs involving clients much earlier in the product development cycle thus enabling more confidence in their manufactured product.
Multi-GPU systems unleash the interactive potential of applications like DS CATIA, SOLIDWORKS, Siemens NX, PTC Creo, Autodesk Fusion360, Inventor and 3ds Max to let designers and visualization specialists use an intuitive approach that matches the real-world behavior of light and materials. The graphics and computing power of NVIDIA professional GPUs minimize rendering times and maximize interactivity to speed the creative process, so you can get products to market faster.
MULTI-GPU TECHNOLOGY FOR ENGINEERING ANALYSIS
Simulation engineers want to improve product quality while reducing development time and cost. This often involves simulation methods such as computer-aided engineering (CAE) tools for computational structural mechanics(CSM)/finite-element analysis(FEA), computational fluid dynamics(CFD), and computational electromagnetics(CEM).
Multi-GPU systems meet simulation turnaround demands while removing all productivity bottlenecks. This benefits CAE applications from ISVs such as ANSYS, Dassault Systèmes SIMULIA, Altair/FluiDyna, MSC Software, Autodesk, Siemens PLM, IMPETUS Afea, Prometech, Vratis and others. Engineers can now experience much faster simulations from their systems and realize model fidelity that was previously impossible, so they can produce more design variations in less time.
PHOTOREALISTIC RENDERING AND DESIGN
Perform rapid photorealistic rendering of your designs in applications such as 3ds Max or SOLIDWORKS Visualize in a fraction of the time of a single GPU.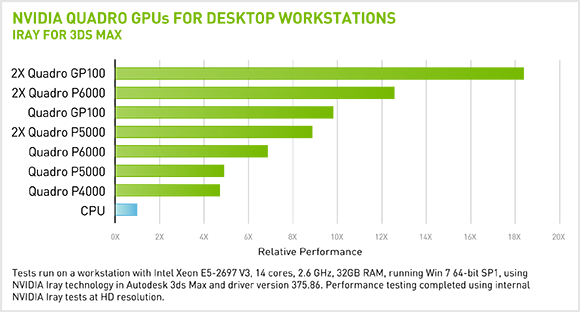 ENGINEERING ANALYSIS AND DESIGN
Boost your productivity and workflow by performing structural, fluid dynamics or electromagnetic analysis with applications such as ANSYS and ABAQUS while running CAD or CAE pre- and post-processors.
THE IDEAL SOLUTION FOR ALL YOUR MANUFACTURING APPLICATIONS
NVIDIA engineers work closely with software vendors to ensure that multiple GPUs will function with all the speed, functionality, and reliability users demand.
| | | |
| --- | --- | --- |
| Application | Category | Benefits of Multiple GPUs |
| ANSYS Mechanical, FLUENT, HFSS | CSM, CFD, CEM | Complex simulations and computations completed faster |
| ABAQUS/Standard, CST STUDIO | CSM, CEM | Complex simulations and computations completed faster |
| Dassault Systemes 3DEXPERIENCE Platform - CATIA V6 Live Rendering | Styling | Design and real-time rendering |
| 3DEXCITE DeltaGen | Design | Faster ray tracing through faster computations in NVIDIA® CUDA® |
| S3D | Direct Numerical Simulation | Faster ray tracing through faster computations in NVIDIA CUDA |
| Bunkspeed SHOT, PRO, and DRIVE | Design | Faster ray tracing through faster computations in NVIDIA CUDA |