TESLA GPU ACCELERATORS FOR SERVERS
Accelerate your most demanding data analytics and scientific computing applications with NVIDIA® Tesla® GPU Accelerators. Tesla accelerators are designed to deliver faster, more efficient performance for data centers and HPC systems.
From energy exploration to machine learning, scientists can crunch through petabytes of data with Tesla accelerators, up to 10x faster than with CPUs. Furthermore, Tesla accelerators deliver the horsepower needed to run bigger simulations faster than ever. For enterprises deploying VDI, Tesla accelerators are perfect for accelerating virtual desktops to any user, anywhere.
Where to Buy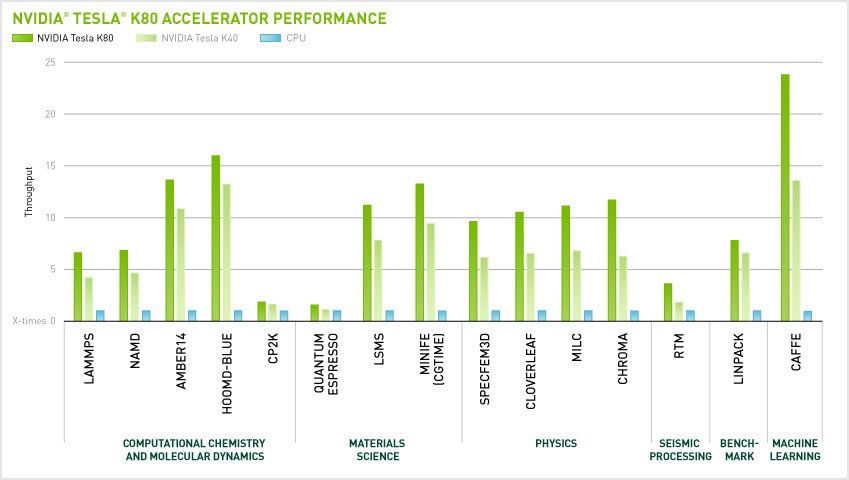 CPU: 12 cores, E5-2697v2 @ 2.70GHz. 64GB System Memory, CentOS 6.2. GPU: Single Tesla K80, Boost enabled or Single Tesla K40, Boost Enabled
SELECT THE TESLA GPU that's right for you
Tesla K80 GPU Accelerator
The Tesla K80 GPU is designed for the most demanding computational tasks. With 24 GB of memory, it's ideal for single and double precision workloads that not only require leading compute performance but also demands high data throughput. Try the Tesla K80 GPU Accelerator today for free.
Tesla K40 GPU Accelerator
A flexible solution for applications in high performance computing and data analysis, the Tesla K40 GPU Accelerator effortlessly tackles high performance computing and data analytics applications.
Tesla M60 GPU Accelerator
The Tesla M60 GPU Accelerator is designed specifically for data centers that are virtualizing desktop graphics. Its mobility, security and flexibility for every use case makes it ideal for accelerated virtual desktops across the enterprise. Find out more about GRID technology.
Select the Right Tesla GPU
Features
Tesla K80¹
Tesla K40
GPU
2x Kepler GK210
1 Kepler GK110B
Peak double precision floating
point performance
2.91 Tflops (GPU Boost Clocks)
1.87 Tflops (Base Clocks)
1.66 Tflops (GPU Boost Clocks)
1.43 Tflops (Base Clocks)
Peak single precision floating
point performance
8.74 Tflops (GPU Boost Clocks)
5.6 Tflops (Base Clocks)
5 Tflops (GPU Boost Clocks)
4.29 Tflops (Base Clocks)
Memory bandwidth (ECC off)²
480 GB/sec (240 GB/sec per GPU)
288 GB/sec
Memory size (GDDR5)
24 GB (12GB per GPU)
12 GB
CUDA cores
4992 ( 2496 per GPU)
2880

1 Tesla K80 specifications are shown as aggregate of two GPUs.
2 With ECC on, 6.25% of the GPU memory is used for ECC bits. For example, 6 GB total memory yields 5.25 GB of user available memory with ECC on.
PRODUCT LITERATURE
Additional information on current and legacy GPU accelerators
SUPPORTED OPERATING SYSTEMS
A complete list of supported operating systems is available at:
HARDWARE SUPPORT
Knowledgebase
NVIDIA knowledgebase is available online 24x7x365 and contains answers to the most common questions and issues.

User Forums
Discuss Tesla products, talk about CUDA development, and share interesting issues, tips and solutions with your fellow NVIDIA Tesla users on the GPU computing forums.
RMA Requests
For RMA requests, replacements and warranty issues regarding your NVIDIA based product, please contact the OEM or reseller that you purchased it from.