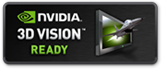 The Evolution of Multi-Display Gaming
powered by GeForce GTX 500-Series GPUs
Imagine expanding your gaming real estate across three displays in full HD 3D for a completely immersive gaming experience. With the introduction of NVIDIA
®
GeForce
®
GTX 500 GPUs, you can now use award-winning NVIDIA 3D Vision
®
technology to build the world's first multi-display 3D gaming experience on your PC.

EXPAND YOUR GAMING REAL-ESTATE
FOR THE ULTIMATE IMMERSIVE EXPERIENCE.
Get a complete view of the battlefield in real-time strategy games.
Manage your inventory windows, build quest logs, and track your party in your favorite MMORPGs.
See your enemy's movement faster and react first in first-person-shooters.
Put yourself in the driver seat of your favorite racing game and be a part of the action.
Discover 3D GAMING ACROSS THREE 1080p
DISPLAYS FOR A BREATHTAKING EXPERIENCE
Advanced NVIDIA software automatically converts over 500 games to stereoscopic 3D without the need for special game patches.
GeForce GTX 500 GPUs deliver the graphics horsepower to drive 750M pixels/second for screen 3 times Full HD 1080p 3D Vision gaming and an incredible 5760x1080 experience.
It's compatible with all 3D Vision&reg-ready desktop monitors and projectors.
GET UP AND GAMING IN MINUTES WITH
THE WORLD'S MOST ADVANCED MULTI-DISPLAY SOFTWARE
It works with all standard monitor connectors, without requiring special display adapter dongles.
A simple-to-use setup wizard guides users through setup and allows bezel correction to enable a seamless display experience.
Advanced GPU synchronization ensures seamless support and maximum frame rate.
Use Accessory Displays to watch movies, browse the web, or chat with friends.
also enjoy BEST-IN-CLASS 2D SURROUND GAMING.
Game across three non-3D displays with resolutions up to 2560x1600.
Enjoy support for both landscape and portrait mode for ultimate display flexibility.
For a complete list of system requirements for NVIDIA Surround Technology, click here.