NVIDIA Technology Powers the Ultimate Home-Theater Experience on the PC

"Just say no to 'on board'": This is the clear message from Home Theater magazine's July 2005 issue where they tout NVIDIA technology for the ultimate home-theater system.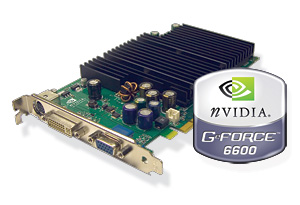 Comparing on-board graphics solutions to a passively cooled NVIDIA GeForce 6600-based graphics card featuring NVIDIA's PureVideo technology, Home Theater's Geoffrey Morrison found no contest: "To give you an idea of the GeForce 6600 Passive's processing performance compared with the onboard video, I used the industry semi-standard 3dMark05 from Futuremark…. The onboard video measured a pitiful 276. The GeForce 6600 Passive measured a much beefier 2,072."
Specially designed for home-theater enthusiasts, the passively cooled GeForce 6600 cards feature a silent, cooling heat sink. In addition, the NVIDIA PureVideo video processing hardware and software technologies were tooled specifically for the home theater: "More importantly, NVIDIA has designed their drivers with home theater in mind. The scaling and deinterlacing problems that were such an issue with the onboard card are nonexistent here."
Look for passively cooled GeForce 6600 graphics cards from the following add-in card manufacturers: