NVIDIA Announces Strategic Partnership with MotionDSP



MotionDSP Relies on NVIDIA CUDA Technology to Provide Real Time Enhancement of Consumer Video

For further information, contact: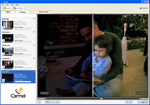 "Upcoming "Carmel" software provides CIA-grade video enhancement for your desktop PC for the first time, courtesy of MotionDSP and NVIDIA."
FOR IMMEDIATE RELEASE
SANTA CLARA, CA—SEPTEMBER 25, 2008—NVIDIA Corporation today announced a strategic partnership with MotionDSP, an emerging leader in digital video software applications and a new NVIDIA® CUDA™ ecosystem partner. MotionDSP relies heavily on the computation power of NVIDIA CUDA technology to accelerate its breakthrough video enhancement software that significantly improves the visual quality of consumer-created videos.
As proof that NVIDIA GPUs deliver more than just graphics rendering horsepower, MotionDSP engineers were able to achieve a 500% increase in numerical software performance after porting to CUDA. MotionDSP's revolutionary video enhancement technology—shown with CUDA acceleration for the first time at last month's NVISION 08 conference—allows users to clean up videos from cell phones, still cameras, camcorders, or the Internet. By tapping into the many parallel cores of NVIDIA GeForce® GPUs, and utilizing NVIDIA CUDA technology, MotionDSP's software can immediately achieve real-time performance, something not attainable with today's CPUs.
"MotionDSP's powerful video software is one of the first consumer applications to use the power of CUDA, and will provide a new benchmark for consumer video processing on PCs," said Dan Vivoli, senior vice president of marketing at NVIDIA. "MotionDSP's technology has also been universally acknowledged by press, analysts, and consumers as the best on the market for improving consumer video. As the pioneer in visual computing, our partnership with another visual software innovator made perfect sense."
MotionDSP's software, codenamed "Carmel", uses sophisticated multi-frame methods to track every pixel across dozens of video frames, and reconstruct high-quality video from low-resolution sources. MotionDSP's software significantly reduces compression and sensor noise, improves resolution, and corrects for poor lighting conditions.
"NVIDIA is leading the market in visual computing on the PC and we are extremely excited to have them as a partner," said Dr. Sean Varah, CEO of MotionDSP. "CUDA redefines what the PC is capable of achieving in computing. In our case, CUDA enables MotionDSP's software to run in real-time, allowing our Ikena™ software to evolve from an offline video forensics tool to a real-time consumer application. Our CUDA-powered "Carmel" software will be easy enough for anyone to use and will make powerful video processing on any NVIDIA-based PC a ubiquitous reality."
MotionDSP expects the retail version of its consumer software to be released in Q1 2009.
Note to editors: Before and after video examples of how MotionDSP's "Carmel" software works can be viewed at: www.motiondsp.com/products/Carmel
About MotionDSP
MotionDSP is an emerging leader in digital video software. MotionDSP's multi-frame video software dramatically improves video from a wide range of sources -- from mobile phones to surveillance cameras. Its patented technology is available in Ikena Reveal, a game-changing software solution for video forensics, and www.fixmymovie.com, a consumer Web service that can 'auto-fix' videos from mobile phones and digital cameras.
About NVIDIA
NVIDIA (Nasdaq: NVDA) is the world leader in visual computing technologies and the inventor of the GPU, a high-performance processor which generates breathtaking, interactive graphics on workstations, personal computers, game consoles, and mobile devices. NVIDIA serves the entertainment and consumer market with its GeForce products, the professional design and visualization market with its Quadro® products, and the high-performance computing market with its Tesla™ products. NVIDIA is headquartered in Santa Clara, Calif. and has offices throughout Asia, Europe, and the Americas. For more information, visit www.nvidia.com.
Certain statements in this press release including, but not limited to, statements as to: the benefits, features, impact, and capabilities of NVIDIA GeForce GPUs and CUDA; and the impact of CUDA in software development are forward-looking statements that are subject to risks and uncertainties that could cause results to be materially different than expectations. Important factors that could cause actual results to differ materially include: development of faster or more efficient GPUs by our competitors; development of more effective or efficient technology to drive physics acceleration in games; the impact of technological development and competition; design, manufacturing or software defects; changes in developers programming preferences; changes in gamers' preferences and demands; unexpected loss of performance of our products or technologies when integrated into systems; as well as other factors detailed from time to time in the reports NVIDIA files with the Securities and Exchange Commission including its Form 10-Q for the fiscal period ended July 27, 2008. Copies of reports filed with the SEC are posted on our website and are available from NVIDIA without charge. These forward-looking statements are not guarantees of future performance and speak only as of the date hereof, and, except as required by law, NVIDIA disclaims any obligation to update these forward-looking statements to reflect future events or circumstances.
###
Copyright © 2008 NVIDIA Corporation. All rights reserved. NVIDIA, GeForce, Quadro, Tesla, and CUDA, are registered trademarks and/or trademarks of NVIDIA Corporation in the United States and other countries. MotionDSP, Ikena and FixMyMovie are trademarks of MotionDSP, Inc. All other company and/or product names may be trade names, trademarks and/or registered trademarks of the respective owners with which they are associated. Features, pricing, availability, and specifications are subject to change without notice.
###
Copyright© 2016 NVIDIA Corporation. All rights reserved. All company and/or product names may be trade names, trademarks, and/or registered trademarks of the respective owners with which they are associated. Features, pricing, availability, and specifications are subject to change without notice.
Note to editors: If you are interested in viewing additional information on NVIDIA, please visit the NVIDIA Press Room at
http://www.nvidia.com/page/press_room.html
---