Publisher: Activision
Developer: id Software
Genre: FPS / Action
Single Player: Yes
Multiplayer: LAN / Internet
Built on id's revolutionary new 3D graphics engine, DOOM 3 draws players into one of the most frightening and gripping 3D gaming experience ever created. First released in 1993, DOOM became a phenomenon in PC gaming history and is widely recognized as the catalyst for the first-person action genre. Since its inception, the franchise has been one of the industry's best-selling PC series, with DOOM 3 already one of the most hotly anticipated first person action title currently in development.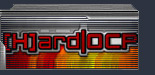 id Software's Official DOOM 3 Benchmarks
The time is almost here, but before the game goes for sale on store shelves, id Software has been kind enough to do some things for the community so we can all hit the ground running from the moment we open the box.
more info >>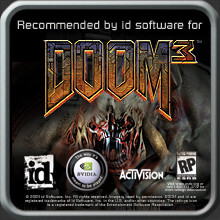 Arguably one of the most anticipated games of all time, DOOM 3 is the most intensely realistic and visually stunning game ever created. Built on a revolutionary 3D graphics engine developed by id Software, DOOM 3 pushes the limits with graphics fidelity that will change the look of 3D games forever.

NVIDIA is pleased to announce that id Software recommends the GeForce FX family of graphics processing units for DOOM 3. The rich feature set and programmability of GeForce FX GPUs enable the gripping world of DOOM 3 to come to life with real-time dynamic lighting and shadow, while raw horsepower delivers non-stop multi-player action at lightning-fast frame rates. Look for this sticker on video cards equipped with a GeForce FX GPU, and witness the mind-blowing detail of the DOOM 3 experience - the way it's meant to be played.