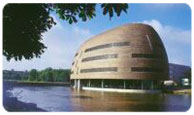 The Zernikeborg building, where the University of Groningen's Center for High Performance Computing and Visualization is housed.
Dr. van Hateren explains: "With NVIDIA's technology, it's possible to use fast algorithms that closely mimic the complex physical and chemical processes occurring in the human retina. The high performance of NVIDIA's solutions means we're able to create simulations which very accurately match the way retinal neurons behave. Not only has NVIDIA technology been instrumental in the development of this retinal model, its high performance allows us to mimic some of the complex processes involved in human sight. The results of these simulations are providing new insights into how we see."
For more information visit: www.rug.nl/rc/hpcv.
Image of retina reproduced courtesy of www.webvision.med.utah.edu.
NVIDIA and the NVIDIA logo are trademarks or registered trademarks of NVIDIA Corporation in the U.S. and/or other countries.