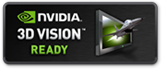 GAME WITH NVIDIA 3D VISION
NVIDIA 3D Vision® automatically transforms hundreds of PC games into full 3D right out of the box--without the need for special game patches. NVIDIA makes the most of its The Way It's Meant to be Played program and close relationships with game developers to provide an amazing 3D gaming experience.
The following list is all current games supported by NVIDIA 3D Vision in the latest GPU driver v314.07. Please note that with Release 275 and higher drivers, the 3D Vision installation has changed. Please read this FAQ for more information.