GET STREAMING 3D
WITH NVIDIA 3D VISION
®
Now you can enjoy sports, movies, concerts, and more in amazing, high-definition, full-resolution 3D—and do it all from your NVIDIA 3D Vision PC. Our latest innovation enables you to view 3D videos and photos that will captivate and engage you like nothing you've experienced online before.
3DVisionLive.com
Experience 3DVisionLive.com, the world's first Web channel with 3D streaming video, 3D photo sharing, and more.
Enjoy sports, movies, concerts, and more in amazing, high-definition, full-resolution 3D on your NVIDIA 3D Vision or 3DTV Play™-ready PC.
View and share your own personal 3D photos online. Go to 3DVisionLive.com now
You can find additional system requirements here:
Build your own "3D Vision ready" site
The same technology used on
www.3DVisionLive.com
is now available to developers who want to easily build their own video player to stream stereoscopic 3D videos, movies, trailers, and more.
Download for free at:
www.3DVisionLive.com/apps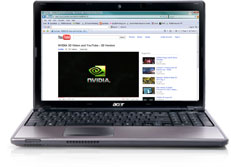 YouTube 3D
For the first time, NVIDIA has brought high-quality, stereoscopic 3D Vision viewing capabilities to YouTube. This means that you can now view thousands of 3D videos already on YouTube's 3D channel today (
www.YouTube.com/3D
) in full color and high definition using an NVIDIA 3D Vision PC or notebook with the Firefox browser version 4.0, or later. NVIDIA works closely with both YouTube and Mozilla to make this experience seamless.
You can also see the best 3D videos from YouTube on our 3D web community site here.
YouTube 3D Equipment Requirements:
NVIDIA

®

GeForce

®

GPU-equipped PC or notebook
NVIDIA GeForce driver v. 275 or later
NVIDIA

®

3DTV Play™ software (for viewing 3D YouTube videos on a 3D TV)
A 3D Vision-ready 3D monitor, notebook, projector, or 3D TV
Firefox version 4.0 or later (with HTML 5 streaming)
You can find step-by-step instructions to set up and view YouTube videos in stereoscopic 3D here.