The NVIDIA Foundation is one of the only employee-led foundations in Silicon Valley. Its board is comprised of employees of at least five years standing who are selected from across the globe, based on their commitment and ability to serve. They receive feedback each year from colleagues worldwide about the issues that matter most to them and then pursue projects that align with these priorities.
This structure enables employees to make decisions, set the vision and strategy, and provide the energy and commitment to leverage our strategic investments and engage our workforce around the world. This connects directly with our employees' desires to make a positive impact in the communities in which they live and work.
The Foundation's programs meet the following objectives, which its board members have agreed on: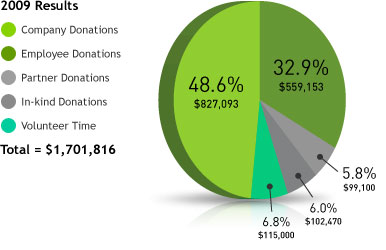 These programs range from our Project Inspire global volunteer initiative, which is focused on replacing staff holiday parties with volunteer initiatives, to disaster response, and from grants that align with our business strategy to grants that employees identify and vote on. Whatever the program, our employees lead the way.
In 2009, employee, in-kind and partner donations doubled the effectiveness of the Foundation's direct donations of $827,093.

2010 Plans
In 2010, we plan to build upon our successes in some exciting new ways.
Matching Programs
We're launching a new program to match employee volunteer time with cash. For every five hours of time that U.S. employees donate to nonprofits, we'll donate $50. In addition, we want to raise the number of U.S. employees who take advantage of our Individual Matching program from 20 percent to 30 percent of total staff.
Strategic Programs
This is a new initiative, designed to align grants with our business strategy. In 2010, we're launching the first phases of two new strategic programs: Compute the Cure, an effort to make investments of technology and cash in cancer research initiatives; and Visualize Physics, a software program to get youth more engaged in learning physics and ultimately improving their science test scores.
Project Inspire
For our largest community project, Santa Clara Project Inspire, we've moved this year to an RFP process, through which schools and community organizations apply to be considered as the recipient. This should help us increase community awareness and identify new candidates for funding.
High Impact Grants
Due to economic constraints, we decreased funding for this grant program in 2009 to $30,000 for each recipient, from $50,000. We are returning funding in 2010 to the $50,000 level.
GIVE US YOUR FEEDBACK
Tell us how we did on our first global citizenship report. Your input can help shape our future priorities. After giving feedback, you can see responses from other stakeholders.