Our products are increasingly helping scientists and researchers to make advances in fields that impact everything from human health to our understanding of the universe. We are seeing the greatest results in areas in which dramatic increases in computational speed, facilitated by the GPU, can accelerate discovery.
Many applications—from molecular dynamics to remote sensing—depend on complex computations that lend themselves to parallel processing. The CUDA parallel computing architecture of NVIDIA's Tesla GPU has helped to accelerate a wide range of scientific applications.
In early 2010, we introduced our Tesla BioWorkbench, which packages common software programs used in molecular dynamics, quantum chemistry and bio-informatics research and makes them more accessible to the scientific community. BioWorkbench offers scientists, medical researchers and drug companies a "computational laboratory" of research codes capable of running complex bioscience simulations in fields such as drug discovery and DNA sequencing at speeds of 10 to 20 times faster than those typically allowed by CPUs. In some cases, computation times have even gone from years to days, enabling advances in certain kinds of computational modeling—for example, large scale molecular simulations and genome sequencing—that were previously impractical because of the time or expense it took to run them.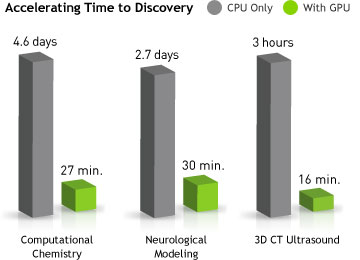 "GPU-accelerated CFD [computational fluid dynamics] allows for more realism, helping us replace slow and expensive physical learning cycles with virtual ones. This transforms engineering analysis from the study of failure to true virtual trial and error, and design optimization."
-- Tom Lange, director of Modeling and Simulation at Procter & Gamble
Case Study: Folding@home
Learn more about Folding@home and how NVIDIA GeForce GPUs are going beyond gaming by clicking the image above to launch video.
The Stanford University Folding@home project uses distributed computing with the goal of helping to find cures for diseases such as cancer, Alzheimer's and Parkinson's diseases. It uses the linked power of millions of individuals' computers to study protein folding. The Folding@home client is a software download that lets individuals donate computing power to the project while their systems are idle.
NVIDIA's client for Folding@home is available on our drivers download page. In just a few months after the client's release in 2008, it was already contributing more than 1 petaflop of processing power, or 42% of the project's total at the time.
"The impact of NVIDIA GPUs on protein folding simulations has been extraordinary," said Vijay Pande, associate professor of chemistry at Stanford University and director of the Folding@home project. "Teams that are folding with NVIDIA GPUs are seeing huge boosts to their production and this is helping to accelerate the project significantly."
Watch the video here: //www.youtube.com/embed/limu6sBc_ag
Learn more about Folding@home and how NVIDIA GeForce GPUs are going beyond gaming by clicking the image above to launch video.

Solutions based on the GPU help conquer disease and speed diagnoses. Some of the greatest gains have come in the area of medical imaging, where our GPUs provide the horsepower that lets the output from medical scans—such as X-ray, ultrasound, CT and MRI - be reconstructed as images that help doctors more easily detect and diagnose disease.
Two of our technologies, Quadro and Tesla, work together to improve medical imaging and facilitate diagnoses: Tesla processes the data, and Quadro provides the improved visuals in imaging. In many cases, the processing is so fast—minutes versus hours—that it enables doctors to receive the results and make a diagnosis while the patient is still in the exam room, helping to reduce medical costs and relieve patient anxiety.
In addition, we fund valuable research in these areas each year through our Fellowship program.
Case study: Breast cancer detection and diagnosis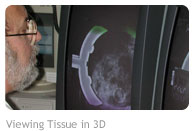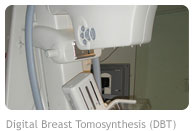 Today, medical imaging systems using NVIDIA GPUs give doctors and patients more accurate results and faster diagnoses than have been possible with traditional scanning systems. As a result, our technologies are helping to improve breast cancer detection to find cancer earlier, thus improving patient survival rates and profoundly and positively affecting women's health and wellbeing.
Learn more about the GPU-based technologies that are helping to improve breast cancer detection:

GIVE US YOUR FEEDBACK
Tell us how we did on our first global citizenship report. Your input can help shape our future priorities. After giving feedback, you can see responses from other stakeholders.