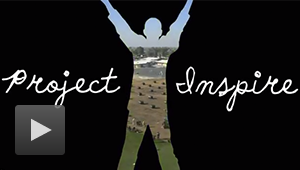 Project Inspire 2013
Project Inspire 2013 transformed Ocala Middle School in east San Jose. Our 1,500 volunteers overhauled the school's academic and athletic facilities to create an exciting new campus for Ocala's students and the girls of the East Valley Softball League.
"It's events and actions like Project Inspire that set great examples for our youth and community."
Don Onorati, Hardware Engineering
Project Inspire 2013
Project Inspire, a much-loved tradition at NVIDIA, began in 2001. Each year, we use the funds that would have been spent on a holiday party and invest it in a community project. Employees and their families volunteer side by side with other community members to help transform a local school or other nonprofit organization.
Although Project Inspire began at our Santa Clara headquarters, our offices around the globe now hold their own events.
Here's what Project Inspire accomplished in 2013:
Santa Clara, California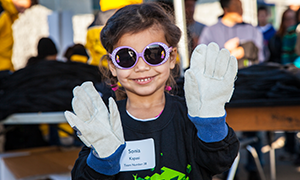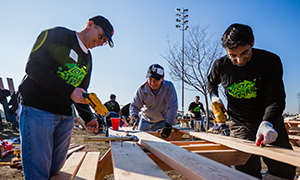 About 1,500 NVIDIANs, friends, family and community members helped to upgrade Ocala Middle School, a public school in a low-income San Jose neighborhood, not far from our headquarters. Participants put in more than 7,500 volunteer-hours laying sod, painting murals, revamping the teachers' work room and creating an educational garden.
Learn more
.
Austin, Texas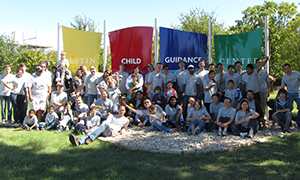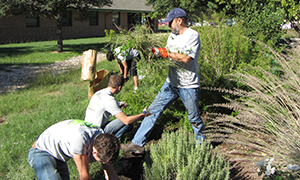 Nearly 70 NVIDIA employees and family members participated in our Austin office's inaugural Project Inspire event. The team helped transform the Austin Child Guidance Center, which provides mental health services to local children. Volunteers removed worn wallpaper and repainted restrooms, cleaned and sorted children's toys, organized a tool shed, and landscaped the facility's grounds.
Beaverton, Oregon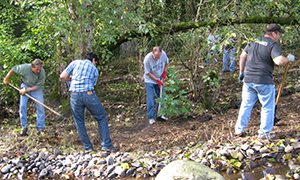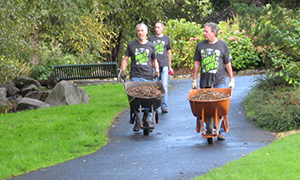 In their second Project Inspire event, our Beaverton office partnered with the City of Hillsboro Parks & Recreation Department to complete a park beautification project. Nearly 50 employees gathered at Rood Bridge Park to help spread mulch in landscaped beds, pull weeds and pick up litter.
Durham, North Carolina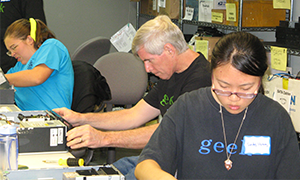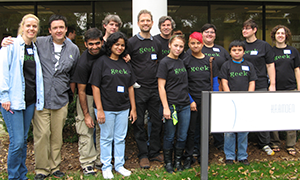 Fifteen employees volunteered their technical skills in the office's first Project Inspire event. They showed up in support of the Kramden Institute, an organization dedicated to closing the digital divide for local students. NVIDIANs refurbished more than 80 computers for the organization and gave them to deserving students to help them advance their academic and personal aspirations.
St. Louis, Missouri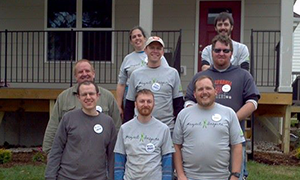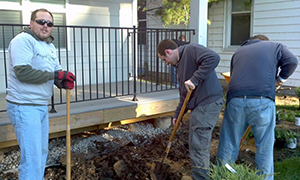 In the office's second Project Inspire event, staffers and their families got down and dirty, landscaping the yards of new homes with Habitat for Humanity St. Louis. Volunteers leveled, sodded and transformed plots of land into beautifully landscaped yards for five low-income families.
Westford, Massachusetts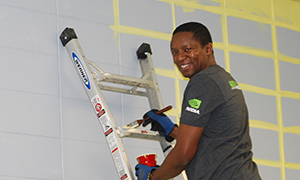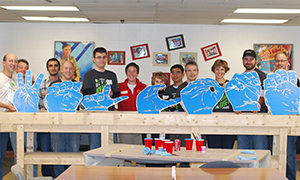 Fifty employees from our office in suburban Boston spent the day sprucing up the Lowell Boys and Girls Club in their first Project Inspire event. Volunteers painted, landscaped and created murals to make sure the hundreds of children served by the organization have a clean, safe and welcoming environment.
Würselen, Germany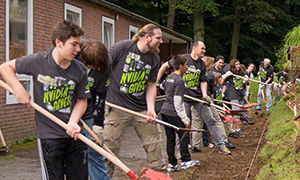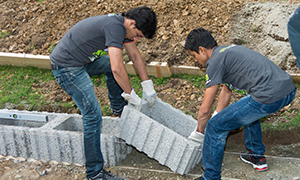 In their fifth Project Inspire event, staffers in Würselen, west of Cologne, came together in support of Maria im Tann, an organization that offers a variety of services for young people with disabilities or troubled social backgrounds. Employees worked alongside Maria im Tann residents to build the facility a new football pitch, which will support the organization's athletic programs.