NVIDIA VIRTUAL GPU + NUTANIX

Powering Modern Apps with GPU Virtualization and Hyperconverged Infrastructure
DOWNLOAD WHITEPAPER TO LEARN MORE
The modern workplace has changed dramatically in the last five years. In the new digital workplace powerful applications and operating systems demand more computing resources than their predecessors. A recent study exploring client computing configurations across three million endpoints reveals 3 significant realizations.
The number of applications that leverage graphics acceleration within a physical endpoint has doubled
Half of all enterprise workers use at least one application that depends on graphics acceleration
Migration to Windows 10 is moving at a rapid pace
Download the whitepaper to see how these three trends are shaping the new reality of end user computing.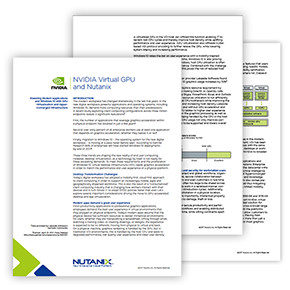 ---