Features and Performance of GeForce® 8 Series Now Available at Lower Price Points
For further information, contact:
Brian Burke
NVIDIA Corporation
(512) 401-4385
bburke@nvidia.com
FOR IMMEDIATE RELEASE: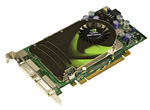 The GeForce 8600 GTS delivers an awesome price performance ratio, along with DirectX 10 support and the award-winning GeForce 8 Series feature set.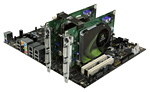 The new GeForce 8 Series of graphics chip support NVIDIA SLI technology and have a revolutionary new video processing engine for HD video.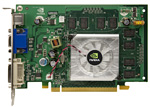 NVIDIA should dramatically increase the installed base of DirectX 10 GPUs by making GeForce 8500 GT-based graphics cards available from price points starting around $99.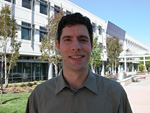 NVIDIA product manager Justin Walker discusses the GeForce 8 family of graphics processors.

Download Podcast (8MB)
SANTA CLARA, CA—APRIL 17, 2007
—NVIDIA Corporation (Nasdaq: NVDA), the worldwide leader in programmable graphics processor technologies, today announced the extension of the award-winning NVIDIA GeForce 8 Series line-up to include three new graphics processing units (GPUs), bringing high-resolution gaming, stunning Microsoft® Windows VistaTM graphics, and stellar HD DVD and Blu-ray video playback to virtually everyone regardless of budget. The new GPUs that complete the world's first top-to-bottom family of DirectX® 10 GPUs include:
NVIDIA GeForce 8600 GTS ­ $199-229
NVIDIA GeForce 8600 GT ­ $149-159
NVIDIA GeForce 8500 GT ­ $89-129
These three GPUs join the previously announced NVIDIA GeForce 8800 GTX and GeForce 8800 GTS, rounding out the product family.
"With Windows Vista being the first operating system to require a GPU to fully realize its graphics potential and with the growing list of popular software applications that take advantage of a dedicated graphics processor, GPUs are no longer a luxury required only by hardcore gamers," said Jeff Fisher, senior vice president of the GPU business unit at NVIDIA. "These new GPUs extend the reach of our award-winning GeForce 8 Series and offer cutting-edge, next-generation features to everyone from the hardcore gamer to the casual PC user."
"DirectX® 10 means higher performance and better looking PC graphics," said Chris Donahue, group manager, games for Windows at Microsoft. "We are thrilled to see that NVIDIA has taken the first step to help application developers and end users adopt the newest 3D graphics API, by making DirectX® 10-compliant GPUs available from top-to-bottom for every type of desktop PC user."
All three new cards feature PureVideo™ HD technology which leverages the revolutionary second-generation video-processing engine in the GeForce 8500 and GeForce 8600 GPUs to deliver the highest-quality playback of HD DVD and Blu-ray movies on everyday PCs.i The new programmable video processing engine takes on all of the high definition H.264 HD video decoding, freeing the CPU to perform other tasks and significantly reducing power consumption, heat, and noise. "Sony Pictures is enthusiastic about the ability to play Blu-ray movies on the PC," said Don Eklund, executive vice president, advanced technologies at Sony Pictures. "The new state-of-the-art NVIDIA GeForce 8500 and GeForce 8600 cards will enable consumers to enjoy Blu-ray movies on mainstream PCs."
With GeForce 8600 GTS and GeForce 8600 GT–based graphic cards, NVIDIA is enabling exceptional performance at price points PC gamers love. The GeForce 8600 GPUs are ideal graphics solutions for the latest NVIDIA nForce® 650i SLI™-based motherboards, which are designed to deliver maximum performance to gamers. The combination of the nForce 650i motherboard and the GeForce 8600 GPU forms a hardware foundation that allows consumers to build their own killer, PC-gaming platforms, enabling high-resolution and high-performance gaming, plus stellar high-definition visuals, at prices that don't break the bank.
Built for Windows Vista, GeForce 8500 GT cards are designed for both casual gamers and for non-gamers, delivering the ultimate in HD video playback along with unprecedented levels of graphics realism and gaming performance for around $100.
GeForce 8 Series GPUs are the only DirectX 10 GPUs currently available and are the reference GPUs for DirectX 10 API development and certification. GeForce 8 Series GPUs include all required hardware functionality defined in the Microsoft Direct3D® 10 specification, with full support for the DirectX 10 unified shader instruction set and Shader Model 4 capabilities. In addition, every GeForce 8 Series GPU features the NVIDIA PureVideo HD video processor, the NVIDIA Lumenex™ engine for superior image quality, and the NVIDIA Quantum Effects™ technology for simulation and rendering of stunning visual effects in games.
Graphics cards based on GeForce 8600 GTS GPUs are available now from leading retail outlets, system builders, and OEMs. Graphics cards based on GeForce 8600 GT and GeForce 8500 GT will be available on or before May 1, 2007. For more information, please visit //www.nvidia.com or listen to the NVIDIA podcast located at //download.nvidia.com/podcasts/pr/041707_8500_8600.mp3.
i PureVideo HD is available for Windows Vista. Support for PureVideo HD on Windows XP will be available in a future driver. Check NVIDIA.com for the latest information on driver updates.
About NVIDIA
NVIDIA Corporation is the worldwide leader in programmable graphics processor technologies. The Company creates innovative, industry-changing products for computing, consumer electronics, and mobile devices. NVIDIA is headquartered in Santa Clara, CA and has offices throughout Asia, Europe, and the Americas. For more information, visit www.nvidia.com.
Certain statements in this press release including, but not limited to, statements as to: the benefits, impact, performance, pricing, availability and features of the NVIDIA GeForce 8600 GTS GPU, the NVIDIA GeForce 8600 GT GPU and the NVIDIA GeForce 8500 GT; Windows Vista; DirectX 10; PureVideo HD technology; and GPU users are forward-looking statements that are subject to risks and uncertainties that could cause results to be materially different than expectations. Such risks and uncertainties include, but are not limited to, delays in ramping new products into production; manufacturing and software defects; our reliance on third party manufacturers; delays in manufacturing or delivery of products; developments of new products and technologies by competitors; continued acceptance and use of new technologies and products; the impact of competitive products and pricing alternatives; changes in industry standards and interfaces; as well as other factors detailed from time to time in the reports NVIDIA files with the Securities and Exchange Commission including its Form 10-K for the fiscal year ended January 29, 2007. Copies of reports filed with the SEC are posted on our website and are available from NVIDIA without charge. These forward-looking statements are not guarantees of future performance and speak only as of the date hereof, and, except as required by law, NVIDIA disclaims any obligation to update these forward-looking statements to reflect future events or circumstances.
###
Copyright© 2016 NVIDIA Corporation. All rights reserved. All company and/or product names may be trade names, trademarks, and/or registered trademarks of the respective owners with which they are associated. Features, pricing, availability, and specifications are subject to change without notice.
Note to editors: If you are interested in viewing additional information on NVIDIA, please visit the NVIDIA Press Room at
http://www.nvidia.com/page/press_room.html