Success Story | Populous
Global Flexibility with Local Performance


NVIDIA GRID allows Populous to quickly and efficiently respond to bidding opportunities and then mobilize field teams at job sites with full desktop performance on any device.
Populous is an international architecture and design firm specialising in the development of sports facilities, entertainment arenas and convention centres, with its main offices in Kansas City, London and Brisbane. Over three decades the award-winning company has been responsible for 2000 projects, designing for key events around the world, including Olympic Games, FIFA World Cups and numerous other international championships. The firm has created some of the most recognisable sporting venues, including Wembley Stadium in London, the new Yankee Stadium in New York, Soccer City in South Africa, and the Fisht Stadium in Sochi, which was the focal point of the 2014 Winter Olympics.
Today, Populous employs over 500 people around the world and its construction projects are worth upwards of $30 billion to date. As the firm continues to push the boundaries of creative venue design, it prides itself on creating environments that draw people and communities together for unforgettable experiences.
CHALLENGE
Following its successful design of the London 2012 Olympic Stadium, Populous was awarded the Olympic Stadium Transformation project, which involved turning the 80,000 capacity venue into a 54,000-seat football stadium for West Ham United, as well as a permanent athletic track, 2015 Rugby World Cup venue and a concert venue for up to 80,000 people.
For a project of this scale and significance, Populous had to create a 3D proof-of-concept design in order to win the bid. Once the bid was won, the company needed to mobilise 20-30 staff to be on-site in Stratford, with the rest back in the Putney office, seamlessly working together on the multi-million-dollar project.
One of the main challenges for the firm was that, should it take the traditional route, it would need to create a whole new office on-site. This might have been possible had the company had several months in which to manage the procurement process and install the complex physical desktop devices, but they faced huge time constraints that would have made this impossible. Another solution had to be found rapidly.
SOLUTION
Living up to its reputation as one of the most creative and innovative design companies in the world, Populous turned its challenge into an opportunity. Instead of creating a cumbersome physical office on site, the firm adopted cloud-based technology and virtualised its entire team infrastructure to allow for greater flexibility without compromising on quality or productivity.
Using NVIDIA GRID, Populous was able to get its on-site team up and running as well as delivering the proof-of-concept for the Olympic Stadium Transformation project in only 4-weeks – a deployment that would normally take several months.
The solution was based on VMware Horizon running NVIDIA GRID K1 and K2 boards, which enabled Populous to virtualise graphically intensive 3D applications traditionally unsuited for VDI environments, including AutoDesk Revit, McNeal Rhino and Adobe Creative Suite. Populous' users experienced performance on a par with physical workstations
In addition, by centralising its data storage, multiple users were able to simultaneously access and edit the same file without ever having to wonder whether they were working with the most recent version of the project file.
"Today, creating a 3D proof-of-concept is essential for us to effectively showcase our designs to prospective clients. Being able to scale up or down across locations allows us to be much more agile and deliver ideas faster and on any device. For projects like the Olympic Stadium Transformation, it could be the deciding factor in whether you win a bid or not," said Pete Whitcomb, Populous' Head of IT.
The investment in a virtualised environment was critical for Populous, not only to create a dynamic environment for its designers, but to allow it to respond to external problems, such as random power outages at their main UK office, which seem to occur on average once every 18 months.
RESULTS
Populous has revolutionised the way it works. With a virtualised environment, its architects, designers, urban planners and advisors are able to collaborate effectively and work anywhere in a way they couldn't before.
Users are able to connect to their own desktops from any device, encouraging a true 'hot desk' environment. In addition, it's made pitching for projects and responding to large-scale event bids like the Olympic Stadium Transformation project easier to manage. For example, the IT department is now able to parachute staff from different locations onto projects in an ad hoc manner, without any barriers to accessing project files or applications.
"Previously we were bound by our workstations because they alone had the processing power needed to run intensive applications and were built based on the user's role or need. With a cloud-based solution, that's all changed. We can work from anywhere on any device, continue working if there are location restrictions, and update project files in real-time," said Whitcomb.
"While we may get more out-of-hours calls into the IT department, they are rarely urgent. Workers are largely independent and less reliant on IT, which saves a significant amount of time on productivity across the board," Whitcomb continued.
As the Populous team continues to grow, the cloud-based environment allows the business to scale rapidly. Currently operating 85 virtual machines, the design firm has plans to increase the capacity to approximately 170, with the ultimate goal of having all users in the UK region working on a hosted machine.
Whitcomb is already implementing the next state of Populous' virtualisation journey. "We're testing NVIDIA GRID™ vGPU™ through NVIDIA and VMware's early access program, with very encouraging results," Whitcomb explained. "The ability of this technology to enable advanced, graphics-rich applications in a vSphere virtualised environment and positively impact GPU user density is potentially game-changing."
RELATED LINKS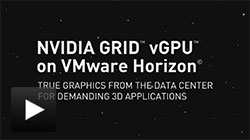 CUSTOMER PROFILE
Company: Populous
Industry: Design & Architecture
Location: UK, USA, Asia Pacific
Size: 500 employees
SUMMARY
Global AEC firm with 500 employees specializing in sports facilities, entertainment arenas, and convention centers
Needed to quickly deploy a project team to a large job site in London
Implemented NVIDIA GRID technology to deliver VDI with full graphics performance
Users can rapidly deploy to remote locations and access virtual desktop
HARDWARE
GRID Boards:
K1 and K2
(PDF 415 KB)
Servers:
Dell PowerEdge R720 + R730 servers, Teradici APEX 2800 PCOIP offload card, Atlantis ILIO
Clients:
Various desktop, Wyse Dell zero clients
5 REASONS FOR GRID
Ability to rapidly deploy project teams to job sites without complex IT infrastructure.
Full workstation performance from any location on any device allows real-time collaboration.
Centralized data storage enhances security and version control.
External events such as random power outages no longer affect productivity.
Firm can easily scale up to support ongoing company growth.