CineFX 4.0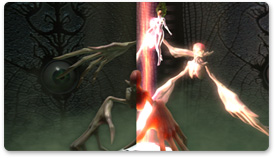 The second-generation pixel shading core on the NVIDIA® GeForce® 7800 graphics processing unit (GPU) enables effects never seen before in real time. Effects like the many layers of Luna's suit and the real-time refraction on the eyeball, which require more than 300 instructions with per-pixel branching and are computed in 64-bit color.
The fourth-generation NVIDIA® CineFX® engine builds unimaginable speed into the NVIDIA® GeForce® graphics processing units (GPUs). Using the CineFX 4.0 engine, developers can create and display the most advanced and high-quality visual effects for emerging PC games and other cutting-edge visual applications.
Every requirement for 3D visualization falls into one of two categories—performance or image quality—and being able to carry out more calculations in less time with the highest possible image quality.
The new NVIDIA GeForce 7 Series and GeForce Go 7 Series GPUs featuring the CineFX 4.0 engine incorporate architectural advancements that accelerate the most common operations required for 3D visualizations. This allows for more complex shader effects while maintaining the highest levels of image quality. The new design introduces innovation at every stage of the pipeline:
A redesigned vertex shader unit reduces the time to set up and perform geometry processing.
A new pixel shader unit design can carry out twice as many floating-point operations and greatly accelerates other mathematical operations to increase throughput.
An advanced texture unit incorporates new hardware algorithms and better caching to speed filtering and blending operations.
The NVIDIA CineFX 4.0 engine injects breakthrough graphics technology into the core levels of the vertex shader, pixel shader, and texture engines. By accelerating triangle setup, crucial math elements of the pixel shader, and texture manipulations, the newest engine lets 3D graphics developers achieve new levels of performance and visual quality.