For further information, contact:
Brian Burke
NVIDIA Corporation
(512) 401-4385
bburke@nvidia.com
FOR IMMEDIATE RELEASE: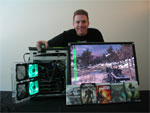 Andrew "Prof_fear" Fear, the product manager for SLI at NVIDIA, tells us why his 3-way NVIDIA SLI system is 1337 and he is not.
Podcast (7.5 MB)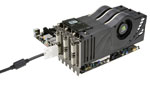 The combination of an NVIDIA nForce® 680i SLI MCP-based motherboard and three GeForce 8800 Ultra-based graphics cards delivers an extreme gaming experience.


Call of Duty 4 cranked up to maximum image quality settings delivers a cinematic feel to the game.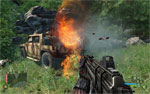 Crysis is not playable at high resolutions with all the special effects turned unless your PC has NVIDIA 3-way SLI technology.
SANTA CLARA, CA—DECEMBER 13, 2007—Extreme gaming just got a whole lot better. NVIDIA® Corporation has extended its SLI™ technology, which enables the use of multiple graphics processing units (GPUs) on a single computer, allowing up to three GeForce® graphics cards to be used in a single machine. Now hot, new, graphics-intensive titles, such as Call of Duty 4, Company of Heroes Opposing Fronts, Enemy Territory: Quake Wars, and Unreal Tournament 3, can be played at the highest resolution possible, with all the graphics settings cranked to the max, and antialiasing applied for the first time.
NVIDIA's new 3-way SLI delivers up to a 2.8x performance increase over a single GPU system, giving high-end gamers 60 frames per second at resolutions as high as 2560x1600 and with 8x antialiasing. 3-way SLI technology means you no longer have to dial back the image quality settings on the newest PC games. For example, gamers with 3-way SLI can play Crysis at high resolutions such as 1920x1200 with all the advanced DirectX 10 effects such as motion blur, ambient occlusion, and soft shadows turned on.
"The new crop of PC games offers stunning visuals. And for truly immersive game play with all the eye candy you need to play on a PC with a lot of graphics horse power," said Ujesh Desai, general manager of GeForce desktop GPUs at NVIDIA. "3-way SLI produces stunning visuals, pristine image quality, and a truly awesome gaming experience."
"Alienware delivers the most advanced technology with the highest performing metrics on our award-winning systems," says Marc Diana, product marketing manager for Alienware. "We are very excited to offer 3-way NVIDIA SLI as a way for our customers to fully experience the rich, life-like environments of today's next-generation games at their top settings."
The heart of a 3-way SLI system is an NVIDIA nForce® 680 SLI MCP motherboard and three GeForce 8800 GTX or GeForce 8800 Ultra graphics cards. With 3-way SLI, gamers can harness the power of 384 stream processors, a 110+ gigatexel per second texture fill rate, and over two gigabytes of graphics memory for no-compromise gaming performance.
3-way SLI gives gamers the flexibility to scale their graphics processing power with one, two, or three GeForce GPUs, depending on their desired price and system configuration. 3-way SLI systems are available from leading gaming PC system builders and the components needed to build your own 3-way SLI system are available from leading retailers. For a list of system builders or to see a complete list of NVIDIA 3-way SLI certified components, please visit //www.slizone.com. For further information on NVIDIA SLI® technology, nForce MCPs or the GeForce 8 Series GPUs, please visit //www.nvidia.com.
About NVIDIA
NVIDIA (Nasdaq: NVDA) is the world leader in visual computing technologies and the inventor of the GPU, a high-performance processor which generates breathtaking, interactive graphics on workstations, personal computers, game consoles, and mobile devices. NVIDIA serves the entertainment and consumer market with its GeForce® products, the professional design and visualization market with its NVIDIA Quadro® products, and the high-performance computing market with its Tesla™ products. NVIDIA is headquartered in Santa Clara, Calif. and has offices throughout Asia, Europe, and the Americas. For more information, visit www.nvidia.com.
Certain statements in this release including, but not limited to, statements as to: the features, uses, benefits, and capabilities of the 3-way SLI system and its components; new PC games and the availability of 3-way SLI systems and 3-way SLI components are forward-looking statements that are subject to risks and uncertainties that could cause results to be materially different than expectations. Important factors that could cause actual results to differ materially include: loss of performance of when products are used together; our reliance on third-parties to manufacture, assemble, package and test our products; manufacturing or software defects; the impact of technological development and competition; changes in industry standards and interfaces as well as other factors detailed from time to time in the reports NVIDIA files with the Securities and Exchange Commission including its Form 10-Q for the period ended October 29, 2007. Copies of reports filed with the SEC are posted on our website and are available from NVIDIA without charge. These forward-looking statements are not guarantees of future performance and speak only as of the date hereof, and, except as required by law, NVIDIA disclaims any obligation to update these forward-looking statements to reflect future events or circumstances.
###
Copyright© 2016 NVIDIA Corporation. All rights reserved. All company and/or product names may be trade names, trademarks, and/or registered trademarks of the respective owners with which they are associated. Features, pricing, availability, and specifications are subject to change without notice.
Note to editors: If you are interested in viewing additional information on NVIDIA, please visit the NVIDIA Press Room at
http://www.nvidia.com/page/press_room.html