GeForce 9600 GT GPU Kicks Off GeForce 9 Series and Offers Huge Value to Gamers
For further information, contact:
Brian Burke
NVIDIA Corporation
(512) 401 4385
bburke@nvidia.com
FOR IMMEDIATE RELEASE: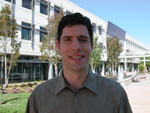 Product Manager Justin Walker discusses the new GeForce 9600 GT GPU on this podcast.

Download Podcast (11.9MB)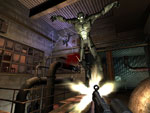 F.E.A.R. runs 116% faster on the new GeForce 9600 GT than it did on the last product NVIDIA introduced in this market segment.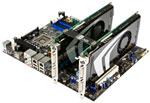 Using two GeForce 9600 GT boards in NVIDA SLI mode lets you play today's most popular computer games at high definition resolutions with even more eye-candy turned on.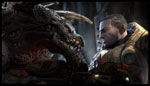 With the sub-$200 GeForce 9600 GT, Unreal Tournament 3 is playable at the high definition resolution of 2560x1600.
SANTA CLARA, CA—FEBRUARY 21, 2008—NVIDIA® Corporation, the world leader in visual computing technologies, has unveiled the first graphics processing unit (GPU) of its next-generation GeForce® 9 Series that may offer the largest single-generation performance jump in the Company's history. Introduced today, the NVIDIA GeForce 9600 GT GPU delivers up to 116%[i] more performance than its predecessor at a price below $199.
"After going to all the GeForce LANs and seeing the rigs that gamers play on, we wanted to kick off the GeForce 9 with the perfect GPU for gamers," said Ujesh Desai, general manager of GeForce desktop GPUs at NVIDIA. "The first product to be introduced in the GeForce 9 family gives gamers the horsepower to play cutting-edge DirectX 10 games at a price they will love and can afford."
A point has been reached in PC gaming where the graphics horsepower requirements to play popular games such as Call of Duty 4 and Unreal Tournament 3 at high-definition resolutions such as 1900x1200 and above, with high-image-quality features enabled, may have outpaced a lot of the installed hardware. Until now, graphics processors capable of delivering playable frame rates at those stressful settings have cost in excess of $400. With the GeForce 9600 GT GPU, immersive gaming with incredible graphics is now within the reach and budget of PC gamers for less than $199.
"NVIDIA continues to innovate in hardware technology so that game enthusiasts and consumers can fully experience the incredible graphics offerings in Microsoft's operating systems, including Windows Vista," said Kevin Unangst, senior global director of Games for Windows, Microsoft. "The new GeForce 9600 GT GPU further extends NVIDIA's ability to deliver improved DirectX 10 performance on Windows Vista at an affordable price point, so that anyone and everyone can have an amazing gaming experience."
The new GeForce 9600 GT GPU shows an improved performance-per-watt ratio compared to its predecessor as well as improved compression efficiency. In addition to 64 stream processors—each individually clocked at a blazing-fast 1625 MHz—and a 256-bit memory interface running at 900 MHz, the GeForce 9600 GT GPU is designed for the new PCIe 2.0 bus standard and features backwards compatibility with the original PCIe standard.
The GeForce 9600 GT GPU also improves high-definition video playback on everyday PCs by leveraging NVIDIA PureVideo® HD technology to deliver high-quality playback of HD DVD and Blu-ray movies. The new programmable video-processing engine takes on all of the high-definition H.264 video decoding, freeing the CPU to perform other tasks, while significantly reducing power consumption, heat, and noise. Spectacular picture clarity and vibrant color is achieved with advanced video processing technology.
GeForce 9600 GT-based graphics cards are available now from leading add-in card manufacturers, retailers, and system builders. For information on where to buy GeForce 9600 GT-based graphics cards, please visit www.nvidia.com/wheretobuy.
About NVIDIA
NVIDIA (NASDAQ: NVDA) is the world leader in visual computing technologies and the inventor of the GPU, a high-performance processor which generates breathtaking, interactive graphics on workstations, personal computers, game consoles, and mobile devices. NVIDIA serves the entertainment and consumer market with its GeForce products, the professional design and visualization market with its Quadro® products, and the high-performance computing market with its Tesla™ products. NVIDIA is headquartered in Santa Clara, Calif. and has offices throughout Asia, Europe, and the Americas. For more information, visit www.nvidia.com.
[i] Based on testing FEAR on Windows Vista, Intel Core2 Extreme QX6850 at 1600x1200 4x/16x on a GeForce 9600 GT (65 fps) and the product it replaces in this segment, the GeForce 8600 GTS (30 fps).
Certain statements in this press release including, but not limited to, statements as to: the benefits, features, performance and capabilities of NVIDIA GeForce 9600 GT GPUs; availability and pricing of GeForce 9600 GT-based graphics cards; and gamers' preferences are forward-looking statements that are subject to risks and uncertainties that could cause results to be materially different than expectations. Important factors that could cause actual results to differ materially include: delays in ramping new products into production; our reliance on third parties to manufacture, assemble and test our products; development of faster or more efficient GPUs at the same price point; unexpected loss of performance of our products when integrated into PCs; the impact of technological development and competition; changes in consumer preferences and demands; customer adoption of competitor's products; manufacturing or software defects; changes in industry standards and interfaces as well as other factors detailed from time to time in the reports NVIDIA files with the Securities and Exchange Commission including its Form 10-Q for the fiscal period ended October 28, 2007. Copies of reports filed with the SEC are posted on our website and are available from NVIDIA without charge. These forward-looking statements are not guarantees of future performance and speak only as of the date hereof, and, except as required by law, NVIDIA disclaims any obligation to update these forward-looking statements to reflect future events or circumstances.
###
Copyright© 2016 NVIDIA Corporation. All rights reserved. All company and/or product names may be trade names, trademarks, and/or registered trademarks of the respective owners with which they are associated. Features, pricing, availability, and specifications are subject to change without notice.
Note to editors: If you are interested in viewing additional information on NVIDIA, please visit the NVIDIA Press Room at
http://www.nvidia.com/page/press_room.html