XenDesktop
NVIDIA GRID™-accelerated XenDesktop is the ideal solution for 3D graphics-intensive applications like remote workstations. With GRID, everyone can now get the full experience of a local PC while running on a virtual desktop served from the data center.
A wide range of graphics applications—from PowerPoint and videos to intensive 3D CAD and interactive rendering of medical imagery—are now fully interactive with NVIDIA GRID. By leveraging GRID technology with full 3D and compute API support through the latest NVIDIA Quadro® drivers, users can take advantage of the thousands of applications that run OpenGL 4.3, Microsoft DirectX9, 10, 11, or NVIDIA CUDA® 5.0.
XenDesktop takes advantage of advanced server-side GPU rendering to give knowledge workers, power users, and designers the ability to perform at their best without interruption, from anywhere.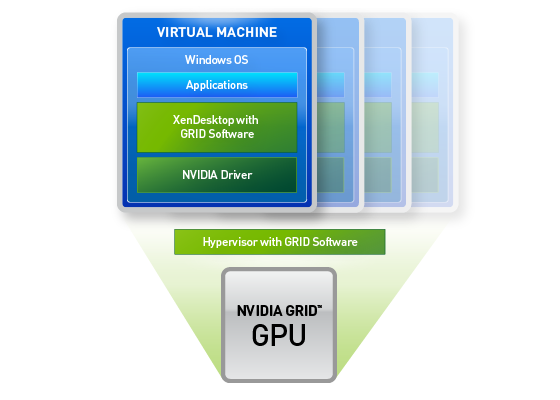 NVIDIA GRID with a dedicated GPU for XenDesktop
What is XenDesktop?
"Citrix XenDesktop is a desktop virtualization solution that transforms desktops and applications into a secure on-demand service available to any user, anywhere, on any device. With XenDesktop, you can deliver individual Windows, web and SaaS applications, or full virtual desktops, to PCs, Macs, tablets, smartphones, laptops, and thin clients with a high-definition user experience."
Source: Citrix website
XenDesktop Resources
NVIDIA GRID in action
CONTACT US
On-demand Webinars
RECOMMENDED SOLUTIONS
GRID K1 and K2 boards are supported for pass-through to virtual machines in server platforms.