>
>
>
>
>
Realistic Modeling & Rendering
Experience
SOLIDWORKS
without limits


Discover superior real-time photorealistic rendering
SOLIDWORKS® Visualize (formerly known as Bunkspeed) provides a suite of standalone software tools with NVIDIA Iray® technology natively integrated, which helps designers and engineers see their products in photo-real quality as early in the development pipeline as possible. By leveraging NVIDIA Iray technology and Quadro GPUs, users can interactively visualize design changes during their workflow, with the confidence that they're seeing a lifelike, photorealistic virtual product. This also means SOLIDWORKS Visualize users can take full advantage of NVIDIA Iray Server distributed rendering software to reduce further the time needed to create photo-real images by scaling Iray rendering across all network-connected workstations.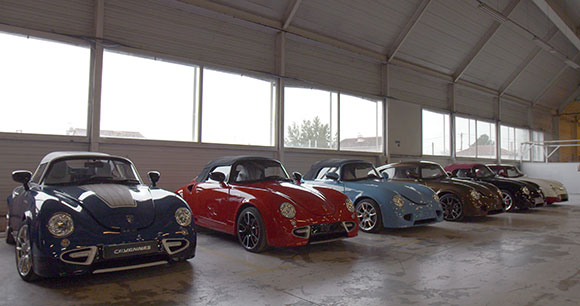 Advanced design modes
As designers increasingly choose to work in more realistic modes, more demands are made on GPUs to ensure a smooth design workflow. With NVIDIA Quadro® professional graphics, SOLIDWORKS users get the highest-quality, most realistic images. There's no need to be concerned about tradeoffs between better looking graphics and reductions in productivity. You can use the most realistic display modes and still experience better performance than possible using simple display modes on older GPUs.
RealView graphics for more realistic modeling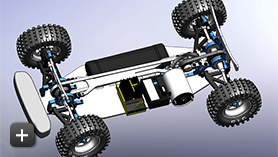 Standard 3D mode (RealView, FSAA turned off)
Image is void of real-world reflections and textures and jagged edges ("jaggies") are visible.
Precise edges and shading performance for more accurate images
With NVIDIA graphics cards, you can turn on all the advanced modes—including Shaded with Edges and Shadows—with no loss in performance.
Full-Scene Anti-Aliasing (FSAA) for fast, clean line art
NVIDIA Quadro® professional graphics under the hood means you'll get the highest-quality, most realistic images.
Order Independent Transparency (OIT) faster performance
In the past, applying transparency to components or faces in an assembly could cut SOLIDWORKS display performance in half when using RealView. Recent improvements in SOLIDWORKS leverage the GPU during OIT, so transparency performance no longer slows you down.
Use eDrawings In Stereoscopic 3D
SOLIDWORKS popular add-in eDrawings is valuable for sharing native SOLIDWORKS files for design or marketing reviews. eDrawings also works in 3D to offer tremendous opportunities for displaying extreme detail in stereoscopic 3D to give your customers and managers the truest representation of your design.