Historical and Economic Information
NVIDIA Corporation was founded in 1993 by Jensen Huang, the company's president and CEO, Chris Malachowsky and Curtis Priem.
NVIDIA became a public company in 1999 and is listed on NASDAQ, where its shares trade under the symbol NVDA.
The company, which is headquartered in Santa Clara, California, has approximately 5,700 employees in 34 offices in more than 20 countries.
The table below provides an overview of our economic activity during our fiscal year 2010, which ended on January 31.
(Dollar figures are in thousands)
Our Economic Contribution/Impacts
Revenues (in thousands)
$3,326,445
Income tax expense (benefit)
$(14,307)
Total capitalization broken down in terms of debt and equity





Total stockholders' equity

Total liabilities and stockholders' equity
Preferred stock, $.001 par value; 2,000,000 shares authorized; none issued; Common stock, $.001 par value; 2,000,000,000 shares authorized; 652,391,708 shares issued and 561,465,851 outstanding in 2010

2,665,140

3,585,918
Operational extras:

Total Assets;

Beneficial ownership;

Revenue by country/region


$3,585,918

See Proxy Statement

See Chart below
Direct employment
5,700 employees in more than 20 countries
Cost of Goods Sold
$2,149,522
Total operating expenses
$1,275,868
Employee compensation
See Proxy Statement
Donations and other community investments
$1,701,816
Retained earnings
$1,896,182
Payments to capital providers
None
Payments to governments
None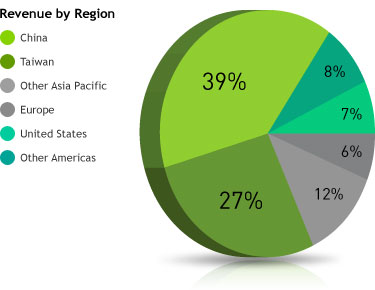 GIVE US YOUR FEEDBACK
Tell us how we did on our first global citizenship report. Your input can help shape our future priorities. After giving feedback, you can see responses from other stakeholders.