Success Story | Legacy Reserves
Increased Productivity with Enhanced Work-Life Balance


NVIDIA GRID provides a high-performance platform for running the highly specialized oil and gas applications while increasing employee flexibility.
Legacy Reserves LP is a master limited partnership headquartered in Midland, Texas, that focuses on acquiring and developing oil and natural gas properties primarily located in the Permian Basin, Mid-Continent, and Rocky Mountain regions of the United States. Their primary business objective is to generate stable cash flows from long-lived oil and natural gas properties, thereby supporting and increasing quarterly cash distributions per unit over time. Since 2006, Legacy Reserves has acquired 128 producing properties for approximately $1.6 billion.
CHALLENGE
Legacy Reserves relies on several highly specialized, graphics-intensive industry applications, such as Spatial Energy Petra, TRC Consultants PHDWin, Lufkin Industries SROD, ESRI ArcGIS, and Google Earth. The geographic diversity of their operations means that users often require part-time remote access to applications and data, such as when traveling or if an immediate response is required after hours. In response, Legacy Reserves decided to explore implementing a Virtual Desktop Infrastructure (VDI) three years ago.
Rollout began one and a half years ago to users across the company from Accounting to Geology, Land, and Business Development. Deployment began with a pilot that slowly expanded to cover additional users. The implementation consisted of an SSL VPN that allowed users to remotely access their office workstations using an RDP connection.
"We proceeded very slowly to allow ourselves plenty of time to resolve problems as they occurred," said Corey Elliot, Director of Information Technology at Legacy Reserves. "Our previous VDI implementation was plagued by slow performance and rendering issues, because RDP does not support OpenGL and DirectX. For example, getting Google Earth to work in this environment was possible, provided that the virtualization was correctly set up; however, we still saw rendering problems, such as half the world missing or seeing only the outlines of states and nations. Users also experienced significant lag and other usability issues."
"From an IT perspective, some of the drivers behind moving to a Virtual Desktop Infrastructure include data security, simplified management and support, and less need to keep expensive equipment waiting around for new people joining the company," added Adam St. Louis, Technology Service Analyst at Legacy Reserves. "Provisioning a workstation for a new hire could take days. We knew that successfully implementing a Virtual Desktop Infrastructure could solve a lot of these challenges, and we are very fortunate that the company gives us the freedom—and budget—for R&D so that we could explore a viable long-term solution."
SOLUTION
As the IT department kept searching for ways to improve performance, someone researching an issue happened to see an ad for NVIDIA GRID technology. Legacy Reserves already used and trusted NVIDIA cards in their workstations, and migrating to NVIDIA GRID held the promise of resolving the long-standing challenges with the current deployment.
The K1 cards went into existing servers, and the installation proceeded smoothly. Getting users to try the new implementation was another matter. Users typically did everything they could to avoid making the switch and only then gave it a reluctant try. Unlike the previous implementation, NVIDIA GRID delivered full workstation performance that rivaled the highest-end workstations at Legacy Reserves. The initial skepticism quickly vanished once users tried the new implementation.
Legacy Reserves is currently building out a new datacenter in Odessa, Texas. They purchased three new Cisco UCS C240 rack-mounted servers equipped with a single NVIDIA GRID K1 card (PDF 415 KB) per server. VMware vSphere and Horizon View provide the hypervisor and desktop remoting, and users receive pooled Windows desktops. Storage is provided by an all-flash array for maximum throughput. The previous implementation had taken three years to reach this point; however, the new GRID-enabled implementation proceeded from concept to deployment in less than 90 days.
"We set up the servers, made sure everything was stable, and started pushing out virtual desktops," continued St. Louis. "We didn't see any advantage to providing individual desktops, and therefore decided to pool desktops by department to keep troubleshooting and management as simple as possible. We got a little push back from folks who didn't like being unable to personalize their desktops, but it was pretty minor, and the overall reputation of our Virtual Desktop Infrastructure is improving steadily. As of now, we have about 90-100 full-time virtual desktop users, with another 50 or using it on a part-time basis."
RESULTS
Legacy Reserves places a premium on work-life balance. Employee productivity is increasing as the VDI deployment spreads, and so is the ability to offer flexibility in when and how people work. Oil and gas is a 24x7 undertaking, and employees are sometimes called to respond to various events at off hours. Before NVIDIA GRID technology, such a call often required the employee to report to the office and log into their workstation. Today, a user can simply access a virtual desktop and resolve the problem from home, thereby avoiding the disruption of having to leave home.
"We still have some people using laptops with local applications, but even they are starting to use the new implementation even more than working on those devices," Elliot continued. "Instead, they open up View and log into a virtual desktop from home, hotel, and even when they are in the office. The virtual environment gives them a central place to store and access the files and data they need, and the graphics performance is at least as good as their devices can provide, if not better. We've even seen some people visiting sites like YouTube for a few minutes here and there, and we think that's fantastic, because it proves that the new technology has become seamless for our users."
"New hires who are able to use the Virtual Desktop Infrastructure receive a thin or zero client and are up and running within minutes," explained St. Louis. "Meanwhile, we're not taking good machines away from existing users, but we will start phasing out older and slower workstations as the Odessa datacenter comes online. This will also help with future mergers and acquisitions, since adding new users is so fast and easy."
IT management has been greatly simplified. Provisioning desktops for users now takes only a few minutes instead of hours, and there is no longer a need to keep workstations waiting for new hires. The overall volume of service calls has held steady; however, IT can troubleshoot problems directly, instead of having to visit the user to access a workstation or attempt to remotely guide the user through troubleshooting steps. At worst, the user can simply log off and receive a completely new virtual desktop almost instantly.
Legacy Reserves has dedicated circuits running from the datacenter to remote locations in a hub-and-spoke arrangement that allows near-local performance when accessing a virtual desktop and is helping drive user adoption at those locations. The current setup can accommodate 50-75 more users, and Legacy Reserves plans to expand the NVIDIA GRID deployment in about 6-12 months, once the new datacenter is fully operational.
"Right now, the only outliers are people working deep in the field with no connectivity and people wanting BYOD support," concluded Elliot. "We are slowly moving in that direction, but for now, anybody who wants to install Horizon View on their personal machine and get it working is welcome to do so. Overall, we haven't seen any direct cost savings yet, but the indirect benefits are invaluable. NVIDIA GRID technology is giving our people the performance they need to do their jobs more flexibly and effectively than ever before, and is also making it easier for us to maintain data security and overall control over our network. It's taken us three years to get to this point, and the wait has been well worth it."
RELATED LINKS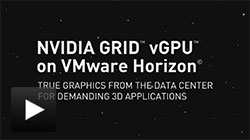 CUSTOMER PROFILE
Company: Legacy Reserves
Industry: Oil and gas
Location: Midland, Texas
Size: 360 employees and contractors
SUMMARY
Oil and gas company focusing on acquiring and developing oil and natural gas properties.
Previous Virtual Desktop Infrastructure was unable to run many of the applications that the company needs for its day-to-day work.
Experimenting with NVIDIA GRID yielded such good results that the company is implementing virtual desktops for every eligible user.
Employee productivity and work-life balance have been enhanced.
SOFTWARE
Hypervisor:
VMware vSphere
Desktop and Application Remoting:
VMware Horizon View
Key Applications:
Spatial Energy Petra, TRC Consultants PHDWin, Lufkin Industries SROD, ESRI ArcGIS, and Google Earth
HARDWARE
GRID Boards:
K1
(PDF 415 KB)
Servers:
Cisco UCS C240
Clients:
Various desktop, mobile, thin, and zero clients
5 REASONS FOR GRID
Users receive performance on par with high-end workstations from office and remote locations.
Personnel can respond more quickly to incidents at any time because they don't need to come into the office.
IT management has been greatly simplified and streamlined compared to supporting and maintaining individual workstations.
Centralized storage enhances data security.
Employees enjoy greater flexibility and work-life balance, which is helping them be more productive.