Product Lifecycle
NVIDIA solves the world's biggest computing challenges. Our introduction two decades ago of the GPU was a first step in this work, and we continue to be amazed and delighted at the potential unleashed by that single invention.
As we continue to look for new and innovative solutions, we take a value chain approach to managing our social and environmental responsibilities. Our Global Citizenship directive and core values guide us in product design, manufacturing, facilities operations, shipping and supplier management.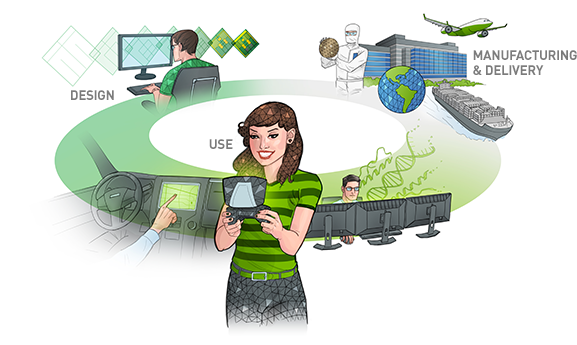 Design: Energy efficiency and material resource sustainability underlie all technology design at NVIDIA — from mobile devices to supercomputer architectures. Our engineers remain mindful of environmental and social impact, as well as regulatory standards, as they specify the materials, tools and components that will optimize our manufacturing process while creating the best possible experience for our partners and end-users.
Manufacturing & Delivery: Throughout each stage of our manufacturing and delivery processes, we always look for ways to minimize waste, protect valuable resources and reduce our carbon footprint. Using recyclables, minimizing packaging and consolidating shipping are just some of the ways we manage our environmental impact. We also work closely with our supply chain to ensure that all suppliers adhere to our requirements, including internationally standardized environmental and social guidelines and import/export regulations.
Use: GPUs use parallel processing, which significantly accelerates instructional time compared with traditional CPUs. They enable our customers to enjoy lower energy costs and superior performance per watt. Whether our products are used for creating dynamic visual effects on PCs, powering server farms for cloud computing, or enabling supercomputers, NVIDIA is fully committed to following the highest standards throughout the product lifecycle.