>
>
>
>
Workforce Key Metrics
Workforce Key Metrics
The workforce data we report annually to our external stakeholders reveal a diverse, engaged workforce and a turnover rate well below the industry average. These metrics, combined with employee survey data, help us determine how we can improve in specific areas throughout our enterprise.
Employee Profile
Full-time employees in U.S.
76.77 %
Full-time employees internationally
94.66%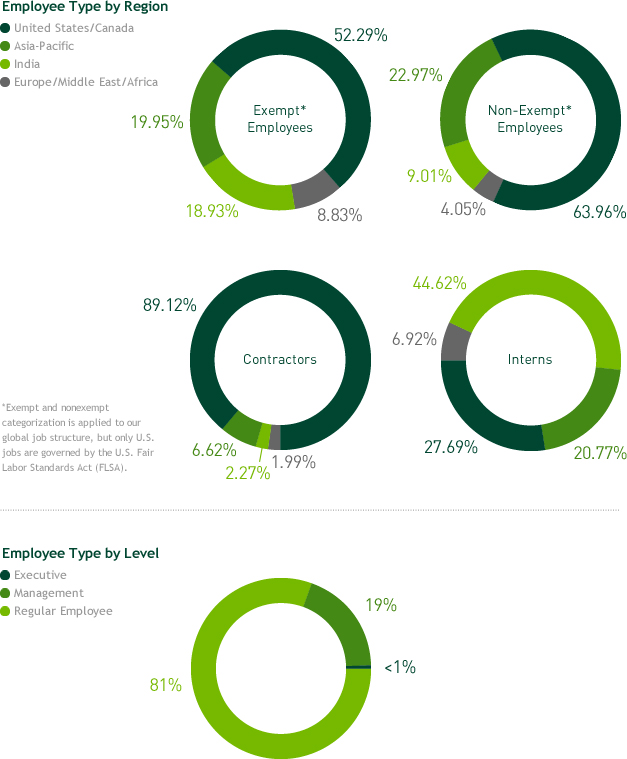 Promotions
We promoted in FY13 approximately 14.7 percent of our workforce. Of the 1,175 promotions, 42 (3.6 percent) were at the level of director or above (twice as many as in 2010), 963 (82 percent) were from minority classes, and 14.4 percent were women.
Diversity
We are committed to providing equal opportunity to all employees and applicants as stated in our Equal Employment Opportunity Policy and Code of Conduct.
The level of diversity at NVIDIA is reflective of the technology and engineering industries as a whole. Roughly 75 percent of NVIDIA employees are engineers, a field that is historically male-dominated. We seek to address gender imbalances in the technology and engineering fields through strategic grants offered as a part of our community engagement efforts, and through programs aimed at increasing the number of women and minorities in engineering.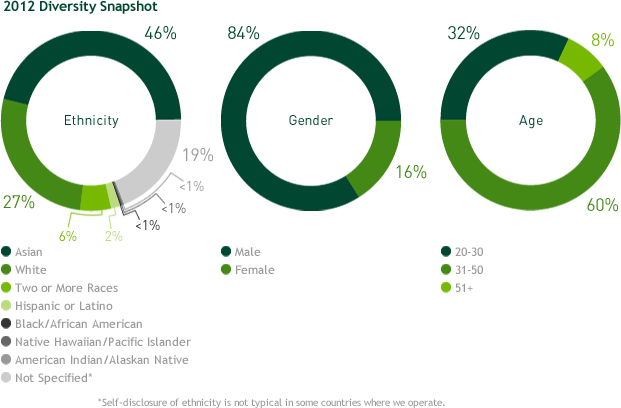 Turnover
In this extremely competitive climate, NVIDIA experienced a 10.8 percent decrease in turnover (from 9.3 to 8.4 percent) and we continue to remain well below the general turnover rate of 13.9 percent. Our voluntary turnover rate is 7.7 percent, which is well below the technology industry average of 10.3 percent.