>
>
>
Visual Computing Appliance (VCA)
NVIDIA QUADRO VCA
Scalable, Interactive Physically Based Rendering

Accelerate design and VFX production workflows with the NVIDIA® Quadro® Visual Computing Appliance (VCA)—a network-attached appliance that harnesses the power of the highest-performing NVIDIA GPUs. It's accessible to anyone on the network, is easily integrated into design workflows, and can linearly scale to deliver noiseless, interactive global illumination. The predictability and accuracy of physically-based realism is now fully interactive to speed decision making within the creative process.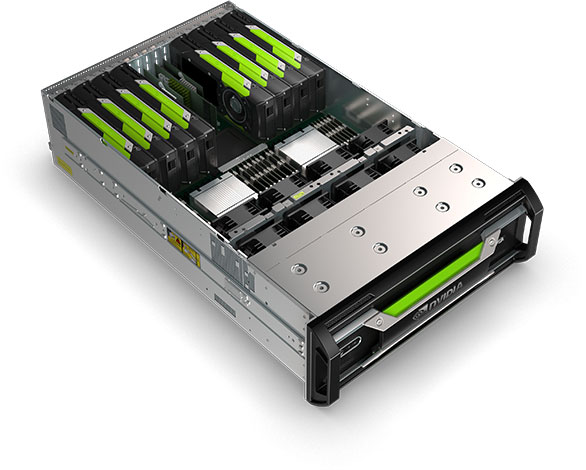 VCA Specifications
GPUs
8 NVIDIA High-End GPUs
CPU Cores

20 Physical
40 with Hyper Threading
Network


2 x 1GigE,
2 x 10GigE (SFP+),
1 x InfiniBand
Installed Software



Linux CentOS 6.6
VCA Manager
Iray 2014.3.4 or newer
OptiX 3.8 or newer
YOUR RENDERING WORKFLOW JUST GOT A LOT FASTER
Run industry-standard applications with GPU-accelerated renderers and Quadro VCA to turbocharge your results. Quadro VCA allows designers to make critical adjustments or design decisions quickly, while reducing reliance on costly physical prototypes or overnight renders – saving precious time in bringing your ideas to market. An ideal solution for automakers, consumer-product manufacturers, and other design-intensive disciplines, Quadro VCA supports both Iray and V-Ray GPU-accelerated renderers.
DESIGNED FOR YOUR DATA CENTER
The Quadro VCA uses RDMA over Infiniband for fast interconnect and rendering scalability between VCAs. Administrators can use the 10 GigE or 1 GigE connection to attach the VCA to their company network. Plus, the VCA includes out-of-band control over IPMI, so administrators can manage and monitor the VCA over Ethernet, even if the system is powered off. Finally, the factory test process stresses every component, so the VCA will reliably perform at maximum throughput for the life of the system.
RECOGNIZED FOR ACCELERATING DESIGN AND VFX
CUSTOMER SUCCESS STORIES